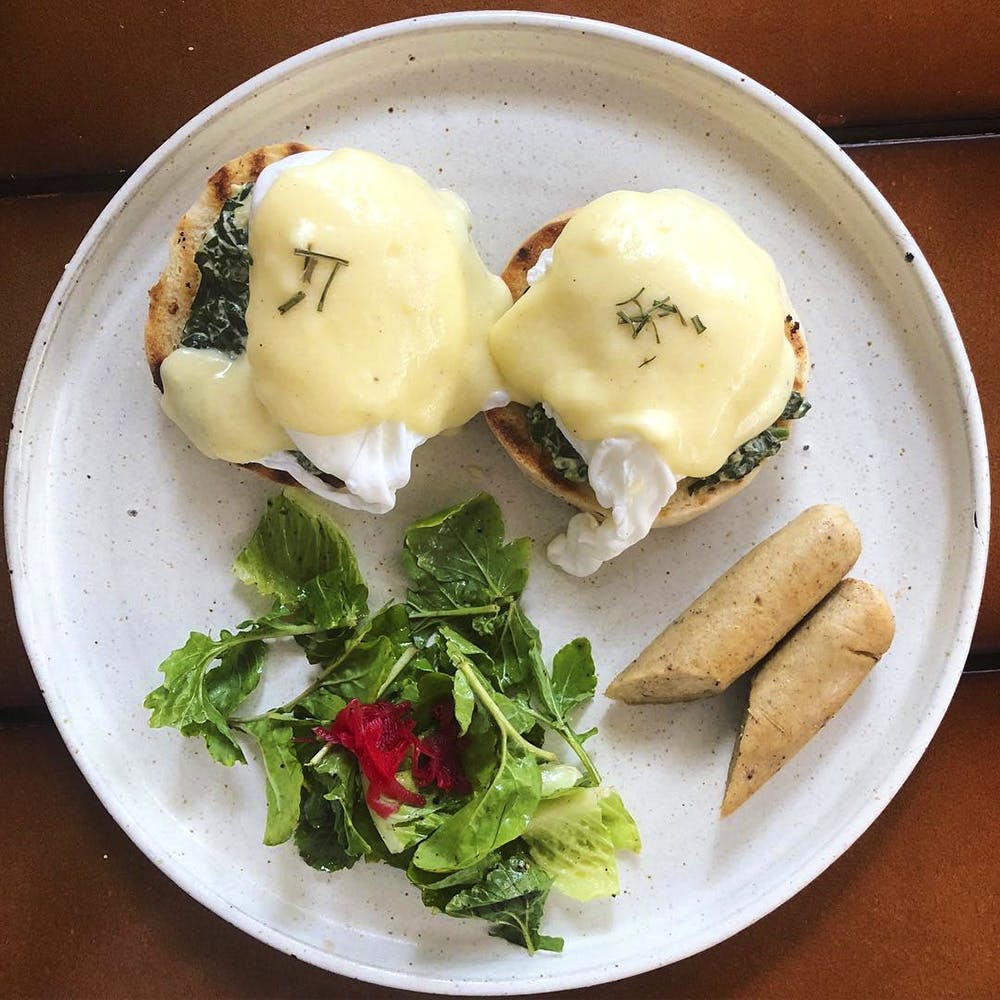 Eggs Benedict Or Avocado Toast? Get 'Em All At The Best English Breakfast Places In Chennai!
While our South-Indian breakfast spread is plenty, it's always fun to switch things up and get an English breakfast spread. Waffles, eggs, pancakes, toast, baked beans, get all these and everything sweet and savoury at these cafes which have the best English breakfast in Chennai.
Chamiers Cafe
If you're looking for the full English brekkie spread, head to Chamiers Cafe in Alwarpet. Their "Full fry up" English Breakfast has bacon, sausage, fried eggs, grilled tomatoes, fried mushrooms, toast, beans, butter and preserves, juice, and tea/coffee. This spread is priced at INR 499. Chamiers also has Spanish, American, and Continental brekkie options!
Waffles Thru The Day
Satisfy your sweet tooth at Waffles Thru The Day the next time you're craving English breakfast. Even though there's not a set menu, you can choose from mini-magic waffles, sweet and savoury classic waffles, pancakes, crepes, and pies priced from INR 200. They've got sides like Chicken & Ham, Baked Beans, Hash Browns, Poached Eggs, Hummus, and Sour Cream, combine these sides with pancakes or waffles, and it'll be the best breakfast you've had!
Cafe Cakebee
Choose from a variety of brekkie options at Cafe Cakebee - their English breakfast is one of the best in the city and comes with Eggs, Hash Browns, Sausage, Bacon, Baked Beans, Toast, and a hot beverage. You can choose from other brekkie items like porridge, mushrooms, yogurt, and granola. Their English breakfast is priced at INR 380.

Sandy's Chocolate Laboratory
In addition to an ala carte all-day breakfast menu, Sandy's has an English brekkie spread with bacon, sausage, 3 eggs to order, Hash Browns, bread and butter, and a beverage. This ensemble is priced at INR 440. If you're not satisfied with the set menu, no sweat, choose from their Japanese pancakes, waffles, pork, French toast, Ham, and carmelised bananas.

Madrasian
Madrasian's menu has a Madras Mornings brekkie spread, which should be on your list. One of the best English Breakfast places in Chennai, Madrasian offers Toast, Scrambled Eggs/Bull's Eye, Grilled Tomatoes, Chicken Sausage, Sauteed Mushrooms, and juice priced at INR 250. They've got eight kinds of eggs, Keto mushrooms, toasts, pancakes, granola, and breakfast bowls.
The Brew Room
Have breakfast of the champions at The Brew Room - their Something English is treat with 2 Eggs, Toast, Bacon, Sausage, Parsley Potatoes, Baked Beans, Orange Juice, and coffee/tea. Priced at INR 400, this spread has a vegetarian version as well. If you get Something Special, you'll get the Granola Parfait, so take your pick!

Flower Power Tea Room
Binge on the best English brekkie at Flower Power Tea Room as they've got Pork of Chicken, Sausage, Bacon Pork or Chicken, Eggs, Mushrooms, Tomatoes, Toast, Baked Beans and Orange Juice priced at INR 495. You can eat omelettes and rolls as well, so there are great food options to fuel up.
The English Tearoom
One of the best cafes for English food and tea, The English Tearoom doesn't disappoint with their Full English Breakfast which comes with Sausages, Bacon, 2 Eggs, Grilled Tomato, Sauteed Mushrooms, Baked Beans, Orange juice and beverages. You can also customise it and get Quinoa bowls, burritos, and salads.
Did we miss something? Tell us in the comments!
Comments