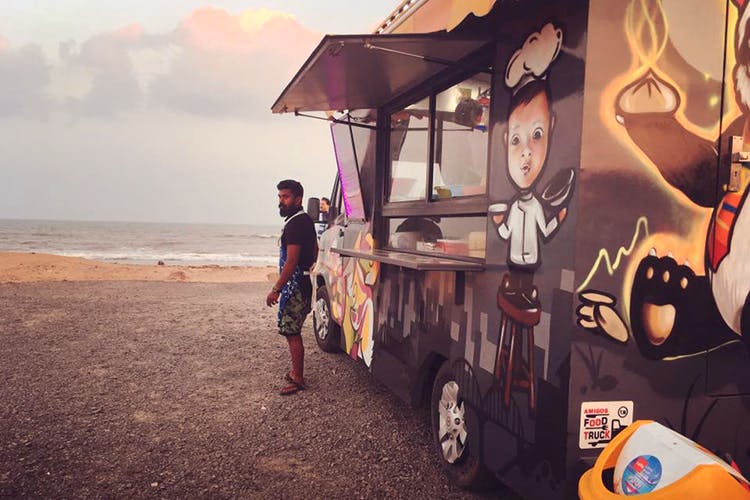 Meals On Wheels? Grab A Bite At These Food Trucks In Namma Chennai
While our city doesn't have a whole slew of food trucks, the ones we do have are pretty fantastic. And for those of you who haven't gotten a taste for the delicious food, these trucks serve, here's what you're missing out on!
Karam
Technically the first food truck in the city, Karam was started by Karthik Kannan who quit his F&B job to start this venture. The menu features Chinese and South Indian dishes at affordable prices and everything about the food and the service is clean and uncomplicated. Head to Velachery to check out the truck and sample their specialties. We'd recommend starting with the momos and working your way through to the Fish Burji and still come away having spent no more than INR 300 for a delicious meal.
Chaska
It's a rare thing to find Tibetian food being served in Chennai, but this food truck in Thiruvanmiyur is doing just that. Started by Rakesh Raj, Chaska serves dumplings, noodles and so much more. They serve non-vegetarian and vegetarian options, so you can take all your friends to fully enjoy the experience. The truck is open only in the evenings, so plan ahead and show up before the food runs out. Try the chicken or vegetable kothe (a pan-fried momo) and the Schezwan noodles if you're a fan of spicy food. Read more about it here.
Fruit Shop on Wheels
That's right, everyone's favourite fruit shop has a truck! Located at the head of Harrington Road, the Fruit Shop On Wheels (as they call it) opens halfway through the day and they can make you pretty much everything on their menu from fresh juices to milkshakes. And during the hot summer days that never seem to go away, this is the perfect treat. You need the Caramel Blitzer in your life, trust us.
Gandivas Food Truck
You can't miss this blue and orange truck when you're in Medavakkam, and for good reason. Besides all the delicious food items lettered across the side of the truck, their specialties include Burmese and Chinese food. But there's more! They're open for breakfast from 7am, lunch from noon and all through the day you can treat yourself to delicious cups of coffee or tea and other snacks. Try the Bejo Soup and Atho Noodles from the Burmese menu and Dragon Chicken from the Chinese menu. Also, if you're hosting a corporate event and want them to be there, get in touch!
BBQ Ride
The first of its kind in our country, this Royal Enfield all-black bike hold delish food for us all. Parked near OMR street, this food truck's got dishes such as Grilled Pineapple Wedges, Grilled Paneer And Capsicum, BBQ Chicken Wings and BBQ Burgers. Whatcha waiting for? Vroom Vroom. Read more about it here.
Moto Wrap
Anna Nagar peeps, this catering van is both budget-friendly and YUM. Their Chicken Kheema and Paneer Wraps are priced at just INR 99 and they also serve momos for INR 79. Don't forget to try their Chicken Deluxe Burger and Tandoori Chicken Burger. Read more about it here.
Southish By Sathyam Cinemas
Our love for Sathyam Cinemas isn't just limited to their cheesy popcorn and movie theatre. Their food truck, Southish has both vegetarian and non-vegetarian delights in biodegradable boxes. The food is priced between INR 25 and INR 85, yay! Gorge on tiffin such as sweet pongal, khara bath, ghee dosa, kozhi roast, parotta chicken salna, and rose milk here. Read more about it here.
The Tickle Truck
Right next to Cozee, this quirky food truck serves interesting flavoured ice-creams starting at just INR 30. From "Poptickles" to Mystery More – a spicy buttermilk popsicle with kaara boondhi, they've got a bunch of flavours for you to binge on. Read more here.
Char
Chennai's newest (and possibly coolest) food truck, Char in Alwarpet has the ultimate menu for meat lovers. Choose from (or don't choose, pick 'em all!) Chicken Tikka, Lamp Chops, Malai Chicken starting INR 150. The decor is winning for its views - geometric patterns in trippy colours. Read more about it here.
The Tasty Truck
From Tacos to Kathi Rolls, The Tasty Truck will keep you saying mmmm and rubbing your belly like Monica. They've got French fries, sliders, tacos and iced teas, so get the gang and go! Read more about it here.
Comments