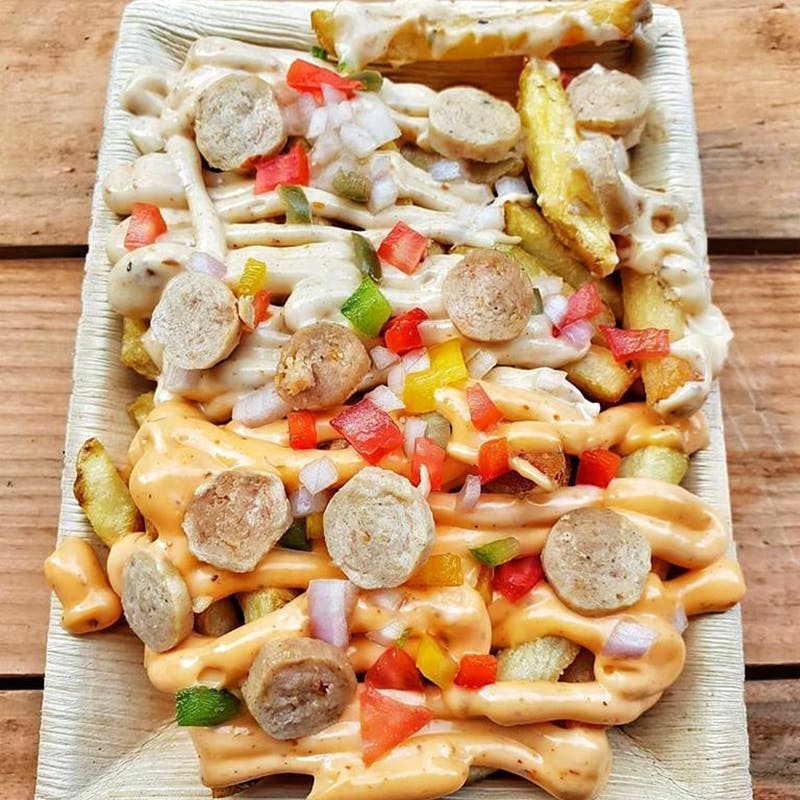 Butter Chicken, Seppangkezhangu & DIY, We'll Tell You Where To Get The Best French Fries In Chennai
We don't know you and you don't know us (sounds like the lyrics of a sad pop song). We're strangers, but here's why we unite - fries are bae. We'll tell you exactly where you can get the best fries in Chennai (it's a date). Exercise? We thought you meant extra fries! We'll keep 'em coming so it's Fryday every day! Here's where to get the best French fries in Chennai.

Idlies
Drop by Idlies and munch on Seppangkezhangu fries made from Taro root. These are super crunchy and we love the karaku murukuness of these fries. You can get these fries with cheese and garlic, but why tho? When you can just sprinkle some molagai podi like the Chennaites will actually do it!

Mad Fries
Classic Fries, Seafood Fries, Chicken Mania, what's your pick? Mad Fries has all these and Butter Chicken fries and even a 'Make Your Own Fries' option. Pick veggies like onions and jalapenos and sauces like Haryali Tikka, American BBQ and Olive & Herbs. Mix it all up and prepare yourself for fry-coma.

Comic Art Cafe
Oldie but a goodie, the Flash Fries at this cafe taste divine. Just a pinch of salt and pepper and you're good to go. The portion is generous (yay!) so dunk these in ketchup or chilly sauce and we bet you'll get addicted.
Double Roti
Choose from flavours like cheese, masala, sour cream & salsa, caramelised onions & grilled sausage, tandoori chicken, and bacon & cheese. Yes, we're still talking about fries! All these are yum onions but our fave is the decked up fries with a cheese overload.

Brick House Bistro
Known for their cheesy gooey fries, this eatery will make sure there's a lot on your plate. Combine both your passion for sausage and cheese and try the cheeses gooey fries with sausage bits. Go for the peri peri fries or beef chilli fries if you've still got the will.

The Bombay Fries
Dedicating its first page of the menu just to fries, there are loads to choose from. Chilli cheese, burrito, amboo, chipotle cheese, schezwan cheese, double cheese, tandoori, salsa cheese, BBQ cheese, sweet chilli, and Nutella fries. Yes, you read right, they have Nutella fries! Satisfy all your French (fry) cravings here. They have Jain versions of the fries, too.

Sitcom
You probably know all the cool sitcom-themed dishes here, but they also have one of the spiciest peri-peri fries. Dunk that into a big bowl of melted cheese and enjoy your happily-ever-after. Tried that already? Go for the bacon fries and fall in love all over again.

That Madras Place
The Parsley & Garlic fries at this restaurant will melt in your mouth in just seconds. Freshly chopped parsley and the intoxicating flavour of garlic can't make it more perfect! If you want to try something new, choose the chilli beef fries or cheese fries with jalapeños and olives.

Blind Ch3mistry
DIY fries goes to the next level at this cafe. Pick your base fry from smoky BBQ, peri peri, chilli garlic, cajun mix, and Jamaican. Next, pick from sauces like makhani, tandoori, chipotle, mint mayo, and chilli garlic. At last, pick your cheese (this is going to take a while, and it's okay.) - regular, cheddar, parmesan, and jack. Top off these fries with chicken cubes or paneer and all your dreams will come true!

Comments