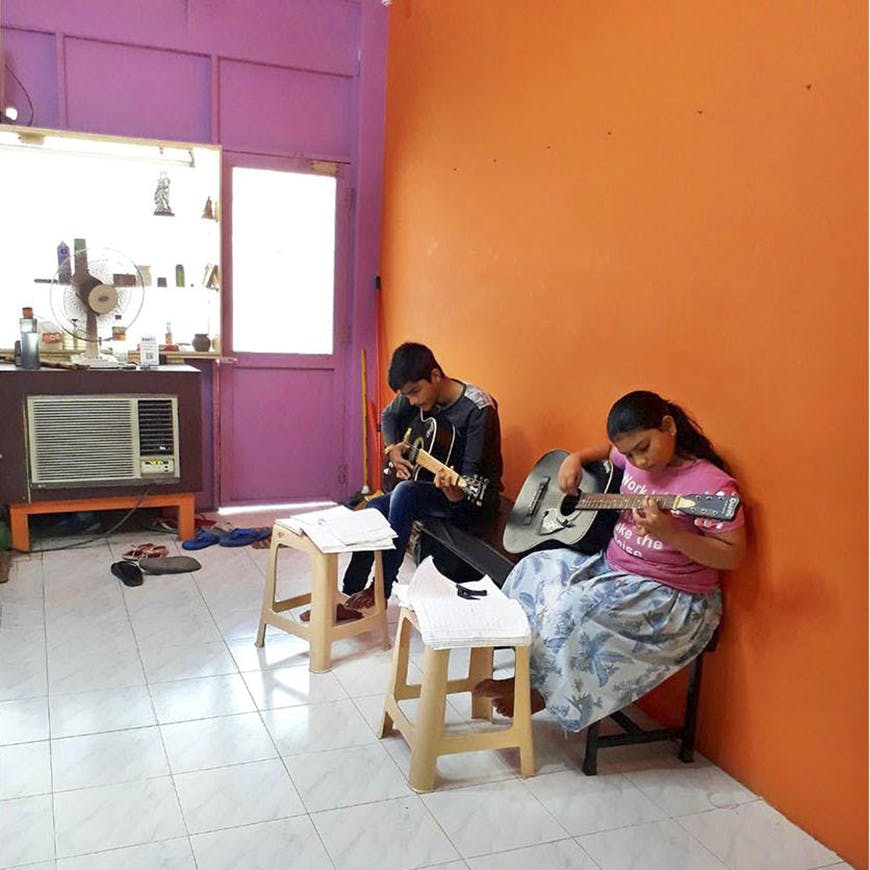 Let Out The Kurt Cobain In You With The Best Guitar Classes In Chennai
There is no doubt about it when every guitarist takes the girl and they just have an uncomparable swag! Bandbanging with a guitar in hand, with those shiny clothes and that's how a rockstar is born. Leave those air guitars in front of the window and take a step ahead to learn to rock it. We have a list of the best guitar classes you can join in Chennai.
Chris Milner Guitar Classes
Chris Milner with his experience of 16 years opened his classes for all in 2009 in Royapettah. Chris Milner guitar classes teach you to specialise in a range of guitar styles and based on your interest, they will give you lessons for acoustic guitar, classical guitar, electric guitar or bass guitar. They also cover a wide range of genres from Indie to jazz! They only take in batches of 3-4 students to give individual attention to each. You can also go for personalised classes! You can join them for INR 3000 onwards.
Somus Guitar Class
Kids to seniors, now anybody can learn guitar with Somus Guitar Classes in Saidapet. They teach guitar in pure practical methods alongside western music theory. You will not only learn the basics of a classical guitar but also learn to feel the world of music as a whole! Notes, sound correction along with a range of genre from Bollywood to classical rock, you can join the classes with packages starting at INR 1000. They take batches in groups of 6-8 and you can choose your timing according to your feasibility! Make friends and learn music.
The Music School
The Music School in Abhiramipuram has been around since 1997. They see music as an away of expressing and de-stressing and what is better than to feel the music under fresh air! They are specialist in keyboards and guitars. They have two levels of courses where in the first, you will learn the basics and guitar theory and practical. in level 2, you can choose your guitars from acoustic, electrical and bass to specialise in. They teach you various genres and you just have to find your favourite. Their packages start at INR 1500 for two days every week.
Kalaa Manjari
Kalaa Manjari in Alwarpet is an art and music school! Not only you will be provided with all-around classes and training, but it is also a place where you can let your creativity flow. This is probably the best options for your kids to learn guitar in a place where they will be given intensive training, care as well as get a chance to meet and greet! They specialise in giving acoustic guitar classes but they have acoustic guitars as well! They take in a batch of students as a class with per person package starting at INR 1000. Along with your child's growth, they will teach your child to love the stage!
Strings Music Academy
Strings Music Academy in Perungudi believes in providing a holistic environment for the best of music feels. It doesn't matter if the student is a 5-year-old or a software engineer or just a 12th-grade teenager, they have specialised batches and timings for each and every one. They specialise in acoustic guitar, classical guitar, electric guitar as well as bass guitar. You can choose what you want to specialise in and what genre you want to focus on and they will help you with it. You can also take up western or Carnatic classical vocal classes alongside! Packages start at INR 1000 and vary according to the time of the week and the type of course.
Star Music Academy
With hands-on experience from veteran teachers, Star Music Academy specialises in giving courses in guitars, piano, flute and so much more! While their headquarters is located in Broadway, they also are located in four other locations across Chennai. They customise courses and syllabus according to the needs of each student and for individual attention, they don't take more than 2-3 per batch. They will teach you hindustani classical as well as western music theory through acoustic guitars at a package starting from INR 800. They offer crash courses as well!
If you think we have missed out on anything, do feel free to recommend them in the comments below.

Comments