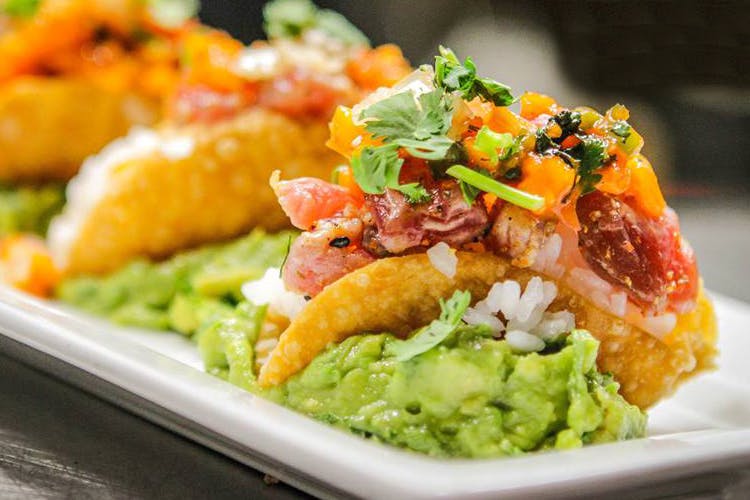 Get Healthy Food Delivered Right To Your Front Door By These Food Delivery Services
Trying hard to get fit and eat right? But tempted to order that oh-so-sweet slice of cake or a whole plate of biryani? Don't give in just yet! We're here to help. We found places that offer healthy food and they are freshly homemade as well. Just like mom would force you to eat some of those greens, we will and these companies will as well. You don't have to move an inch during your office time or from home at all as they deliver as well! Check out our list of the best healthy food delivery services.
A Salad Company
Salads have always been a healthy option no matter what, and now The Salad Company is making it even better with subscription plans! You have the option to choose from vegetarian or non-vegetarian plans which includes plans for a day, 3 days, 5 days and 21 days. For 1 day, the veg box will cost you INR 168 and non-veg for INR 183. For 21 days, it is INR 3240 and INR 3550. Select which meal you'd prefer, your location and place your order. They will deliver it to you based on your selected preferences. They even have a Saturday brunch option that you can order. No preservatives or refined sugar or transfat!
Madraas Meals
There's nothing quite as satisfying as eating homemade food during a relatively rough day and that's exactly what Madraas Meals understands. Their food does not have any added masala and their lunch and dinner menu changes day by day. You can get lunch delivery between 10 am to 1 pm for INR 220 for two with rice, kuzhambu, poriyal and sambhar. While rice stays common, the side dishes can vary. They have dinner set with chappatis as well. You can go for a monthly subscription at INR 3900 for two as well!
Bitefresh
If you've got kids in school, it's always a good thing to start them off on a nutritious meal plan as early as possible. Bitefresh is perfect for kids from the ages of 3 to 16 and they provide alternate lunches that can be taken to school. The lunches are prepared based on age, taste and other preferences so that the children enjoy their meals while also getting all the right nutrition. They have roti sabzi as well as fancy sandwiches and croissants starting at INR 100.
Wootu
Imagine a diet plan customise all for you to deal with your specific requirements of Paleo, gastritis or keto. Wootu has subscription plans just for that. You can call them up and talk to their nutritionists. They will revise your needed plan. They have a quarterly subscription which is priced at INR 29500 which includes your appointment, customised menu, body assessment and even a travel diet plan. They also have plans for tightening, sports and weight gain. You can just opt for receiving a diet plan without the food as well.
Atithi Khana
Home food is the best food. Atithi Khana specialises in making North Indian homemade classics such as rotis and dals. They have various kinds of different parathas as well. They have an ever-changing menu, you just have to dial them up to get the day's menu and you can choose your favourite. You can select afternoon snacks such as sundal or aloo dum as well. Their meals start at INR 100.
Diet Kitchen
Get it all planned with Diet Kitchen. They will make you a custom made healthy and gourmet meals to enjoy. From high tea to lunches and dinners, you can get a monthly subscription as well as fortnight ones. You can choose from their soups, salads, rice, sandwiches, wraps and desserts. Order a french bean stalk soup for just INR 100 or a Nutella grilled sandwich with fruits at INR 110. They have a regular kitchen open from 10 am to 9:30 pm and their special menu kitchen open from 6 pm to 9:30 pm.
Healthy Chef
Healthy lunchboxes for a healthy lifestyle and these are chef-made! Healthy Chef by maria Priyanka started as a home venture as she went on a no-carb and no sugar diet. She turned to experiment the same for others! Enjoy some fine keto meals at INR 300 for vegetarians and INR 350 for non-vegetarians. You can choose keto pizzas and lasagnas! You can get some chocolate ice cream with fruits and chia seeds as well.
Comments