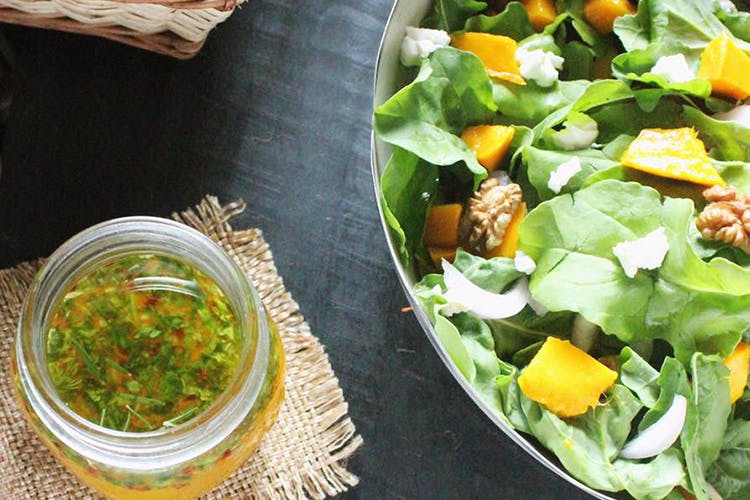 OMR Folks! Looking To Eat Healthy? Here's Our Guide For Awesome Salads Nearby
We understand that sometimes working long hours makes you wish for a greasy pizza or a burger with a box of fries. But every now and then, it's also good to try something a little less heavy and still delicious. Plus, greasy food makes you sleepy and that's never a good thing when you have to get back to work after lunch. What's on our list for today? Salads! And maybe some soups. Light, but healthy and filling food, despite what you might think.
The Farm
Located in Semmancheri, The Farm stays true to its name of farm fresh food. You're guaranteed a bowl of delicious salad with everything that you could ever want in your food. And fear not, they have non-vegetarian options too and the option for you to add more meat or toppings to your salad. They have their very own Caprese Salad and even a Farm Special Salad, but for non-vegetarians try the classic Chicken Caesar Salad.
The Pasta Land
This restaurant might not be on your radar, but they've got a lot of Italian options including pizza. But for the purpose of this list, we'll ignore the pizza and go straight to the salads. While not a long list like The Farm, they still have some classics like the Caesar and the Mista (which has grilled vegetables, lettuce and Italian dressing) or if you're a non-vegetarian, then give the Insalata Di Pollo a shot – it has chicken and bell peppers! If you're a Zomato user, you can order from this restaurant using the app.
Dot.Yum, Aloft Chennai
If you're looking to try something new and maybe even get out of the heat and eat somewhere a little fancier, head to Dot.Yum at Aloft Hotel. They've got a pretty extensive menu to choose from even. Like everyone who serves salads, they also have the Caesar, but they also have a Fresh Salad and a Grilled Vegetable Salad. And carnivores can try the Chicken Tapas Salad for a little-added flavor.
Orange Wok
You might not believe it, but Asian food has some really great salads and Orange Wok has a pretty interesting lineup. Even if it's vegetarian, you will definitely enjoy these options. For something with a little crunch, give the Crispy Hong Kong Noodles Salad a shot (but if you're allergic to nuts, you're better avoiding this) or maybe try the Thai Raw Papaya Salad which is definitely a popular Thai dish and it's a combination of sweet and spicy. Zomato users, you can order through the app or their website.
The Square, Novotel
A little on the expensive side, it's a great place to go if you're ready to splurge and if you've got a nice long lunch break. Or you know, after work too! Their menu features lots of great continental and Pan-Asian dishes and even breakfast that they serve till noon. But their all-day dining menu is quite extensive too, including a few salads. They have a Traditional Greek Farmer's Salad which sounds absolutely delicious as well as a Caesar Salad (in non-vegetarian), where you can pick and choose from three different kinds – chicken, bacon or salmon!
Comments