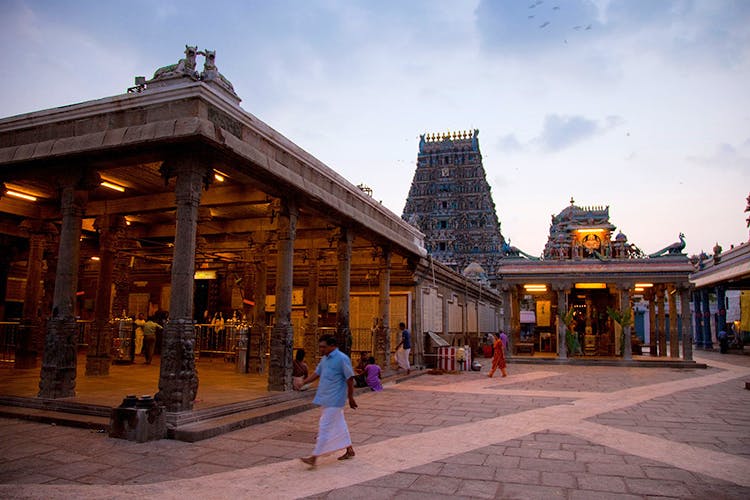 Explore Abandoned Forts And Iconic Temples & Spots With These Heritage Walks In Chennai
Chennai is an explosion of colours, flavours, and history. Right from the sambar and filter kaapi to pre-independence monuments and centuries-old temples, there's a lot to discover in namma Chennai. Do just that on these best heritage walks in Chennai.
Bazaar Trail - Georgetown
Explore the buzzing markets of Chennai in Georgetown, the go-to place for shopping and the best heritage walk trail. Get a taste of the mythology, history, and story of the lanes of Georgetown. After you tire yourself out, grab a bite to eat at one of the iconic Gujju hotels there.

Indo-Saracenic Architecture Of Madras
Discover folklore about South Beach, which is now called Marina beach. At this walk, you can explore the pre-independence architecture and buildings which are regarded masterpieces even today. Check out the oldest houses in Mylapore and get transported to an older time at this heritage walk.
Heritage Walk - Chetpet
Explore the streets of Chetpet and spam your Instagram feed with pictures of the little stores and views by the Cooum River. This walk is usually conducted by novelists and journalists, so you can get all the deets about their history and how the area transformed over time. End the walk by feeding ducks and taking a walk by the lake at Chetpet Eco Park.

Trails In Mahabalipuram
This heritage walk will tell you all you need to know about the ancient port town, Mahabalipuram, which now remains the best place to take road trips. This UNESCO World Heritage Site has temples, monuments, and a legendary Shore Temple with an 8th-century shrine facing the beach. On your way, visit DakshinaChitra and the Madras Crocodile Bank.

Peacock Trails - Mylapore
Mylapore is known to be one of the oldest areas in Chennai, and there are many secrets of the town buried in the area. Explore the peacock trails (Mylai translates to peacock), the vintage architecture, and temples which are centuries old. Explore the oldest messes in the city, an explosion of filter coffee and delish food!

British Buildings Tour
On this heritage walk, you will get a sight of the most famous British buildings built during the pre-independence time, their purpose, and their significance today. Many of these buildings have Victorian Gothic architecture and have been left untouched and are an important part of Chennai's history. Shop at Higginbotham's while you're there.

Explore Old libraries Of Chennai
For all bibliophiles and book lovers, this heritage walk is a great peek at Chennai's oldest libraries. You can visit two of Chennai's biggest libraries - Connemara Public Library (oldest library of India) and Anna Centenary Library, spread across right huge floors.

Ask Aasha a question