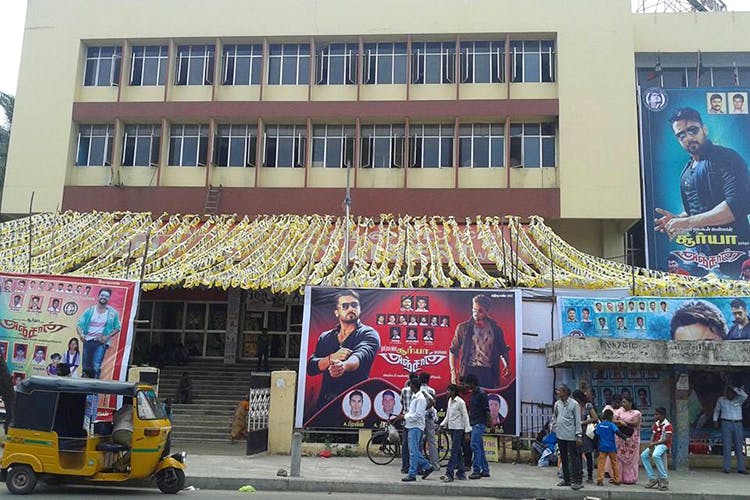 Milk Baths, Firecrackers & 4am Shows? Check These Theatres For The Ultimate Mass Fan Experience
If you've got a Chennai must-visit bucket list, then it's time to add something crazy to it, if you haven't already. Ever wondered what it feels like to watch a superstar's movie as early as 4am, starting at just INR 50? We'll tell you exactly where and why you should do that. While catching up with the First Day First Show is the best bet, most of these theatres host festivities all day for grand releases for movies featuring stars from Thalaivaa to Thala to Thalapathy!
Kasi Theatre, Ashok Nagar
If you're an Ajith fan, then Kasi theatre is the place to be. Thala fans make sure it's nothing less than a carnival and the firecrackers being burst outside the theatre right before the first show, and that too the 4am show will make sure that you feel the thrill too. Not just that, once the movie kickstarts, you have paper creepers flying all over the screen and every time Ajith throws one of those punch lines, fan or not, you're sure to scream your lungs out along with the fanatics. Also, watch out for the milk abhishekams that happen literally on the screen during the first day first shows. No, we're definitely not kidding about this one!
Price: INR 150 upwards for tickets
Albert Multiplex, Egmore
What's a movie theatre list without Rajinikanth? Yes! Thalaiva's movies, that too in Chennai are a whole different experience altogether. While you heard us mention crackers and poojas, the Rajini first-day-first-show mania, comes with a lot more dan da na ka. For a second outside Albert, you would think you're joining the baraat of a wedding. But hold on, that's just all the drums specially arranged for Rajinikanth. Watch fans dance their heart out, throw garlands and chant Rajini mantras before they kickstart the first screening of the day.
We suggest you join them too. And once the movie starts, with every entry and dialogues, goosebumps are guaranteed. But what we can't guarantee is a chance of getting yourself a ticket at this signature theatre. Queues for tickets start way earlier than expected and there is no guarantee on the online booking either. And prices can even go up to INR 1,500 per ticket!! Yes, the hype is true and getting those Thalaivaa movie tickets ain't going to be easy.
Price: INR 49 upwards for tickets
Vettri Theatres, Chromepet
Ask any Vijay fan, what they're doing on release days, especially Diwali when the actor's most movies hit screens and you would get only one answer. Most of them would actually leave behind all the festivities back home and head to the theatres instead. Well, that's where the real festivities begin for most Chennai Vijay fans. With 10,000 walas (apparently India's longest firecracker chain, which can be found in Chennai) and chants from outside the gates, the experience is unbelievable. The fan fest gets bigger and better with every dance move and every action sequence Vijay indulges on screen. This is where all those Mersal Diwali references actually come to life.
So don't forget to get yourselves those 4.30 am show tickets and tick off something insane from the bucket list.
Price: INR 118 upwards
Rohini Silver Screens, Koyambedu
Though not a single screen, Rohini has recently joined the list of fan experience theatres. From the recently released Vivegam to last year's Kabali, fans have taken over this theatre in an ultimate mass way. At Rohini, experience a dramatic 'gates open' feeling, with fans literally rushing to the screen as soon as the gates do open. If you happened to be on the other side of the gates, don't panic for it might just look like a stampede. Luckily, you could get your tickets online for Rohini Theatre, but sites crash all the time before these mega releases, so make sure you book them as early as possible!
Price: INR 160 upwards
Comments