The information in this post might be outdated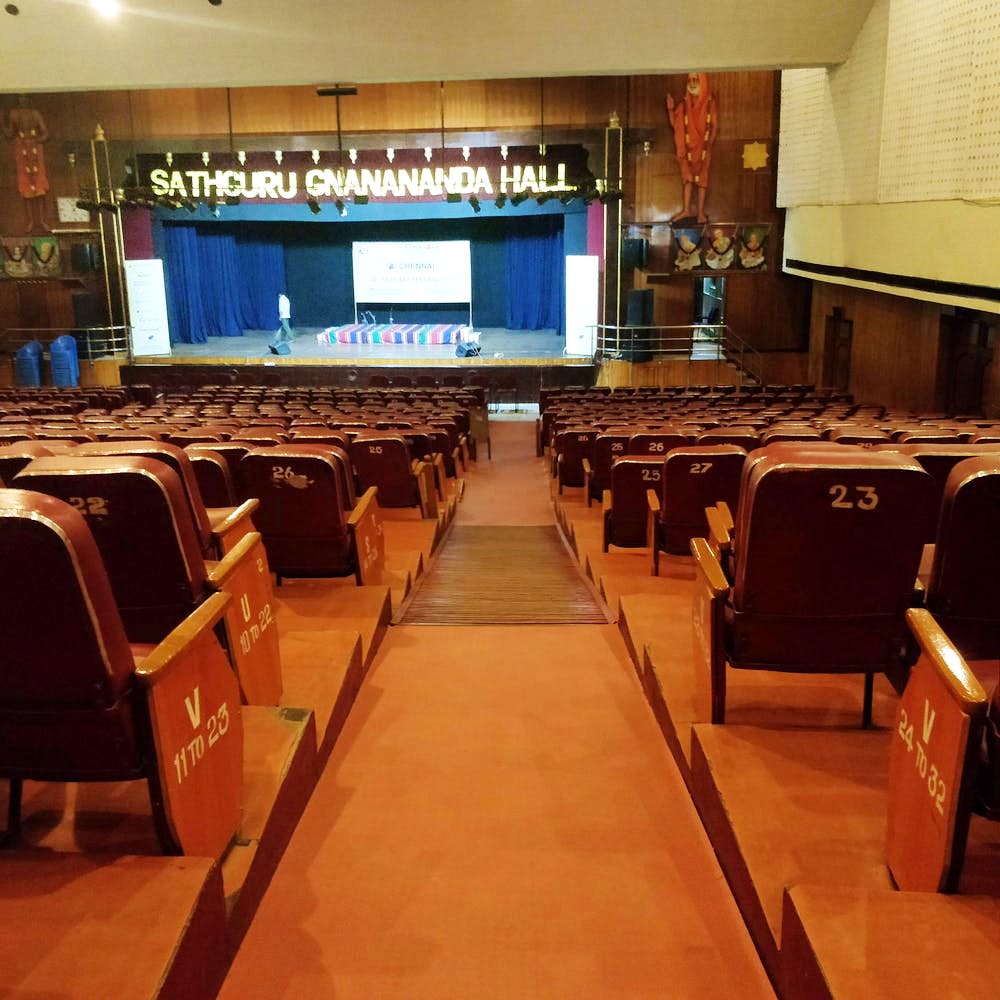 Check Into These Iconic Sabhas To Experience The Best Music & Dance Of Margazhi
Planning which concerts to go to and which artistes to watch live? Whoever you pick, you will end up going to most of these sabhas, so scroll down and get the low-down on what's hot in the sabha world. If you came here by mistake thinking this is about the sabha food, don't worry, get all the deets here. (we love you too!)

The Music Academy
Think music and dance and you'll think of the legendary Academy. The stage has been filled with stalwarts and famous performers since the 20s including musicians like Tiger Varadachariar, MS Subbulakshmi, and Mudicondan Venkatarama Iyer. This year, you can check out lec-dems, concerts, and dance performances than ever before. Don't forget to eat at the Academy canteen, known for it's yum food and filter kaapi.

Narada Gana Sabha
Super famous for its cosy halls and the amazing smell of podi dosai that's always cookin' at New Woodlands right outside, Narada Gana Sabha (NGS) is a must-visit during the Margazhi festival. Be it a Priya Sisters kutcheri or a Trichur Brothers concert, don't forget to be right where the magic happens - at NGS.

Sri Krishna Gana Sabha
Bang in the middle of T-Nagar, Krishna Gana Sabha is namma favourite. Did you know it used to be an open-air theatre once? We're glad it isn't anymore (imagine all the mosquitoes!) because we're loving the Chettinadu-style architecture, Tanjore-style pillars (which make for the perfect post-kutcheri selfie spot), and the acoustics of the auditorium. Of course, we can't forget the canteen by Sri Krishna Sweets which serves the best Ghee Roast.

Brahma Gana Sabha
Known for one of the best halls, Sivagami Pethachi Auditorium will not disappoint. Expect a variety of music, right from Carnatic kutcheris to fusion concerts and jugalbandhis. Our fave is the one with the rhythm of mridangam and the groove of a bass guitar. They also have a special concert by Sanjay Subramaniyam, a renowned vocalist, on New Year's Day, so get your early-bird passes soon!

Bharatiya Vidya Bhavan
Not only is this one of the oldest venues but is also situated in Mylapore - rest assured, you can literally see the juice of Margazhi flowing down the streets. BVB was founded in 1938 with the blessings of Mahatma Gandhi and has hosted everyone from MS to Sudha Ragunathan. When you go to BVB don't forget to visit the messes nearby: Karpagmbal, Maami, and Rayar. They say there's a special glow in the faces of people in Mylapore, now you know the secret.

Sri Parthasarathy Swami Sabha
Registered in 1900, this is the oldest music sabha in South India. And fun fact: the Founder, Manni Tirumalchariar was instrumental in establishing 'The Hindu' in 1870. Lectures and concerts held here are more than 100 years old and this year, you can catch Vishaka Hari, Sudha Raghunathan, and Sid Sriram who are performing amongst other amazing musicians. If you forget to eat the food catered by Mountbatten Mani Iyer, you will regret it for the rest of your life. (really tho)

Thyaga Brahma Gana Sabha
Programs by this sabha are held at Vani Mahal, an exquisite, beautiful venue. Beware, the blast-off of the AC, cosy chairs, dim lights, and angelic music can put you to sleep. Don't miss out on concerts by KJ Yesudas and RK Shriram Kumar this month.

Rasika Ranjani Sabha
If you thought nothing screams Mylapore and Margazhi like BVB, you must check out RR Sabha, which is literally soaked in Margazhi. Currently, this 90-year-old sabha is the hottest in town because it was fully revamped and inaugurated just last year. Drop by for some amazing kutcheris, food, and latest Margazhi gossip!

Mylapore Fine Arts Club
This is one of the only sabhas in the city which still looks like what it did 60 years ago when it was founded. With its authentic historic touch comes a barrage of talent, mostly young and budding. Here, you can listen to the newest and upcoming artistes of our time as well as the big names. Add tucking into onion sambar and vadai at the canteen and the combination is bae.

Comments