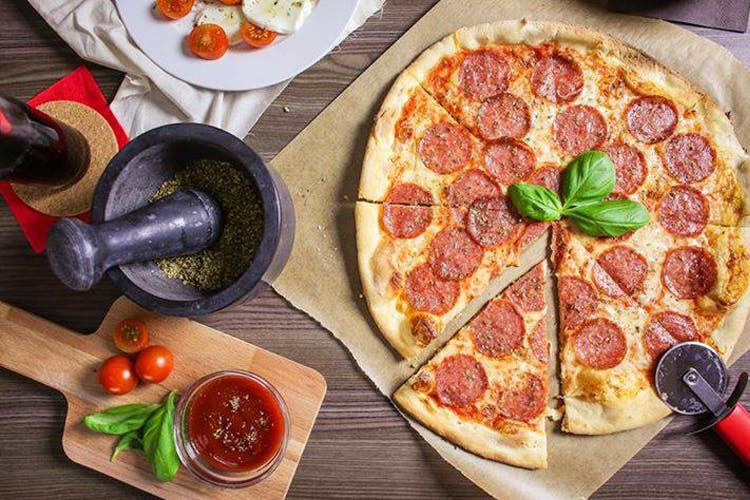 Pasta & Caprese To Bruschetta Pomodoro, Have You Been To The Best Italian Restaurants In Chennai?
For those of you who love getting your weekly Italian fix, we're all in this together (you're probably gorging on sourdough bread pizza from Nolita right now). Whether your love for Italian food is as basic as garlic bread or as complicated as Rissotto, we've got you covered. Here's a list of the best Italian restaurants in Chennai. But, before that, did you know Fiammetta, an Italian chef in Chennai organises curated meals at her bungalow in Madhavaram? Now, that your interest is piqued, Buon appetito!
Little Italy
The ambiance at Little Italy is certainly their strong suit. Add to that the crostini with a dollop of butter and tender parsley which crumble in your mouth - you can't miss this restaurant in Chennai if you love Italian food.
Read more here.
Tuscana Pizzeria
Reignite your undying love for pizza at Tuscana Pizzeria, a fancy Italy-themed pizzeria known for their extensive range of pizzas. Choose from veggie options like Siciliana, Aastha Paneer Tikka and meaty ones like Bolognese (with beef and mozzarella) and Frutti Di Mare (with prawns, fish, and marinara sauce). Click here to know the best pizzas in town!
The Farm
You can't have a list of the best Italian restaurants in Chennai without The Farm. The concept of this restaurant is winning; you eat food made from veggies and herbs grown on their farm. Their fresh parmesan and cheddar are addictive (you can just bite down on cheese!) and dining here is an experience. You can take a walk by the farm and pick out the veggies as well as shoot those perfect pictures.
Read more here.

Chianti
Chianti recently opened in namma Chennai and their drool-worthy aesthetics makes their Italian creations difficult to digest (cause the food looks so good!). With more than 16 kinds of pasta, pizza, risotto and delish desserts, Chianti is a must-visit if you want good Italian food in Chennai.
Read more about what we loved here.

Pedreno's
Formerly named Padrino's, Pedreno's is one of the first restaurants to introduce massive pizzas to feed all of us Italian-hungry people in Chennai. They've got pizzas in four sizes right from nine inches to brobdingnagian 30-inch pizzas (kudos if you got The Big Bang Theory ref).
Read more here.

Ottimo
If you've got that mean hankering for good Italian food (and a few bucks to spare), head to Ottimo at ITC Grand Chola. One of the best Italian restaurants in Chennai, Ottimo is known for the international appeal. The decor is luxe and you can try the Parma Ham And Ricotta pizza and Madeline tarts.
Fusili Reasons
For Italian food with Indian-ish flavors, Fusili Reasons is the best option. Budget, pocket-friendly yum Italian food is their USP and we're totally on board with them on that. Don't forget to try the Beetroot Mayo Garlic Bread. And, they've got Jain versions of pasta, too, yay!
Read more here.

Amelie's
If you're looking for budget-friendly and tasty Italian food but with a spectacular view and decor, you're an Amelie's kind of person. Try their pumpkin-based pasta and the sliders which keep it short and sweet. Their ice cream menu starting INR 120 is the cherry on top!
Read more here.

Onesta
UM, unlimited pizzas starting INR 299 EVERYDAY, what's not to love about Onesta? If you're just getting into the groove with Italian food, this restaurant makes Chennai peeps super proud. Also, they've got fun offers for people with names (OK that sounded weird). Their 'name' offers people with a certain name or letters eligible for free meals and discounts. For example, those with 'itha'. All the Sushmithas and Poojithas, gather up!
Read more here.

Focaccia
Known for their extensive menu with rare Italian dishes, Focaccia should be on your list. Try dishes with lobster, prawns, and salmon slow cooked with wine and champagne. This Italian restaurant is also a great place for date night, so two birds one stone.
Did we miss something? Tell us in the comments!
Comments