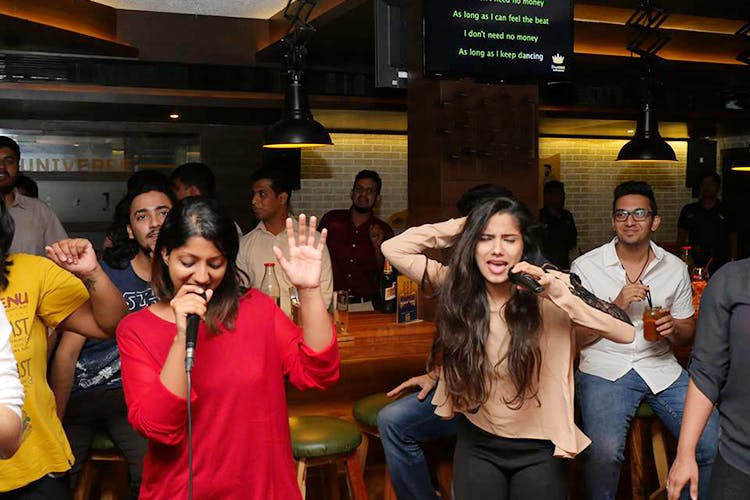 Sing Along With The Squad At These Bars In Chennai For Epic Karaoke Nights
Chennai is an incredibly musical city, with great bands coming out of the woodwork and let's not forget our Margazhi season that kicked off just a month ago. But for those who aren't in bands or professionally qualified to sing, karaoke nights are everything (especially after you've had a drink or two). And despite what you might think, there are tons of venues around the city that have karaoke nights. With well-known local musicians working as KJs (karaoke jockeys), you can be sure to have an absolute blast. So, for those looking to explore something new and get in on the fun, here's where you can find karaoke happening almost every night of the week.
The Velveteen Rabbit
Themed like a prohibition era bar, The Velveteen Rabbit was located below R.A Puram's favourite haunt L'Amandier. But with the restaurant closed down, the bar has expanded upstairs to take up a lot more room and offer a lot more on their menu. Sip on specially crafted cocktails and mingle with your friends every day of the week, and then on Wednesday nights, you get to sing your heart out!
When: Wednesdays, 9pm onwards
Big Bang Theory
Not to be confused with the popular sitcom, this Kodambakkam bar hosts karaoke every Thursday. And if you're worried about stepping up onto the stage, you'll have your own hype-woman in the form of KJ Mridula setting the mood and the getting you and your audience into the mood. Classic rock, Top 40 hits and almost anything else you could think of await you on their playlist.
When: Thursdays, 9pm onwards

10 Downing Street
On Thursday nights, the only place you need to be is 10D and you are guaranteed a good time. This Chennai staple has something different happening every single night and no matter what you're in the mood for, they've got it for you. KJ Nadisha promises to make your evening unforgettable, so grab the microphone and belt out your favourite hits.
When: Thursdays, 9pm onwards

Vapor
The newest karaoke spot on the block, Vapor is located at Feathers Hotel and they promise a good way to kick start the rest of your week. With Mridula taking over KJ duties here as well, you know you're in good hands. Gather your gang and step up to the stage and sing your heart out.
When: Tuesdays, 9pm onwards

Comments