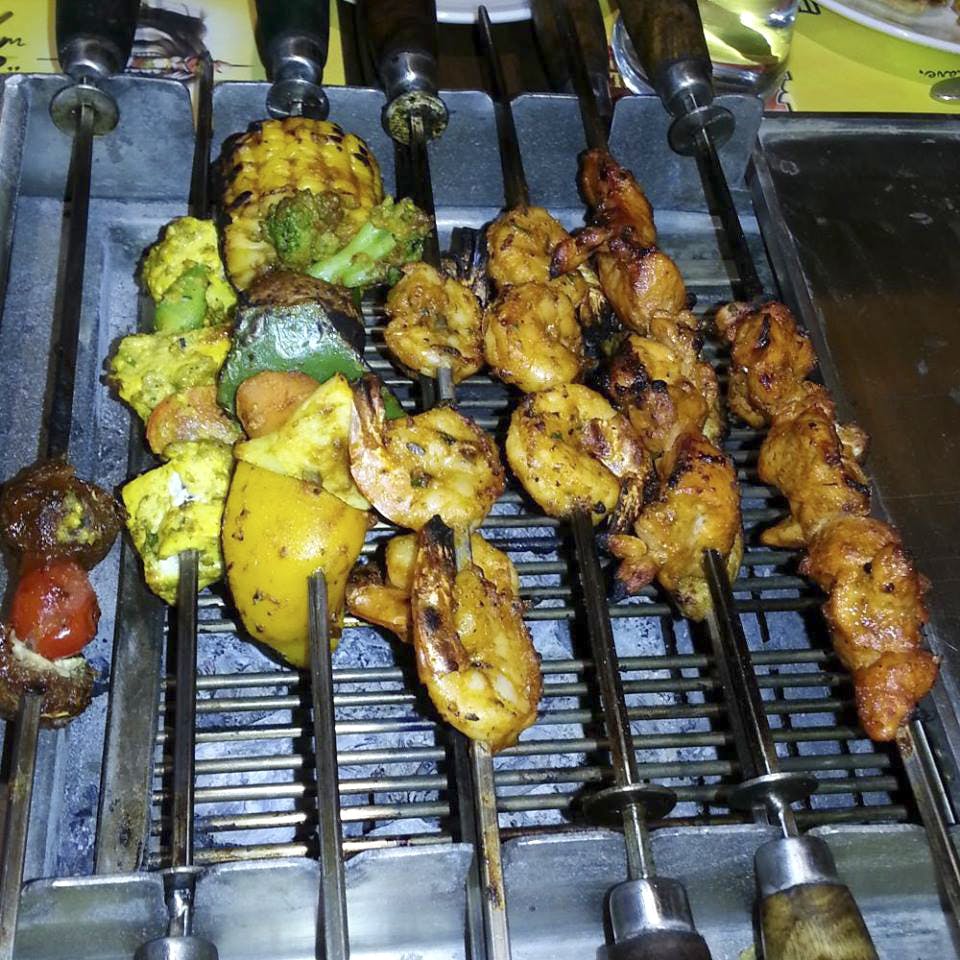 Cocktail Chicken & Grill Fish, Get The Best Kebabs In Chennai Here!
Whether you're vegetarian or not, if you love grills and BBQ you will love kebabs. The concept of Kebabs (also called Kebabology) is nifty - everything you want on a stick topped with the best of masalas and seasonings. Grab your gang and head to these restaurants and kiosks for the best kebabs in Chennai.

Palmshore
Known for their grills and kebabs, Palmshore has an extensive menu including Mutton BBQ Sheek Kebab and Lobster Pepper Sauce BBQ. They've got seafood-based BBQ and prices start from INR 140.

Kebab It
This little kiosk in Besant Nagar has all kinds of Kebabs right from Paneer Tikka and Achari Paneer to Hyderabadi Chicken. They've got a section with just Veal Kebabs starting INR 130. Stop by Kebab It and kebab it at budget prices.

Punjab Grill
Head to Punjab Grill for the ultimate Kebab experience. Their non-vegetarian Kebab Platter is famed for its succulent taste and kebabs in various shapes and sizes. It's like a mini food fest which will leave you craving for more. They've got other vegetarian and seafood kebabs as well.

Kebab Street
From Pepper BBQ Chicken to Mushroom Tikka, gorge on tender Kebabs at Kebab Street in Kilpauk. This joint is great for takeaways and kebabs are priced from INR INR 200.

Barbeque Nation
Barbeque Nation in T-Nagar serves up barbecue skewers and kebabs which will fill you up just by looking. They've got platters with Indian, Peshawari, or Thai options and kebabs with Prawn, Chicken, and Fish. Vegetarian options are limited, but yum, so fill up on the mushrooms and paneer kebabs.

AB's Absolute Barbecues
Absolute Barbecues has an extensive menu of kebabs for veggie lovers including broccoli, chickpeas, bamboo shoot, and baby corn. Meat lovers, choose from kebabs such as Mix Seafood Melody and Banjara Chicken.
La Cabana
This newly opened restaurant in Nungmabakkam is winning for its grills and kebabs. Eat veggie kebabs like Khumb Gulawti Kebab (minced mushrooms with cheese) and Gobi Mutter Kebab. They've also got Lahori Mutton Kebab and Afghani Murgh Kebab for those who love chicken.
Did we miss anything? Tell us in the comments.

Comments