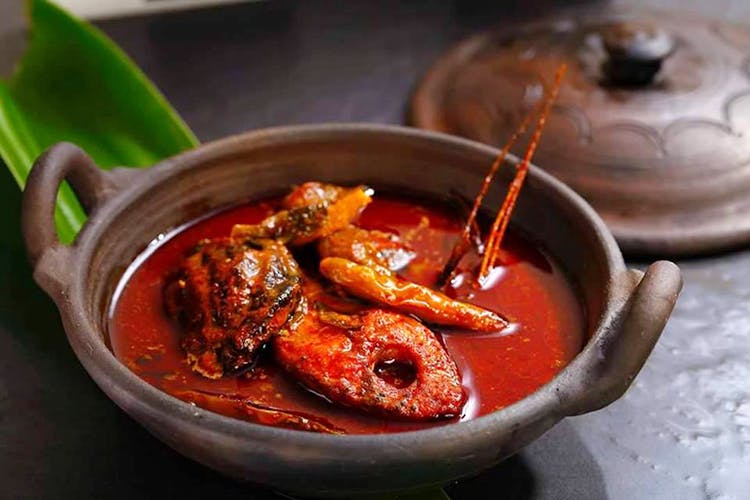 Karimeen Pollichathu, Beef Fry & Kappa: Find Your Malayali faves At The Best Kerala Restaurants in Chennai
When someone mentions "Mallu food", the images that pop into people's heads is a plate of Syrian Beef Fry or a delicious Onam Sadhya. But there's so much more to nammude Malayali cuisine than those two specialities. And these restaurants in the city will definitely prove it to you. With everything from fish curries and Kerala parottas, these eateries will introduce you to a whole new selection of Kerala food. Read on to discover the best Kerala restaurants in Chennai.
Nair's Mess
The famous Triplicane mess, Nair's Mess still serves their meals on banana leaves and every single item on their menu is South Indian to the core. And the taste of coconut oil with every bite will definitely transport you to Kerala for the brief moment you're enjoying your meal. Try the Kappa and Meen Curry for no more than INR 80, because if you're going to eat really good Malayali food, that's where you need to start.
Coastline
One of the most popular things made in Kerala is fish and being a coastal state, there's always a lot of fish items served in homes and restaurants. Coastline has the same belief with its delicious seafood offerings. But the only thing we're going to draw your attention to is the Karimeen Pollichathu because this pomfret speciality marinated in delicious spices is a must-have!
Ente Keralam
With two outlets in the city, Ente Keralam is definitely the most popular Malayali restaurant. They host special festivals and have visiting chefs coming in from Kerala quite often, spoiling you with the best in Kerala cuisine. They have a regular Kerala Sadhya that is served on a banana leaf from Monday to Friday and has rice, curries and vegetables all for INR 255. But they also have Puttu which you must have with Kadala Curry because that is the ideal Kerala breakfast, lunch and dinner if you ask anyone.
Kumarakom
Another very popular chain of restaurants is Kumarakom (they have four outlets spread over the city) and is named after the village located on the Vembanad Lake in Kerala. They have a lot of familiar dishes from different parts of the country, but your focus should only be on their "special dishes" which includes Duck Roast and even the Karimeen Pollichathu which starts at INR 300, depending on the size. Pair it up with a plate of Kappa and you're set.
Kuttanad
Stepping into this restaurant is like being transported to one of those Kerala restaurants where they serve toddy with your meals. They've got some soups and starters, but we'd skip all of that till we get to the Kappa Biryani and the Chicken Varutharacha Curry or maybe you'd like to try their Duck Masala (INR 200) with an Egg Appam, because what is a Kerala meal without an appam or two?
Hotel Crescent
A well-known name for Kerala food, Hotel Crescent has a lot of their old staff members as well, which makes it a second home for regulars. Do you know what Crescent is famous for? Their Sexy Chicken (INR 330 for the full chicken), but what they also have and you can't find in a lot of other restaurants is aila (mackerel). Like the Karimeen Pollichathu, it's quite a speciality in Kerala, so get yourself a piece or two.
Dakshin, Crowne Plaza
If you're up for spending a little more than usual on some really good Kerala food, then Dakshin is where you need to be. Their menu boasts a variety of South Indian dishes and they will not disappoint. Their Meen Moilee is a terrific choice. Mix it with some Avial and a portion of rice and you have the perfect meal. They have servings of alcohol as well so you can have a little bit of glug glug with your delicacy. If you are going party mode, might as well go full out with it.
Kappa Chakka Kandhari
You might want to book a table for this. Kappa Chakka Kandhari is an area favourite in Nungambakkam when it comes to Kerala cuisine. Their 12 pages menu is a haven for both vegetarians and non-vegetarians boasting of a variety of authentic dishes from fish and beef to appams and sweets. Order a Syrian beef fry, it tastes heavenly with appam. They might not have parottas but they have kappas and rice varieties to try out. An end to the evening with their jiggly tender coconut pudding couldn't feel more refreshing.
Gossip Fusion Bistro
With pop art and music decor hung up on the royal green walls, Gossip Fusion Bistro in Kanathur is an experience in itself. Not only does it serve Italian and continental, but their Kerala dishes are also worth the hype. Rightly carrying fusion in its name, each of their dishes come with a western tweak. Tempura banana flowers to beef biryani and Malabar parotta, everything is a little twisty. Your love for coconut will be satiated with a taste of their tender coconut mousse. They have a breakfast buffet on Sundays also. And guess what? They are serving this Onam as well.
Ikkakas
Seasoned rice and tender beef, Malayalis know how to get it right at Ikkakas in Teynampet. Start off with a refreshing glass of kulukki sarbat and some mutton cutlets. As your appetite increases, you could go for Kerala rice meals, or you could order up some appam and chicken curry. It is all spiced to bring out the coastal in the food, and you will just be left wanting more. A little payasam or tender coconut mousse, in the end, it is just what you could ask for.
Missed out on something? Mention them in the comments below.
Comments