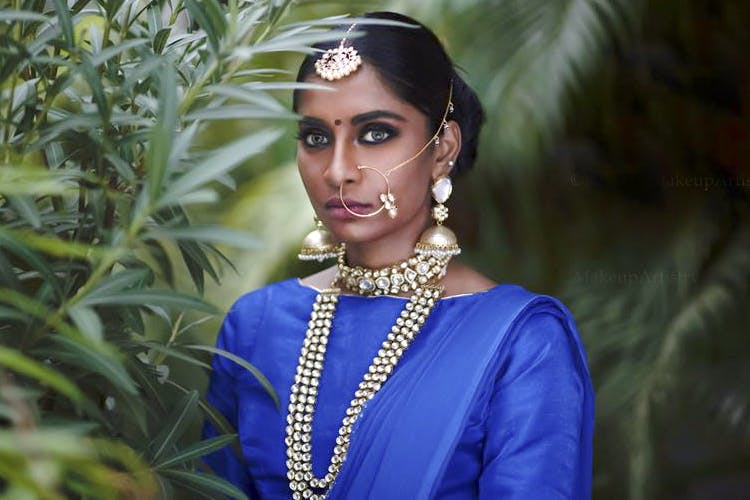 From HD Makeup to Event Styling, Here's Your Quick Fix For The Best Makeup Artists In Chennai
Whether it's a cocktail party or a wedding, we obviously want to look our best. And who better to help us with this than the god-sent angels we call makeup artists. From draping to styling and beautifying our face, these lovelies are the ones who make sure we stand out at every occasion. However, finding the best ones is certainly not an easy task. But you don't have to worry about that because we've put together a list (just for you) of the best makeup artists in Chennai, so just sit back and glam up, girl!
Aakriti Sachdev
A beauty trainer, vlogger, blogger and one of the best bridal makeup artists in Chennai, Aakriti Sachdev is a full-time makeup professional. She even does workshops and has a whole team of assistants that make a part of her brand called Mesmereyes Makeup. As for her makeup packages, her HD package (suitable for casual occasions) starts from INR 12,000, while bridal makeup starts from INR 32,000.
Vishnu Priya M
An engineer-turned-makeup artist, Vishnu Priya specializes in makeup for weddings, photo shoots and parties. Known for her eye-colouring skills, Vishnu Priya also takes up makeup workshops and gives great skincare advice. Her bridal package starts from INR 25,000, while non-bridal one starts from INR 12,500.
Sringa Syam
A painter turned HR professional, turned body and makeup artist, Sringa Syam is one of the most reputed makeup artists in Chennai. Going by the name Kabooki MUA, she does both bridal and party makeup, starting from INR 20,000.
Anitha Sridhar
Famously known to create show-stopping brides, Anitha Sridhar is a full-time makeup artist. Subtle, all glam or a fine balance of both, she can do it all. Her bridal package starts from INR 12,500 and includes draping and hair-styling.
Kavitha Sekar
An internationally trained makeup artist and a makeup trainer, Kavitha Sekar has quite a fan following. Specializing in both bridal and fashion makeovers, she charges about INR 30,000 for bridal makeup and INR 6,000 for non-bridal makeup.
Sadhana Senthil
A certified MAC makeup artist, Sadhana's subtle makeup look has won many hearts. She works on a freelance basis and does both bridal makeup and workshops. Her bridal makeup starts from INR 17,500 and includes draping and hair-styling.
Nagi Varadarajan
A London Certified Makeup artist, Nagi Vardarajan has been making quite an impression with her casual makeovers and event styling. Her specialty is bridal makeup, which comes in both airbrushing and HD variants starting from INR 15,000.
Tiya Alexander
A young and upcoming makeup artist, Tiya Alexander is already creating quite a stir with her work. Working on a freelancing basis, she does both casual and bridal makeup and styling, starting from INR 13,000.
Comments