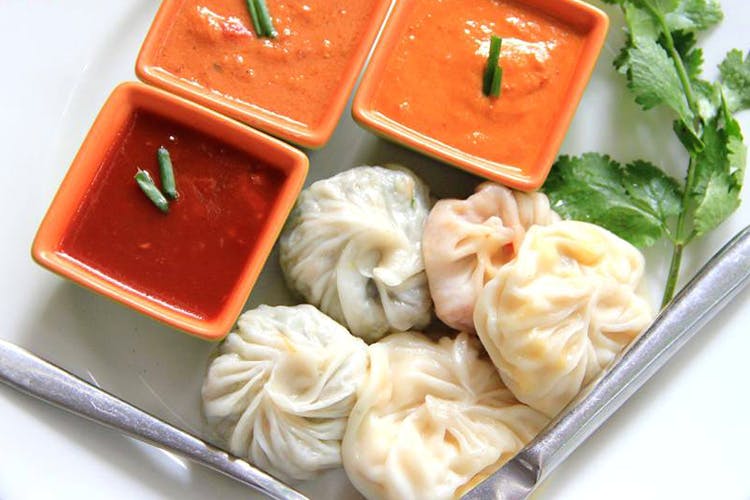 From Cheese To Schezwan, Here's Our List Of The Best Momo Joints In Town
If a plate of steaming momos is comfort food for your soul, you've come to the right place. We'll tell you where you can satisfy your drool-worthy dumpling cravings and dig into its veggie and meaty versions (with fillings like even cheese and chocolate!) Do you like yours steamed or fried? Sweet or savoury? Here's a list that'll cater to all your momo needs.
Kailash Kitchen
Probably the most famous place in Chennai for momos, so how can we have a list without Kailash Kitchen, eh? If you're a meat eater, drop by this little joint in Choolaimedu. They serve some killer beef momos that you can mop up with a spicy sauce. You can get either steamed or fried versions. There's also thukpa and mokthuk and other Tibetan dishes you can try if you're still hungry. And they're super affordable. Just be wary of the crowds that pack this place.
Kapao Dos
These are the same peeps who were behind the Momo Mia festival that took place in December and had all kinds of crazy momos like Banana Nutella, Paneer Tikka and even Cheese Burst! But their everyday menu isn't as adventurous. But hey you still get steamed, fried and chilli momos for under INR 120. Flavours include mixed veggies and chilli chicken.
Chaska Food Truck
Find this food truck on Thiruvanmiyur Beach, and sort out your momo cravings. Served nice and hot, get a plate between INR 60 and INR 110. They have vegetarian and chicken momos in Indo-Chinese flavours like Schezwan and Fried Garlic. There's also Chicken & Veg Shyafaley (fried Tibetan flat bread). Sinking your teeth into soft, hot momos with a view of the beach — can there be anything better?
North East Kitchen
One of the few places that serve — yes — pork momos! For under INR 130, get them fried or steamed with soft succulent bits of pork and dunk it in a sweet or spicy sauce. Delicious! This small restaurant is really popular for its authentic Tibetan & North East cuisine (they even have North Eastern thalis with pork or beef), so if you want to venture into it for more than just the momos, start here in Egmore.
GoGo Momo
If you want a serving of cheesy momos, drop by this kiosk in Alwarpet. You can even get variants like cheese and corn momos, dragon chicken momos and momos floating about in soups too! And you get to choose three different flavoured sauces to dip your favourite momo into. And they all cost between INR 100 and 130. Try and get the assorted platter so you can try momos with different fillings. We'd recommend eating the momos right then and there— nice and hot. If you order online, sometimes they come back all messy and sticky.
WOW! Momo
If you still want more variety, drop into one of the popular WOW! Momo outlets and you're sorted. There's mushroom, prawn, fish fillings and they've even got fried, tandoori and even a burger version! Would you try the Moburg? Also, if you like it sweet that have momos with chocolate or strawberry fillings too!
The Redbox
The vegetarian momos here are pretty good and for meat eaters, they have beef momos and chicken momos. These little pouches are packed with flavour and you can even try the Schezwan version. Dunk your favourites in their fiery chilli sauces that are sure to make your day! The packaging here is good and the momos are available for quick takeaways.
So there you have it, some of the best momos in town. We know we haven't mentioned your favourite local momo sellers on the streets, but that's a story for another time. We promise!
Dallay
Prepare to leave this little Tibetan restaurant, licking your fingers. The momos here are so juicy, you're bound to have your fingers dripping with the juice despite using a fork. Dallay serves some authentic Tibetian, Bhutanese and Nepali preparations and we can't stop ourselves from going back. They serve some mind blowing beef, chicken and veg momos that take you to paradise and back. The rates are super pocket friendly and while you're there don't forget to try their Shafalay as well.
Nasi And Mee
This one's for all you Asian food lovers! Nasi and Mee serves up some cray varieties of Singapore, Malaysian, Chinese, Asian and Thai cuisine. They offer an assortment of momo varieties from buttery mushroom and chestnut dumplings to steamy prawn har gao dumplings That gets our mouth watering at just the thought of it! Their Chicken And Prawn Sui Mai dumplings come highly recommended and so do their Szechuan Chilli Dumplings (Which comes in veg and non-veg options).
China Town
This classic fine dine restaurant is a must visit if you are a fan of Chinese cuisine. We recommend their Prawn Dumplings which burst open with flavour in the first bite. It feels like the essence of the ocean in your mouth. The buttery prawns are not over cooked but are just right and your teeth will sink right through the juicy meat, SLURP!! China Town offers veg and chicken options along with some good Sui Mai which comes in Prawn and Chicken options.
Olive And Basil
This restaurant is bang on the main road in Adyar. It's difficult to miss, not only for it's location but also for the smell of mouth watering Asian cooking that floats into your nostrils even when you stand just outside the door. They serve up some of the best veg and prawn momos in town (we know it's not easy to find good veg momos, but take our word for it, even non-vegetarians will come back for the veg momos here). They serve pan fried dimsums too and you can order their momo platter for INR 280 if you'd like to taste everything on their Momo Menu.
Mamagoto
This restaurant demanded a mention in our list. We took one look at the menu and ordered a platter because we wanted to Taste Everything! They have an assortment of momos which include Old School Gyoza dumplings which are lightly sauteed and drizzled with Gyoza sauce. Their Cheese and Truffle Oil dumplings come highly recommended and you must try the prawn options they offer. Be sure that when you leave this place, you'll be grinning like a happy puppy.
If we missed your favourites, do let us know in the comments below!

Comments