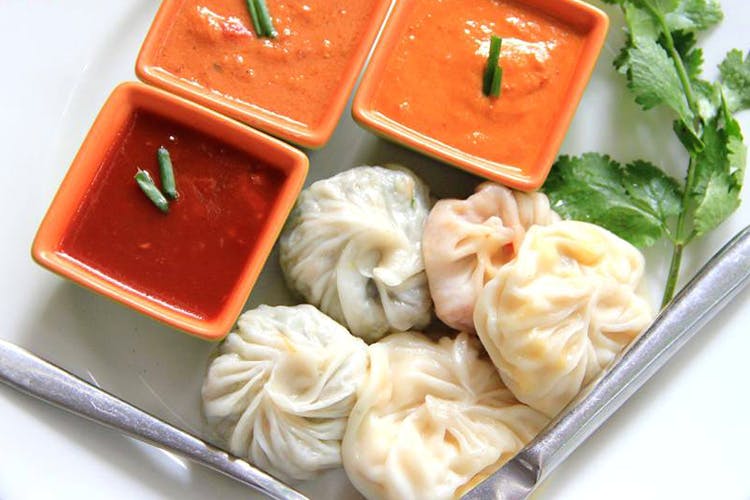 From Cheese To Schezwan, Here's Our List Of Popular Momo Joints In Town
If a plate of steaming momos is comfort food for your soul, you've come to the right place. We'll tell you where you can satisfy your drool-worthy dumpling cravings and dig into its veggie and meaty versions (with fillings like even cheese and chocolate!) Do you like yours steamed or fried? Sweet or savoury? Here's a list that'll cater to all your momo needs.
Kailash Kitchen
Probably the most famous place in Chennai for momos, so how can we have a list without Kailash Kitchen, eh? If you're a meat eater, drop by this little joint in Choolaimedu. They serve some killer beef momos that you can mop up with a spicy sauce. You can get either steamed or fried versions. There's also thukpa and mokthuk and other Tibetan dishes you can try if you're still hungry. And they're super affordable. Just be wary of the crowds that pack this place.
Kapao Dos
These are the same peeps who were behind the Momo Mia festival that took place in December and had all kinds of crazy momos like Banana Nutella, Paneer Tikka and even Cheese Burst! But their everyday menu isn't as adventurous. But hey you still get steamed, fried and chilli momos for under INR 120. Flavours include mixed veggies and chilli chicken.
Chaska Food Truck
Find this food truck on Thiruvanmiyur Beach, and sort out your momo cravings. Served nice and hot, get a plate between INR 60 and INR 110. They have vegetarian and chicken momos in Indo-Chinese flavours like Schezwan and Fried Garlic. There's also Chicken & Veg Shyafaley (fried Tibetan flat bread). Sinking your teeth into soft, hot momos with a view of the beach — can there be anything better?
North East Kitchen
One of the few places that serve — yes — pork momos! For under INR 130, get them fried or steamed with soft succulent bits of pork and dunk it in a sweet or spicy sauce. Delicious! This small restaurant is really popular for its authentic Tibetan & North East cuisine (they even have North Eastern thalis with pork or beef), so if you want to venture into it for more than just the momos, start here in Egmore.
GoGo Momo
If you want a serving of cheesy momos, drop by this kiosk in Alwarpet. You can even get variants like cheese and corn momos, dragon chicken momos and momos floating about in soups too! And you get to choose three different flavoured sauces to dip your favourite momo into. And they all cost between INR 100 and 130. Try and get the assorted platter so you can try momos with different fillings. We'd recommend eating the momos right then and there— nice and hot. If you order online, sometimes they come back all messy and sticky.
WOW! Momo
If you still want more variety, drop into one of the popular WOW! Momo outlets and you're sorted. There's mushroom, prawn, fish fillings and they've even got fried, tandoori and even a burger version! Would you try the Moburg? Also, if you like it sweet that have momos with chocolate or strawberry fillings too!
The Redbox
The vegetarian momos here are pretty good and for meat eaters, they have beef momos and chicken momos. These little pouches are packed with flavour and you can even try the Schezwan version. Dunk your favourites in their fiery chilli sauces that are sure to make your day! The packaging here is good and the momos are available for quick takeaways.
So there you have it, some of the best momos in town. We know we haven't mentioned your favourite local momo sellers on the streets, but that's a story for another time. We promise!
If we missed your favourites, do let us know in the comments below!
Comments