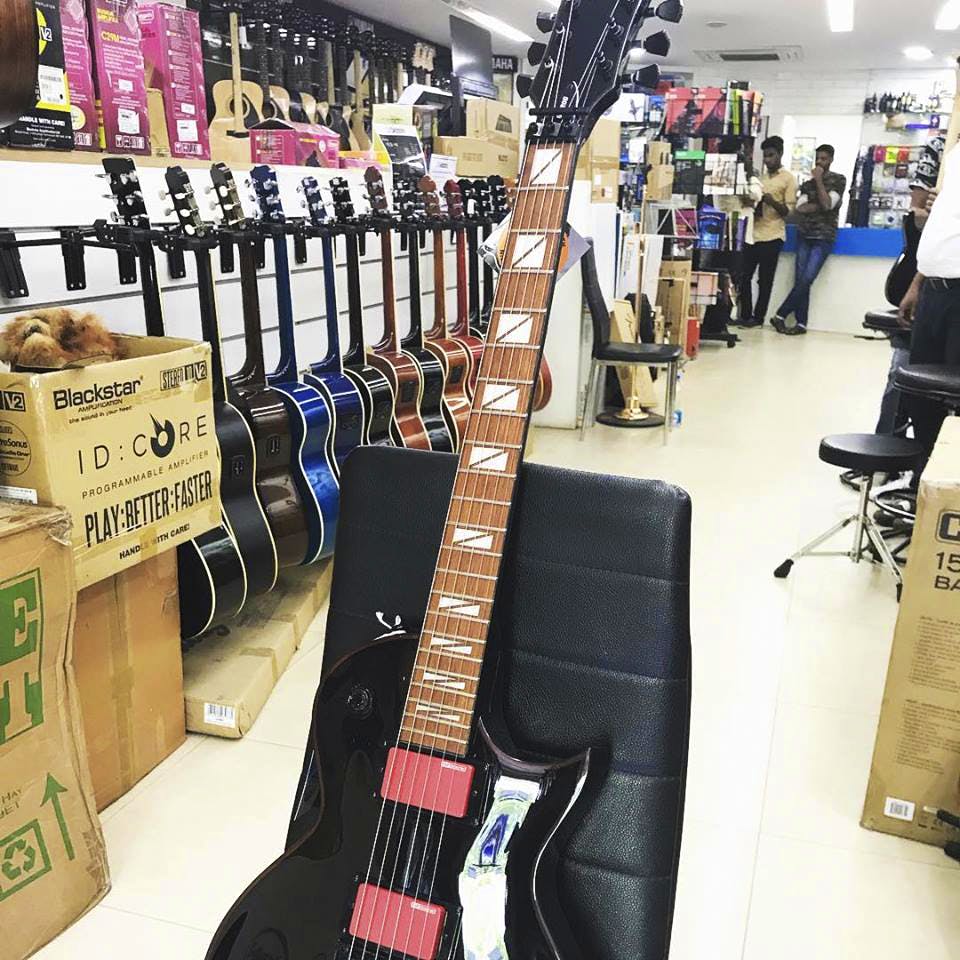 From Ukuleles To The Veena, Find Your Fave At The Best Musical Instruments Stores In Chennai
Whether you're looking to take up a new hobby and learn an instrument or you're part of a band and need to upgrade your equipment, Chennai has a whole lot of stores that can help you find exactly what you're looking for. Amplify the guitarist within or bang away at the drums, get the best at the best musical instrument store in Chennai.
Sterling Music
Set up in 2009, Sterling Music is a well-known name known to have all the popular brands, as well as every musical instrument your heart desires – including digital keyboards, electric and acoustic guitars, amps, drums, and even wind instruments. And their store also carries Yamaha professional audio components. It also has the Academy of Western Music which is their very own school of music that is tied up with the Trinity School of Music to teach students everything from piano to drums and violin to music theory. Some of the brands they have available are Ashton, Daddario, Epiphone, Fender, Granada, Levys and Promark, Roland Zidjian.
Musical Instrument Stores
Saptaswara Musicals
What makes Saptaswara a great store for musical instruments is not just that it's one of the oldest stores in the city (it was set up in 1979!), but that it has both Indian and Western musical instruments for you to pick and choose from. They have a wide range of Indian instruments in the percussion, wind and string instrument categories – encouraging more people to learn how to play Indian instruments. They also have every possible category of Western instruments, including ukuleles! Some of the brands they have available are Marshall, Sabian, Takamine Guitars, Yamaha, Casio, Fender, Gibson, Paiste and Pearl among others.
Musical Instrument Stores
ProMusicals
ProMusicals has provided instruments and equipment for some of the best-known bands and musicians in the city; including the likes of percussionist Sivamani and Leslie Lewis! They are also exclusive distributors in the country for some international and leading pro-audio manufacturers, making them your one-stop-shop for everything. Some of the brands they have available are Encore, Nord, Vintage, Kurzweil and more selling not only instruments but even solo studio setups and rave equipment.
Musical Instrument Stores
Musee Musicals
This store is, without a doubt, the oldest musical store in the country. Having been set up in 1842, Musee Musicals has been the only place for everything related to music in South India. It caters to musical teachers, professional musicians and even those who want to start to learn. They have also partnered with Trinity College to give students a chance to learn music theory and practicals at the same time. Their music courses cover Western music as well as Hindustani classical in vocal training as well as musical instrument training. Some of the brands available are Fender, Korg, Mapex, Pearl River, Tama, Alhambra and more.
Musical Instrument Stores
Krish Musicals
Krish Musicals is a great place for young musicians and students. Often they have student discounts and sales that are targeted towards a much younger audience. Having started with acoustic instruments, the store also has electronic and hi-tech musical instruments ranging from percussion and guitars to wind instruments, tambourines and electric pianos along with DJ and lighting equipment. Some of the brands available are Yamaha, Novation, Samson, PreSonus, Zoom and more.
Musical Instrument Stores
Shruthi Musicals
Set up in 1985, Shruthi Musicals guarantees quality international brands. They might not have a long list of instruments but you will get the all the basics like guitars, pianos and drums – plus all the extra equipment that goes along with those instruments. Some of the brands available are Fender, Gibson, Vintage, Parker, Godin, C.F. Martin and more.
Musical Instrument Stores
Sabari Musicals
Sabari Musicals in Vadapalani is home to all your premium instruments. Not only do they deal but even manufacture western as well as Indian instruments. You can hope to get any type of guitar, drums, pianos, xylophone along with harmonium, thavil and mridangam. They also have audiovisual sets and can help have a tie-up with a music studio if requested. The brand list here includes names like Yamaha, Samson, Sony, Zildjian, Akai, Havana and Casio.
Musical Instrument Stores
Mad Musicals
Mad Musicals in Koyambedu specialises in dealing with a variety of keyboards. From Yamaha to Casio, you can not only buy them but get them customised according to your comfort in using it. However, they also house guitars, veenas and violins (so many colours though!) You could find notebooks and stands to go with your keyboards as well. They have free demo sessions along with you being able to record one too.
Musical Instrument Stores
Raj Royals Musicals
Started in 2009, Raj Royals Musicals in Velachery retails musical instruments along with necessary accessories. Apart from finding Indian classical instruments, fold instruments and various popular western instruments such as keyboards, multi pads, guitars and violin, they offer music classes and dance classes also. Along with it, they provide audio recording facilities. In case of repair and fine-tuning, you can turn to them to lend a hand.
Musical Instrument Stores
Comments