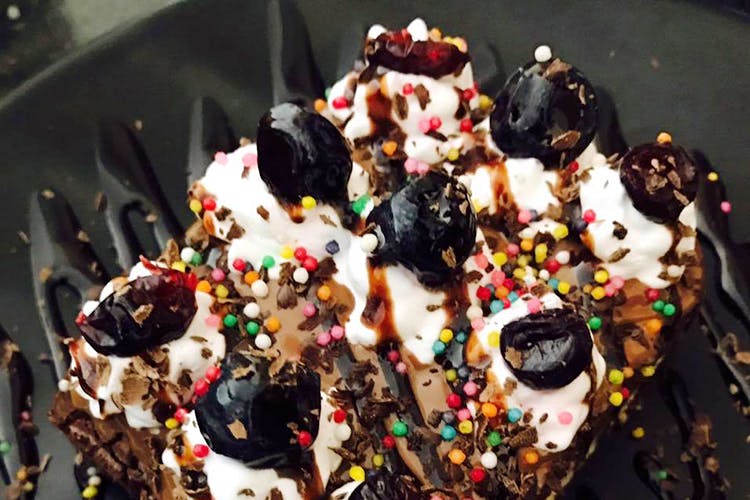 8 Insanely Delicious Nutella Desserts In Chennai That Are Going To Make You Go Nuts
Is there anything more delicious and sinful than Nutella? We don't think so. And while we love scooping up spoonfuls of the delicious chocolate hazelnut spread right out of the jar (don't try and deny it!) we love it even more when it's slathered onto our favourite desserts. And guess what? We've found some yummy ones that will leave you begging for more!
That Madras Place
That Madras Place is a well-known café in Adyar that serves some really great desserts (as well as regular food), but they now also have homemade ice cream (INR 350 for 500ml and INR 675 for 1,000ml), cutely called "Wonderscoop"! And on that ice cream menu, they've got two Nutella infused flavours and both sound too good to ignore.
Try out the Nutella with Crushed Hazelnuts or if you're feeling a little more adventurous give the Peanut Butter & Nutella flavour a try. And if ice cream is not your thing, don't fret, they have a Nutella Jar Cheesecake that you can devour in one sitting.
Sandy's Chocolate Laboratory
It's a chocolate laboratory, so obviously they have Nutella desserts, along with other delicious chocolate treats that you wish you could eat for the rest of your life. They've got a Nutella Tiramisu which just makes tiramisu even more awesome than usual, because can you just imagine that combination? Also, they have taken our childhood favourite up a notch — say hello to the Nutella Chocobar 3.0. Thank us later.
Ashvita Bistro
What Ashvita is famous for right now is the Monster Shake — modelled off the freak shakes from Australia — it's a mason jar filled with deliciousness that can sometimes work as a meal on its own. They've got a variety of different monster shakes to choose from, but what we insist you try is the Nutella Cream Monster Shake. Because Nutella in a monster shake sized serving is everything we always wanted. Right?
Brownie Heaven
I know, most of you are saying that brownies should have basic ingredients and not be exploited to include more flavours, but think about this for a minute — all those amazing ingredients mixed together and then blended with the thick Nutella spread and baked into a brownie. That's exactly what Brownie Heaven will treat you to with their Nutella Brownies and you can get these oh-so sinful brownies for INR 150. Need we say more?
Roll Over
One of the most popular Nutella combinations of late has been banana and Nutella and we are so on board with this. Roll Over Ice Creams in Anna Nagar is too! They make rolled ice creams exclusively and one of their premium flavours is Banana Nutella, because that is a combination that just makes people everywhere really happy. And you can get your own bowl of rolled ice cream for just INR 99, so stop everything and head over now.
Bella Ciao
This Italian restaurant in Kottivakam has a pretty great menu, but before you start deciding what your main course is, make sure that you check the dessert section because you're definitely going to want to try out the Crepes! Or you know, just make that your meal because they've got two great Nutella options, one with and one without bananas. We weren't joking when we said Nutella and banana are a great combination.
Chocolate Heaven
When a restaurant has the word "chocolate" in its name, you can be sure to find Nutella desserts by the handful. And the Chocolate Heaven menu is filled with so much good chocolate stuff, that it would be a shame if you didn't find anything with Nutella in it. But we did! They have Nutella Waffles and Pancakes (INR 220 each) because breakfast food for dessert is truly the best thing on the planet. And to go with that, get yourself the Nutella Hot Chocolate because why not?
Ask Anna a question