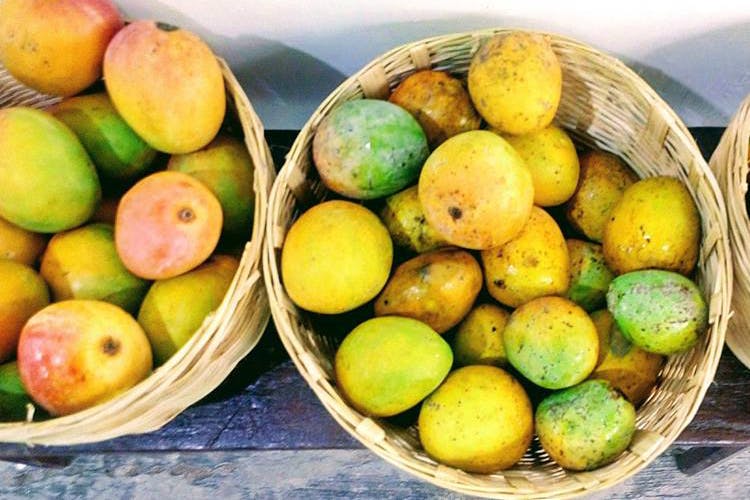 From Organic Mangoes To Almond Rose Soap, Check Out These Organic Stores In Town
With toxins finding newer ways to enter our bodies, going organic has become a lifestyle choice to cleanse your body from within. We have a list of stores that offer organic products from food to body care. We know what it takes to be organic and now we've made it easier for you!

Vaer Organic
Initially a store that supplied organic fruits and vegetables, Vaer has now grown to an organic lifestyle store. They stock groceries, fruits, and vegetables in addition to a sizable section for personal care and home use products (like non-toxic mosquito repellents and organic eucalyptus oil). We like Vaer for the constant supply of fresh fruits and veggies it has, which they credit to a strong relationship with the farmers themselves.
Dhanyam Organic Store
With seven stores across Chennai, Dhanyam is the biggest entry on this list. They specialise in organic fruits, vegetables, and groceries but also stock organic gourmet foods, organic beverages, preserves and snacks, and organic personal care products. Some of the products we've liked are their dark chia seeds, amla juice, chamomile tea, creamy peanut butter, aloe vera gels and almond rose soap. The staff are super helpful too and are happy to source specific products you may be searching for.
Gormei Market
The priciest place on the list is little more than a seller of organic fruits and vegetables, as the name suggests, they're into fine foods. Gormei Market sources fresh organic fruits and vegetables at regular intervals and now that its summer, we highly recommend buying mangoes here. They're juicy all year! They also source specialty foods like gluten-free pasta and vegan snacks. We like Gormei Market for when we're looking to cook an entire meal as it's a one-stop-shop for hard-to-find ingredients.
New Seeds Organic Store
New seeds organic store is a boon for organic lovers. This Adyar-based supermarket stocks on some really cool organic grocery products. From terracotta cutlery to body care products by Soul Tree, this supermarket is your gateway to that healthy, chemical-free, organic lifestyle. They also keep sweet-smelling organic room fresheners and incense sticks that relieve stress.

Vidhai Organic store
Vidhai Organic Store is your single window if you have made the switch to organic and want to stay there. This grocery store in T.Nagar, only offers locally-sourced organic produce. They have an entire rack for organic snacks and over half of the crispies are baked! Their customers are quite pleased with the quality and purity of milk that the store provides and the product comes highly recommended.

Organic Shandy
Find the best of fresh food produce, sourced from local farmers and artisans, at Organic Shandy in Mylapore. This place has both a store and an online website for you to get your hands on all your groceries and fresh fruits and veggies. They even offer food supplies like pulses, rice varieties, cold-pressed oils, spices, pickles and jam.

Aavaram Organic Store
From herbal remedies to Dosa batter this brand, in Kilpauk, offers a wide range of healthy and organic produce for all you health freaks out there. A subsidiary of SGR Organic Foods, Aavaaram also offers herbal products along with different types of millets, cereals, oils and rice all sourced from local farms.

Organic Mill
It is a known struggle to get the fresh glowing skin when you are living in the middle of the city with pollution hitting your face straight. No matter how many brands you try out, the result is probably the same. Worry not, with the chemical products worsening the condition, Organic Mills store in Vepery have the sweetest solution with their vegan beauty products.

Vasuwin Organic Store
Tucked along Gopalapuram's First Street, we found this tiny store offering an extensive range of organic products from fruits and veggies to pulses and healthy snacks like organic aloo bhujiya, murukku, chips, mixture. Vasuwin Organic Store even keeps organic eggs, oils, butter and milk too.

Pattikkattu Pandagasali
Located in Purusawakkam's Vellala Street, Pattikkattu Pandagasali is filled with an extensive range of affordable, daily-use organic products. From organic millets to handcrafted soaps, you can find everything here that too at affordable prices.

ReStore
ReStore
situated in a cute little traditional house that hosts the A to Z of all things organic. Located on the Kottivakam main road, it is a non-profit volunteer organisation where they sell vegetables, fruits, other edible items and a lot more, all directly sourced from farmers. They even offer homemade red chilli powder, idly, sambar and rasam podi and other products like cardamom, organic long black leaf tea etc.
Vayal
If you're looking for desi veggies grown organically by farmers across Tamil Nadu, hit up Vayal in Mogappair East. They've got fresh produce and all our fave veggies right from vendakkai to pavakkai.

Terra Earth Foods
True to its name, this organic food store in Alwarpet, uses ingredients indigenous to our soils and climate and celebrates the traditional foods of our regions. Most importantly, they use the ingredients that are apparently unrefined, unpolished, unbleached, unbromated, and unsulphered. Offering local, unprocessed, organic foods from millets and vegetables to batters, breads and desserts, Terra Earthfoods has everything for your household needs.

Comments