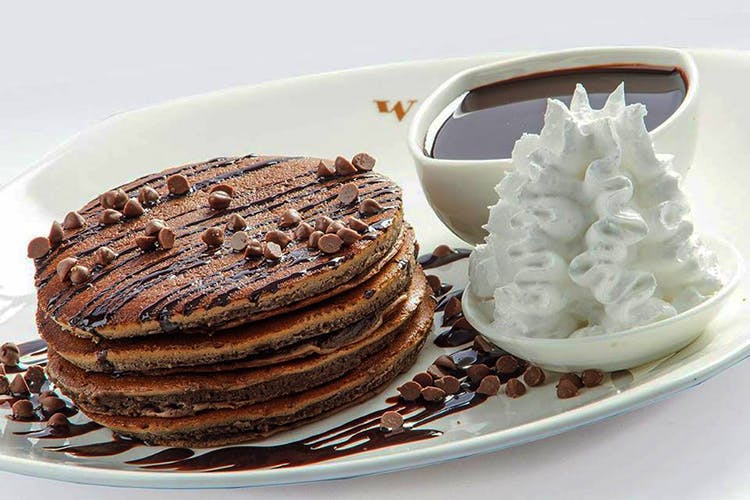 Nutella & Banana Or Prawn & Avocado? Flip Over These Awesome Pancakes In Town
Are stacks of buttery, fluffy pancakes your go-to comfort food? Drizzled with maple syrup or thrown in with dollops of Nutella? Would you try sweet red velvet pancakes or how about pancakes and salty bacon? They're all so drool-worthy! So, to help you decide we've got the scoop on some of the best pancakes in town and you must try it. Can it get any batter than this?
That Waffle Place
This cute eatery whips up some delicious mini Dutch pancakes. You get 12 of them in a box, peeps! We tried the mini pancakes with Nutella and Belgian chocolate which were absolutely divine. Some other flavours you can try are pancakes with berry compote, white chocolate & Gems, salted caramel & banana, and classic butter and maple syrup. Delish!
Westfield Bites
Craving waffles and pancakes near the beach? These guys also serve cute mini pancakes called poffertjes. There's The Classic Dutch Treat where the pancakes are dusted with sugar and drizzled with maple syrup. and the Nutella Poffertjes topped with the ever-delicious Nutella. You can even add a scoop of ice cream for an additional INR 30. Psst, they also serve waffles on a stick here!
Crisp Café
This quaint little café in Nungambakkam serves Red Velvet Pancakes all day long. Priced at INR 225, these babies come with cream cheese frosting and maple syrup and end up being a meal of its own. And there's four pieces, share if you feel like or else, nah, gobble them up all on your own!
Price: INR 225
Waffles Thru The Day
Sure they serve your regular blueberry pancakes with whipped cream but there's also savoury versions at this joint that we're keen to try. They have pancakes with chicken and poached eggs and sautéed mushrooms, and also a version with prawns, guacamole and pineapple (say what!?). Oh and also the Pancake Suzette — three pancakes drenched in liqueur and orange sauce. So, which one are you trying?
Pantry D'Or
This popular baker serves up classic buttery pancakes with maple syrup and whipped cream and there's also the English Summer which has berry compote, cream and butter smothered between two orange zest pancake slices. This is sure to start your day with a zing! There's also versions with oodles of chocolate and banana. And Chetpet peeps, they've recently opened in your hood!
Chamier's Café
We love the food at Chamier's Café (apart from the lovely ambience) and the pancakes are no different. Get American pancakes in strawberry sauce & ice cream, honey & cinnamon, chocolate chips & chocolate sauce, salted caramel and even cheddar and jalapeno! Talk about indulgence.
The Farm
This charming farm that also serves as a shop and café offers all things organic. It's a lovely spot for breakfast and a drive to OMR (if you live in the city). Their pancakes are soft and fluffy made with batter (in- house, of course). You get two pancakes per plate and you can choose anything from Nutella, butter, syrup and even bacon. Yum, yum and yum!
Did we miss your favourite? Let us know in the comments!
Comments