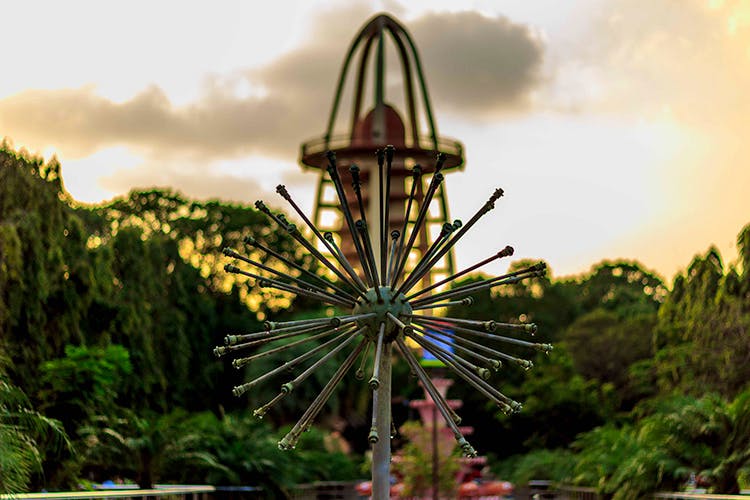 Say Goodbye To The Gym! Run At These Parks In The City
Want daily physical exercise but gyms are too expensive? We hear ya! Plus, how long can you just run on a treadmill? Whether you want to go for a morning jog or take a stroll during the weekend, here are some lush green parks you can check out.
Anna Nagar Tower Park
This park spreads across 15.35 acres and is known for having the tallest park tower (135 ft) in the city. You have a bunch of trails to choose from and you can jog for an 8 km loop inside the park. Loving this? The park apparently has an amphitheatre, a bird watching deck, badminton courts, a skating rink, and a small lake! They also have trails for the differently-abled. Entry is free, so jog away! Restroom, parking, and food and water facilities are also available.

Chetpet Eco Park
Location-wise it doesn't get any better than this park, which is pretty new in the city. Lots of people come here to run mainly because of its aesthetic appeal. There are activities to do as well, including boating, spotting ducks, and even taking a walk by the serene lake. You can see some amazing birds here, too. There is a special pavement for walkers which is about 2 km. Worrying about parking space? They have enough of that, too! Look out for their aquarium and 3D theatre. You can rent pedal and rowboats and go boating. You may have to motivate yourself to run when you get there though because all you will want to do is just watch the sunset and the rays glimmering across the water. You can get a monthly membership starting INR 200.

Nageswara Rao park
Bang in the middle of Mylapore, this park has good concrete pavements for runners. The park is a compact, 4-acre space, and has a badminton court and play area for kids and entry is free. It's super popular among locals, especially because of its location. You can get a morning workout, walk over to Rathna Cafe for a filter coffee and idli, followed by a kutcheri right around the corner. Sounds awesome, doesn't it?

Huddleston Gardens of Theosophical Society
Close to the Adyar River, this park is like a small forest with coconut trees, cacti, banyan and mahogany trees, butterflies, and some exotic birds. Apparently, there's also a small buddha temple inside, so you can finish your jog and cool off with some meditation. An artificial pond inside will let you cut yourself off from the chaotic traffic outside and relax.
Natesan Park
Other than the commercial establishments in T-Nagar, there's also a 4-acre park that sees many joggers and runners. There is a small skating rink and tennis court inside the park for the kids. But we love this spot just for running. After your morning jog, you can walk over to the heart of T-Nagar within minutes for some quick shopping. So, two birds in one stone!

Semmozhi Poonga
Sprawling across 20 acres, this massive park is great for walking, jogging, and yoga. You can find rare flora in this park, which has 25 thematic gardens. Are you a botany nut? Here, you can find different kinds of medicinal and aromatic plants and herbs and even some bonsai varieties. The trails of this park are covered with green grass and ivy growing in all directions. There's lots of parking space available, so you can bring your family and have a nice picnic by the waterfalls (yes, there's a waterfall!). You can get yourself a monthly pass for just INR 150 and catch the fresh dew drops every morning.

Sivan Park
KK Nagar peeps, march over to this park for your next jog. There's a hall for you to do Yoga, a badminton court, and a skating rink. During mornings, this place may get a bit crowded, but there's enough room for you to walk, jog, and even exercise. You can even bring your mat and dumbbells and get a good upper-body workout right after the cardio!
Haddows Road Park
This park in Nungambakkam has furnished trails to walk and jog on. There's a badminton court, a skating rink, and a gym as well. Not a big fan of the gym? No problem, you can just finish your jog and do some yoga, catch that early morning oxygen. And, if you go around 7 am be sure to get a whiff off the fresh coffee and sambar from nearby messes!

Jeeva Park
This park is great for a short, quick run. There are lots of trees and plants around. This is one of the parks in the city that have ramps for differently-abled people. The crowd here is lesser, so you can stretch those limbs and get an ab workout, too. We hear there's also a play area for children and some basic fitness equipment, so if you're feeling bad about quitting the gym, this place has got you covered.

Comments