The information in this post might be outdated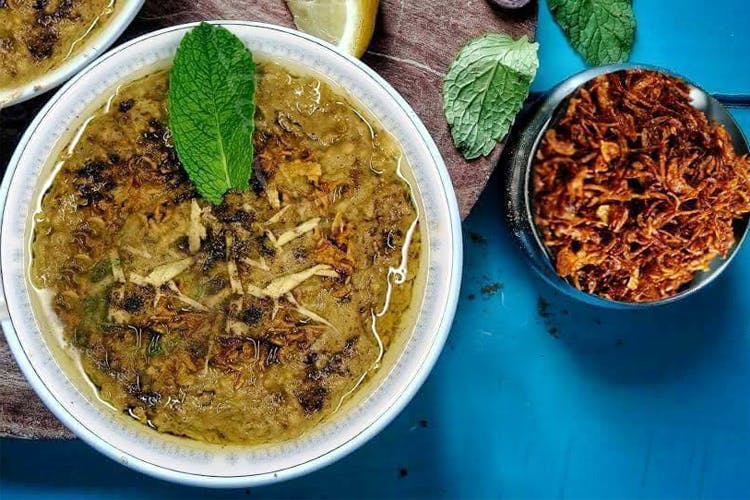 This Ramzan, Here's Where You Can Feast On Iftar Food In Chennai
If you thought Chennai was falling short on iftar delicacies, then don't you worry. We discovered more than just one bustling lane of food for you this Ramzan.
Mannady Street: Kabab Centre
The food hunt at George Town's Mannady Street begins at Kabab Centre. The small corner shop has on display some mouth-watering Tangadi and Reshmi Kebabs. What we would highly recommend from this Iftar hub are the Beef Sheek and Chicken rolls. Not your ordinary rolls, these thick rolls are wrapped with Rumali Rotis with some delicious fresh beef and shredded chicken. Get this for just INR 60.
Feeling ravenous? Try the Jumbo Beef Roll, they also have Tandoori chicken apart from kebabs.
Alreef
Down the same road is one of the original Alreef branches. The boys here sell around 300 shawarmas a day and these fat rolls are super filling. While the normal ones priced at INR 80 come with chicken pieces, cabbage, and white garlic sauce, you could also request the Special Shawarmas for INR 100. These are the ones that come with only the meat and are best to break your fast with!
Hatimy's
At the end of Mannady Street is Hatimy's with its huge line up of fried food to break your fast. The crowd starts building at 4pm in the evening and goes on till late at night. Best delicacies we tried from here are the Tangadi Kebabs, Lucknowi Sheekh, Hungama Chicken topped with wontons and the Breaded Kebabs. Get delicious food for as low as INR 40 here.
Hotel Excellent
Located across Hatimy's in George Town, the old Hotel Excellent serves delicious Paaya. This rustic looking hotel is known to serve some amazing biryani with chicken 65 as well. They have over 20 varieties of Biryani – Classic, Idiyappam and Kadai style cooked with fish, mutton, chicken, and prawns. You could also try their Egg Podimas and Madras Parottas. It should come up to INR 400 for a meal for two.
Abid's
Abid's in Chetpet is known to be the pioneer of haleem in Chennai and also has a Ramadan special. Highly recommended for special mutton haleem, authentic biryani, and juicy kebabs. They also have an Iftar buffet that happens around Ramzan, so check it out!
Fisherman Fare
Apart from the classic mutton haleem, the peeps at this restaurant have also serve chicken haleem that you must try. Apart from iftar specials, you can stuff your faces with steaks, fish preparations and grills as well. Their Fish Tikka Masala and Calamari is super yummy, don't miss!
Triplicane
You must check out the iftar feasts on Triplicane Main Road and the bylanes of Royapettah. While there are plenty of small shops making amazing kebabs, here are specific stops you could make.
Right next to Hotel Sagar are kiosks selling the famous Masala Milk and Lassi starting at INR 30. And then comes the halwa from Basha Halwa. Another famous place for the sweet tooth, their Dum Ka Roll which is a sort of a fried Pal Kova with Pista toppings will leave you drooling. You could also check out their classic Gulab Jamuns.
Another rare find is the Ande Ka Meetha (Egg Halwa) – a special egg savoury which you'll get in the tiny bakery right opposite the Jani Jahan Khan road police station.
And for some Nawabi style food we found a pop up style food stall inside the Triplicane Big Mosque compound. Known as the Badi Masjid and located on the Triplicane High Road, the compound hosts this kiosk that churns out tangy Chicken and Beef Shammis. These cutlets are as authentic as it can get.
Misapet Market
Another area in Royapettah, Misapet Market is food paradise. Get shawarmas, kebabs everywhere but do try the Madurai style biryani called kuska from Charminar Biryani Centre. They also sell special Bucket Chicken and Mutton Biryani. The prices of these biryani buckets go up to INR 2400 and easily serve up to 12 people!
Pista House
Ask anyone in Chennai for best place to find haleem? And they will say Pista House. Originally from Hyderabad, Pista House serves the most authentic haleem to Chennaites. Their pure mutton haleem priced at INR 180 is available during Ramadan from 3.30pm onwards and is the best you can get!
Also, no Hyderabadi meal is complete without the special meetha. We are talking about Qubani Ka Meetha (made from dried apricots) and Double Ka Meetha. You could also check out the Kaddu Ki Kheer, all of which is priced at INR 100.
Comments