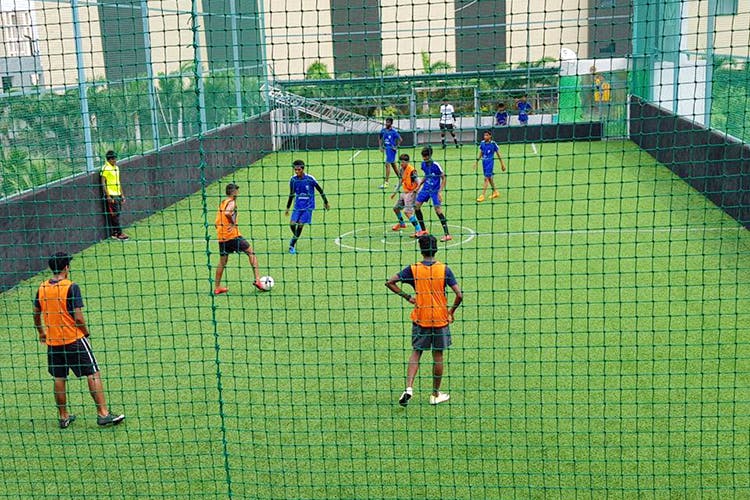 The Kick Of The Century! Play Terrace Football At The Best Places To Play Futsal In Chennai
Soccer and its different variants (know about soap football or foot Zorba yet?) are pretty big in Chennai, and terrace football is catching on really quickly. Concrete is eating into most outdoor places, so indoor football is the next best thing! Here are all the best places in Chennai where you can play futsal!
Tiki Taka
Located on a rooftop in Kilpauk (open air) and T Nagar (indoor), Tiki Taka has two amazing indoor turf football fields in the city, ideal for playing a 4v4 or 5v5 game. Both venues have floodlights and are well-maintained and you can book a session starting INR 1,500. There are locker rooms, clean toilets and showers, free bottled water, an air-conditioned viewing gallery overlooking the turf, and a football academy to coach kids. With more than 100 footfalls a day, Tiki Taka is in demand, so you may need to book your slot weeks in advance!

Game On
Right next to Fountain Plaza in Egmore, Game On is a sports hub on a terrace (fitting, isn't it?). They have a separate futsal turf in an enclosed space with floodlights for night time games. The turf is known for its top quality and is safe to play on. It's good for a 4v4 game and is easy on the pockets. You can book your slot starting at INR 1,500 on weekdays and INR 2,000 on weekends.

Chennai Futsall
This is the first roof-top futsal facility in Chennai's OMR zone and we are sure you will love playing here. This state-of-art play arena has a lush green astro turf to make playing fast and extra enjoyable. You can keep playing even when it rains! There's uninterrupted LED lighting fixed at 20 feet higher for the night games and industrial aluminum roof shades. The facilities include refreshments, shower rooms, and changing rooms and you can book a session starting INR 1,300.

Chaos Entertainment
Football without sidelines ain't football, and Chaos Entertainment in Gopalapuram knows that super well. Complete with sidelines and locker rooms, their FIFA certified football turf should be your next spot. They also have a Chaos Premier League and the first place bags a cash prize of INR 1 lakh! You can book sessions starting INR 2,000. Bring on the mystery!
Turf 137
Chennai's first open 5-a-side football arena, Turf 137 in Guindy is a FIFA-approved, non-caged football ground. Here, they've skipped the usual cement layer topped by a layer of grass and dug one-and-a-half feet below the ground to work on different layers, so you will minimise injuries while playing on the turf. You can book a slot starting INR 1,500.

ZeeZoo
You can find all things football (soap football and futsal) at ZeeZoo in Koyambedu. It has built a state-of-the-art futsal arena and is known for having one of the best football turfs in Chennai. The amenities include shower, restroom, Wifi, parking, changing rooms, and floodlights. The court is great for a 4v4 game and you can book a session starting INR 1800. Oh, and they have a rooftop restaurant called Baozi that's known to serve yum Asian cuisine.

Plusportz
One of the leading football coaching centres in the city, Plusportz in Anna Nagar is a multi-sports complex promoted in collaboration with Integral Coach Factory (ICF), a Government of India enterprise. Their futsal arena has three pitches which compared to the average sizes found in Chennai, are much larger in space. With floodlights, restrooms, and protected by a mesh, this arena is becoming the most sought-after futsal turf. You can book a session starting INR 1,800.

Rush
Too hot to play football? That's not an excuse anymore! The only completely air-conditioned facility in Chennai for sports, Rush at RA Puram is everyone's fave for futsal. They have synthetic blue flooring, which is the same surface used by premier futsal grounds around the world. Expect lots of natural light from the glass windows at the top of the arena. They've got floodlights as well, so you can play at night. Football lovers, there's a comfortable pavilion to sit back and watch the action live! You can book a session starting INR 2,000.

Whistle Sports
Located in Nungambakkam (right near Khader Nawaz Khan Road), Whistle Sports gives the term 'urban sports hub' a new definition. This place has a huge premium futsal court with floodlights and is great for a 5v5 game. Amenities include restrooms, changing rooms, and parking. You can book a session starting INR 2,000. They even have a cafe, Union - The Urban Cafe serving, juices, milkshakes and small bites.

Go Futsal
Amidst the busy roads of Velachery, Go Futsal is a breath of fresh air for footy lovers. Their budget prices are what attract most footballers. They have a 5-a-side green astro turf, floodlights, restrooms, lockers, and amazing futsal games. Compared to other turfs, this turf is compact, but can host a 4v4 game. You can book a session starting INR 1,500.

Comments