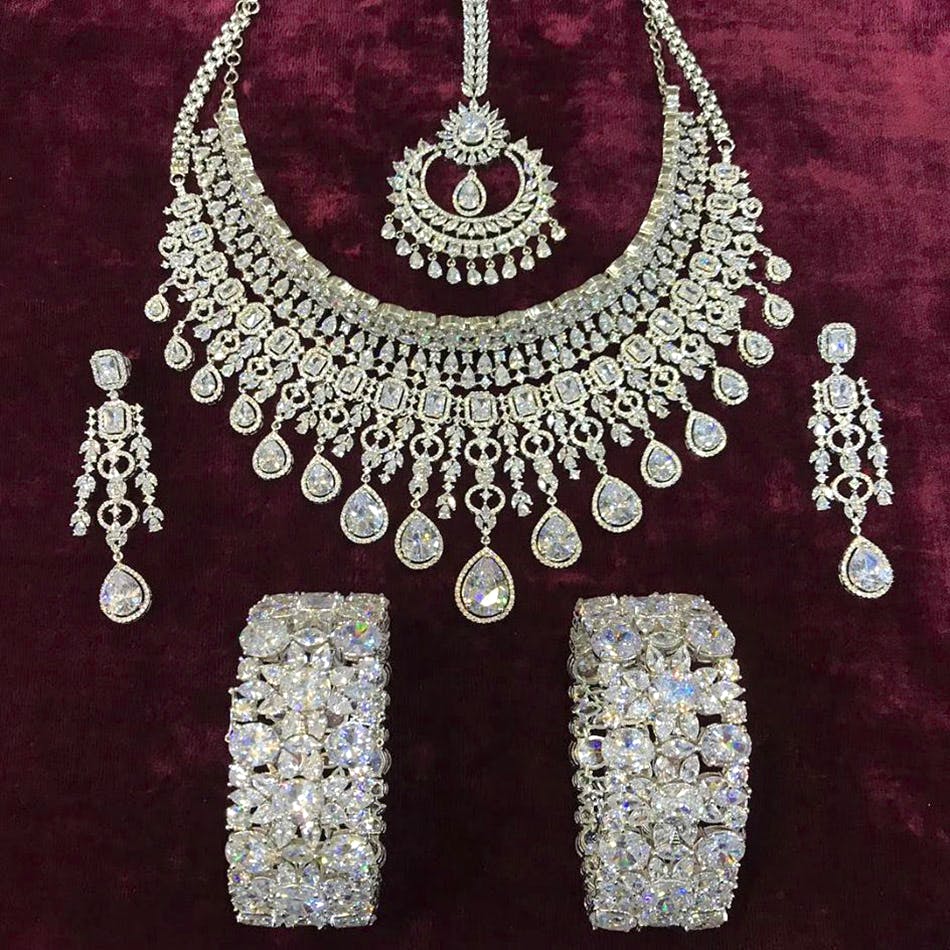 Thrifty Yet Nifty! Here's Your Guide For The Best Places To Rent Bridal Jewellery In Chennai
Let's face it! Those brick-heavy chokers do look stunning but you can't wear them everywhere. Then why blow your money when you can rent stuff and save big? Check out this list of the best places to rent bridal jewellery in Chennai and be the smart shopper that you are!

New Idea's Fashion Jewellerry
From real diamond design chokers and necklaces to long haraams and temple jewellery, New Idea's Fashion Jewellerry has it all. Their kundan necklaces look timeless and they also have beaded choker necklaces, heavily embellished Nawabi chokers, kamar bandhs, necklace sets with bangles and danglers and more on rent.
Rental packages start from INR 2500.

Swarnam Bridal Collection
Specializing only in bridal sets, Swarnam Bridal Collection has some great variety on rent. Their matt finish gold jewellery is perfect if you're looking to add a South Indian touch to your attire. If you're looking for some serious bling, you must check out their American diamond and kundan sets.
Rental packages start from INR 2250.
Sri Swarna Prabhu Jewellery
Offering an extensive collection of jewellery ranging from Kemp jewellery and Ruby sets to American diamond necklaces, Sri Swarna Prabhu Jewellery has jewellery for all your wedding occasions. The maang tikkas and vadanams that come with Indian motifs and AD stones have our vote for their seamless finishing.
Rental packages start from INR 2000.
TBG Bridal Store
With a bridal studio located in Nungambakkam, TBG Bridal store is like a one-stop-shop for all your bridal needs. You can get connected to makeup artists, designers and more while picking out fancy baubles for rent here. American Diamond Jewelry, South Indian bridal jewellery sets, Imitation Temple Jewellery form, Gold Plated Jewellery, Imitation Kundan Jewelry, they have it all.
Rental packages start from INR 3000.
Jazz Collections
With a crazy list of blingy options up for grabs, Jazz Collections spoils you for choice. You can pick from an array of designs curated to cater to specific functions like reception sets, muhurtham sets and more. Their bangle collection and temple jewellery are worth checking out because of the intricate design and too-good-to-be fake appeal.
Rental packages start from INR 2000.
PLUSH Boutique & Beauty Lounge
A makeup and jewellery shop, PLUSH Boutique & Beauty Lounge offers an exquisite collection of wedding jewellery on rent. From maang tikkas and heavy jhumkas to layered necklaces in AD stones and temple jewellery, there's plenty to choose from. And if you book their bridal makeover services, you can rent the jewellery for free.
Rental packages start from INR 2500.
Vivah Bridal Collections
Enticing real kundan jewellery, Imitation AD jewellery with ruby detailing, antique sets, temple jewellery with matching waist band, maang tikka and paatlas, the rental options at Vivah Bridal Collections are simply alluring. They also have beautiful layered antique necklace sets and embellished raw silk bangles that you can add to your arm stack.
Rental Packages start from INR 3000.

Anmol Jewels Chennai
Located in Sowcarpet, Anmol Jewels houses some fabuolous rental jewellery options. The kundan variety is simply lit, but you can also choose from AD stone options, imitation zirconia jewellery, polki necklaces with meenakari work, pearls and more.
Rental packages start from INR 750.
Comments