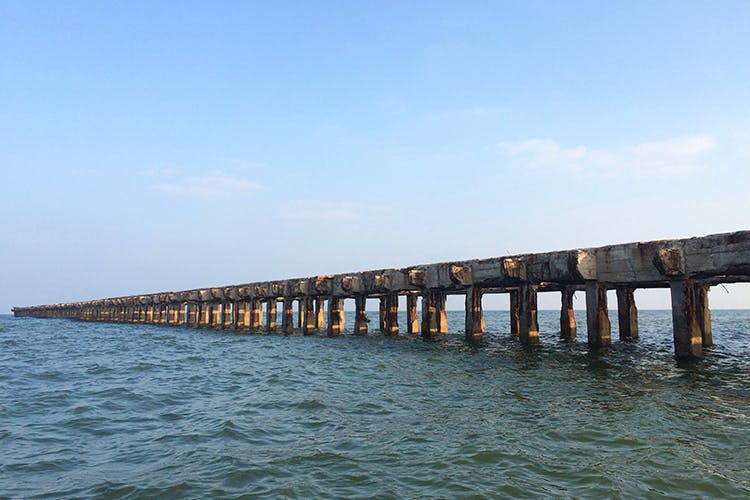 Rustic Forts To Dreamy Lakes, Here Are The Best Places To See In Chennai
From the smell of fresh brewed kaapi at 5:30am to the intricate gopurams and domes towering above, there's a lot in Chennai. Whether you're a tourist or a true blue Chennaiite, here are the best places to see in Chennai. Feeling nostalgic yet?
Mylapore
All areas in Chennai are great, but Mylapore is really special. One of the oldest neighbourhoods in Chennai, Mylapore drips with history. From a 70-year-old tailoring shop to the 17th century Kapaleeshwarar temple, explore Chennai's oldest roots in Mylapore. Take a walk down Mada Street and explore old bakeries, the legendary paneer soda, and some of the oldest (and iconic) messes to grab crispy brekkie. Here's your ultimate Mylapore food guide (under INR 50). Sign up for one of these heritage walks to explore the best areas in Chennai.
Marina Beach
As far as beaches go, Marina beach tops the list, thanks to where it's located. Marina beach itself is one of the iconic beaches in the state and is the longest urban beach in India. With more than 100 stalls for food and snacks, a lighthouse to watch the sunset, and several monuments all in one stretch, Marina Beach is where Chennai's heart belongs.

Madras Crocodile Bank
Chennai's biggest tourist attraction, the Madras Crocodile Bank is Asia's first crocodile breeding bank and is home to 2000+ creatures. For the adventurous ones, you can go on snake walks or night feeding sessions and weekend camps when you can see all the action and witness the crocs get cray-cray!
Turtle Walk
Chennai is home to the endangered OIive Ridley turtles and from March to May, you can participate in turtle walks regularly organised in the city. The walks usually happen on Fridays and Saturdays from 11pm, and the turtles waddling along and the ocean is a sight to see. Click here to get more info on where to go to spot turtles in Chennai.
Mahabalipuram
A one-hour drive from the city, Mahabalipuram is a go-to place filled with history and fun. Best places to visit include the Shore Temple, Arjuna's Penance, Pancha Rathas (Five Chariots), Krishna's Butterball, and the super dreamy Mahabalipuram beach. Some of the sites in Mahabs are UNESCO World Heritage Sites.
Connemara Public Library
The Connemara Public Library is one of Asia's biggest libraries which was constructed in the 19th century and currently holds over 6 lakh books. This treasured library is unique due to the construction and the way the books are stacked. Whether you're a bibliophile or not, the Connemara Public Library is one of the best places to see in Chennai. Love books? Click here to discover the best lending libraries in Chennai.
Cholamandal Artists' Village
Cholamandal Artists' Village is not only India's largest artists society but also has a plethora of things to check out including art and crafts, music, dance, and theatre. This community is entirely self-sustained since the time it was built in 1966 and houses some of the country's most precious sculptures and paintings.
Nettukuppam
Located on the Northern-most tip of Chennai, Nettukuppam (also known as Thalankuppam Pier) is a rustic (and rusty) old pier by the ocean. Needless to say, this place is loved by photographers and is one of Chennai's most gorgeous spots to see the sunset. Have a picnic, make sand castles, or swim in the ocean at Nettukuppam.
Fort St. George
When in Chennai, check out Fort St. George, one of the best places to see in Chennai. This building was the main place for administration during the British rule, and now you can see preserved silverware, paintings, art, arms, porcelain, and documents. Additionally, the flagstaff of Fort St. George is the tallest structure in India.

Comments