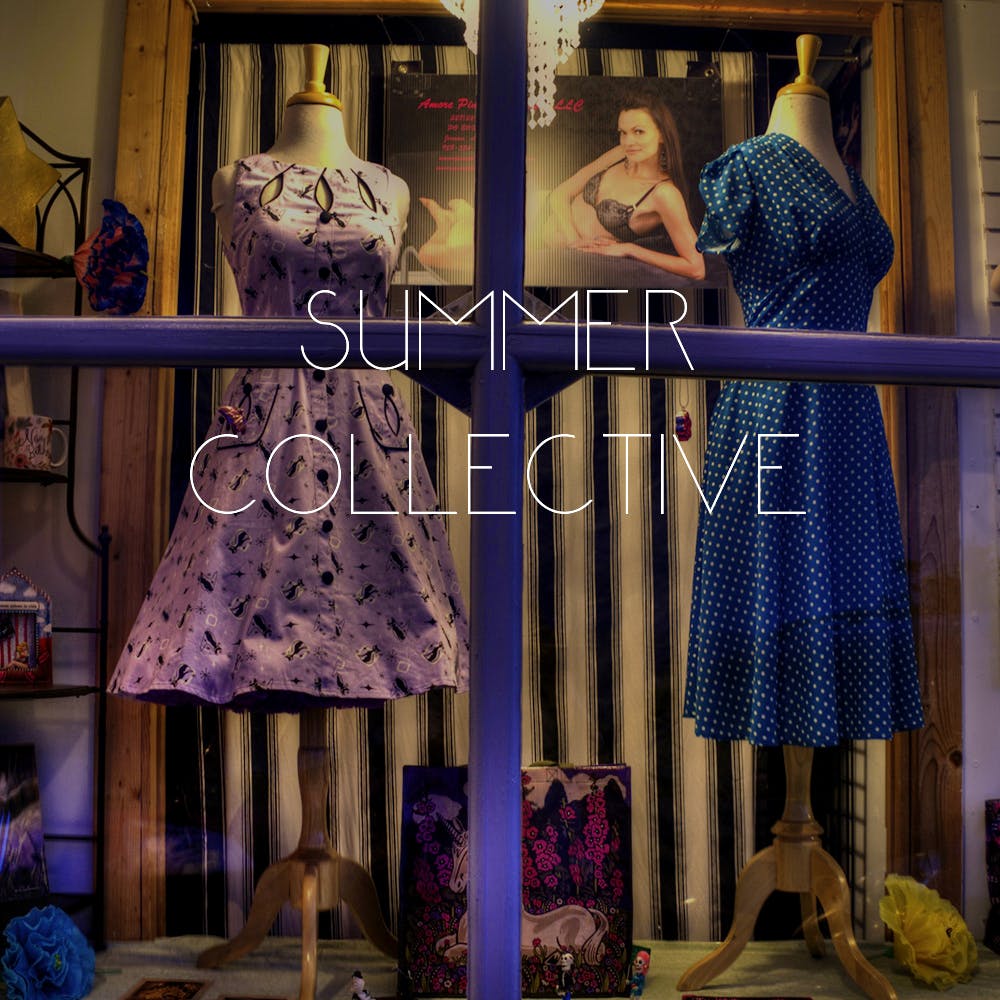 #PettaiShop: Here's The Ultimate Area-Wise Shopping Guide You Can Conquer
Friend 1: Shopping ku polama? (Want to go shopping?)
Friend 2: Aana enga? (But, where?)
We at LBB are sure this conversation is very common among your friends. We understand that each area in the city has a specific shopping zone that has the best of jewellery, apparel, accessories, etc. So, here's a guide (from us to you) that will help you plan your shopping trips better. We tell you the different areas you can head to for your different shopping needs.
Mylapore
Home to some of the oldest businesses (from food and beverages to textile industries), Mylapore can offer you everything you need to fill your shopping bag. From saris to western wear, you'll find loads of stores that can help you with this. Kumaran Silks, located at Appu Street, is well known for their Kanchipuram silk fabrics and wedding silk sarees. They also have budget cotton and semi-cotton saris, so there's something for everyone at this store. When a true Mylaporeian thinks sari, they think Rasi Silks, which was started more than 117 years ago. It's located in Sannadhi Street, right near the Kapaaleeshwarar Temple, and you can find kurtis, tops, dhotis, salwars, and saris with some beautiful weaves. For a little upmarket and designer sarees, head to Tulsi Silks, located at Luz Church Road. Georgettes, Benaras silks, tussars, kota, Kanchipuram silks, and linens, this store has a plethora of options to choose from. With their own weaving unit, they can make a dream sari for you. For everyday wear, you have well-known stores like Max and Lifestyle. Kurtas, T-shirts, denim, shorts, skirts, and dresses, we are almost sorted when we head here. We love them a little extra during sale time!
For jewellery and accessories, just walk the 800-meter stretch starting from Sukra Jewellery and you will find more than 40 shops in Mylapore Tank. We found roadside shops selling chic jhumkas starting INR 30 along this stretch! You will also find anklets, jute bags, nose pins, thread and glass bangles, bindis, toe rings, etc in this one stretch. For silver jewellery, head to Sukra.
Egmore
Pantheon Road in Egmore is known as Chennai's cotton street. Going fabric shopping? This area, with its 50+ stalls will not disappoint you. Ikat, bandhej, chanderi, polyester silks, and textured cotton, you can find them all here. For jewellery and readymade clothes, you've got Foutain Plaza, one of the first 'malls' of Chennai. There are loads of tiny shops here, and you can haggle away! For kurtas and leggings, go to Ankur's Matching Centre, where you can get printed and plain leggings and anarkalis and kurtas starting INR 200. Get silver nose rings, earrings, and anklets at Thofah.
Besant Nagar
The beach isn't the only reason why we love Bessy. Besant Nagar has a lot of stores that keep up with the latest fashion trends. Hit up SS Fashions in Second Avenue (GOCHS Colony) for kalamkari, pochampally, and, ikat fabrics with quirky cat prints, Buddha, and Kathakali prints. For your footwear needs, you'll find black knotted wedges, ballerinas, and formal shoes starting INR 150 at Star Supreme, also in Second Avenue. Find leggings, palazzos and cotton tops at Go Colors, located at Anna Colony. You cannot miss the gypsy women selling jewellery in their cart. They have pearl look-alike earrings at INR 20. Anklets and jhumaks begin from INR 50. You will be surprised to find bohemian beaded neckpieces, funky bracelets, stone chains, and earrings starting INR 20!

T Nagar
Pothys, Nalli, Sundari Silks, make up the Holy Grail of shopping for clothes in T Nagar. Nalli, one of Chennai's most iconic sari stores has a flagship store at Panagal Park with rolls of cotton, silk, rayon, velvet both plain, printed and any embroidered material, just for you. (It is almost impossible to find a Chennaite without a sari from Nalli). It is as though the multi-storeyed Saravana Stores has a festival going on 365 days of a year. Step in and you are almost lost in the different floors (they have products under almost 100 different categories). Saravana Stores is a one-stop-shop for all products, especially clothes, home decor, and jewellery. You can find hoops, studs, and different designs of earrings, necklaces, rings, anklets, and bangles starting INR 20.
Ranganathan Street is an iconic shopping street that you cannot miss. If you don't mind an excessively crowded narrow lane (we are not trying to scare you), head to this street. From cotton candy to diamonds, you will find everything here. Utensils, clothes, readymade, sarees, shoes, bags, you name it and you will find it here. The best part? The proximity to the West Mambalam local railway station makes the commute a lot easier.

Sowcarpet
Besides the popular khakras, dhokla and chatpatti street food, Sowcarpet is also known to be a shopper's paradise. Walk into Mint Street and you'll find boho dresses, Afghani tribal jewellery, chokers, and funky leather bags for super budget prices on the pavements. If you're looking at earrings, you can find acrylic, handpainted, wooden, glass, and pretty much everything you need to glam up, starting from INR 30. You will find everything from oxideised traditional Indian jewellery, metal bell jhumkas, coin-embedded chokers, cloth bead necklace, tassels, and more, at roadside stores. Have we tempted you enough? Don't get lost in one of the several by-lanes in this area. Head to Mint Street and you will find knee-length dresses, bohemian dye-printed kurtis, batik tops, high-waist jeans, and crop tops. You can find sling bags, embroidered clutches, and backpacks starting INR 70, at stores located in the further end of Mint Street. We also found some super cute jhootis and accessories. Read about them here.
Adyar
There's a saying that Adyar peeps never go anywhere, that's because they are self-sufficient and have stores for everything right in their area. Adyar has some of the best clothing and jewellery stores in the city, especially for budget shopping. Fashion Folks on Besant Avenue Road has formal shirts, palazzos, jeans, tops, footwear, and handbags. You will find brands like Zara, Tommy Hilfiger, Guess, Ralph Lauren, and Armani at factory prices! (Are you in love with this area yet?) Dollars And Pounds also has brands like Nike, Adidas, and Puma at budget prices. Global Desi will help you with your Indo-western clothing. Westside, Style One are some of the other clothing/accessory stores in the area. Looking for a luxury brand, there's Ritu Kumar, at Gandhi Nagar. For cotton dress material and salwar sets, you have Shangeetha. They also have synthetic sarees and veshtis starting INR 350 . Drive on to Sardar Patel Road, and you have a line of smaller stores that hoard clothes for kids. There is Sanginee Blouse Studio that will stitch up a designer blouse for you in no time. Chutties has clothes and accessories for kids, and Kumaran Shirt has shirts of all sizes for me.
Pondy Bazaar
Street shopping defined the best way, Pondy Bazaar is lined up with stores with the most budget clothes, accessories, and jewellery. Haggle all you want and get amazing deals on the roadside shops, where you can find all kind of quirky jimmiki kammal (we are sure you know the song) starting INR 20. There are more than a hundred shops in the Corporation Complex (it's a blue building near Big Bazar) in Pondy Bazaar. You can find footwear (sandals, sneakers, ankle-length boots) starting at INR 100. We found palazzos under INR 200, and T-Shirts, track pants, leggings, and salwars starting INR 150. You can get budget sling bags, clutches, and backpacks starting INR 200 at Rifa Bags on the first floor. There's also an adorable toy store here! So head to Pondy Bazar to fill your closet without emptying your wallet!
Alwarpet
For quirky accessories and footwear, Alwarpet's your area. You can get wooden and acrylic jewellery and T-shirts with funny pop-culture references like "eppadi irundha naan ippadi aayiten" and "we were on a break" at Ashvita Fine Living Store, located in Bawa Road. They have a great stationery collection, bamboo pencils, and vintage cloth diaries starting INR 200.
Alwarpet is a hub for sustainable fashion, and one of the big brands, Anokhi has their store on Chamier's Road, where you can find eco-friendly saris, kurtas, pants, skirts, shirts, and tops, starting INR 450. Walk on CP Ramaswamy road and check out a number of boutiques like Sanginee, Saanskruties, Shilpi, Samasta, Azure, Sthree, Kimono, and Brass Tacks. These boutiques are known for Indian handwoven fabric, breathable cotton, and textured khadi. You can find everything from linen jumpsuits and stylish dresses to chic blouses and kurtis.
On TTK Road, you will find Amaara boutique, where you can find kantha dupatta sets, kurtas, kaftans and tunics, anarkalis, skirts and lehengas, and salwars with ikkat and kalamkari prints.
Velacherry
If you're looking to shop on a budget or splurge, Velachery peeps, you're lucky. Home to two major malls, Phoenix and Palladium, there are so many options to choose from. Phoenix Marketcity, one of the biggest malls in Chennai literally has everything you need. Brands like Zara, Marks N Spencer, and Mango, have tempted us forever with their sheath dresses, tops, and quirky hoodies. If you're looking for budget fashion, check out Virali Garments for Tommy Hilfiger shirts, Guinness Tees, and vintage bell bottoms.
Nungambakkam
Nungambakkam has a host of one-of-a-kind stores and we love that! For instance, Seven, the only store in Chennai which sells 100% original CSK merch! You will love their polos, joggers, vests, and jerseys, all with a tinge of yellow to bring the true CSK fan in you! If you're looking for fashion lehengas and dreamy bridal outfits, check out Tifara, a boutique that has multiple designer labels and Indo-western wear. And this boutique brings dresses right from the ramp to your wardrobe, so you'll be wearing dresses worn by your fave celebs! If you're shopping for wedding wear, Khader Nawaz Khan road is the best. Man Mandir, Silkworm Boutique, Silk Toss, Sanskrriti, and Maiden are some stores where you can buy satin and silk stone border saris, blouses, and lehengas. Hit up Studio Bassam if you want to get sherwani, shoes, ties, and shirts in fabrics like cotton, silk, and flannel.
You will also find Fabindia, Arrow, W for Woman, Soch, Shree Niketan, and Naturally Auroville, where you can find menswear, womenswear, and accessories along KnK Road.
Comments