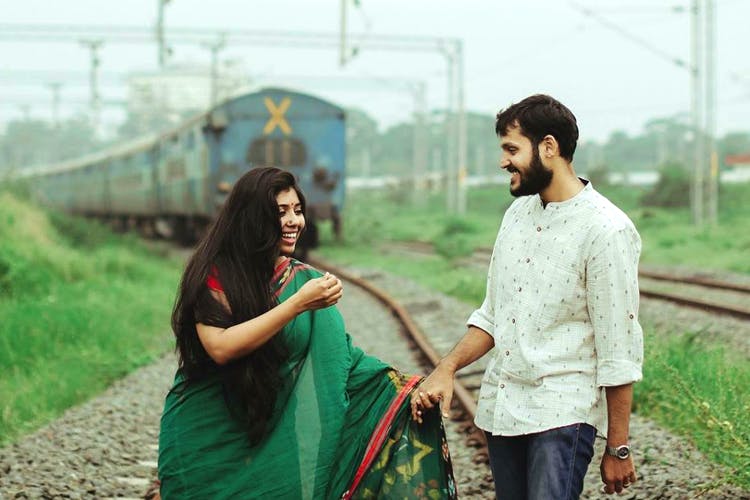 Check Out This List Of Best Pre-Wedding Shoot Locations In & Around Chennai For That Perfect Shot
Couples and photographers in Chennai, planning a pre-wedding shoot? Well, your search ends here. From traditional cottages to scenic beaches and even monuments, here's your guide to the best pre-wedding shoot locations in and around Chennai.
DakshinaChitra
This museum of art and architecture provides beautiful heritage houses as the backdrop for your pre-wedding photo shoot. Pose in front of gorgeous traditional homes from Kerala, Karnataka, Andhra Pradesh, and Tamil Nadu! If you're looking for a lovely ethnic theme to your shoot, then DakshinaChitra's Chettinad pillars and well-crafted doors are picture-perfect!
Price: INR 100 entry fee. Pay an additional INR 50 for using an SLR camera and INR 75 for a video camera
Royapuram Tracks
We are sure at some point in life, you fancied posing against rustic engines and vacant railway tracks. Well here's your chance to do exactly that! Take a left before the Royapuram bridge and you'll walk into this rare location for your shoot. Explore this undiscovered corner and get your filmy shots done against their colourful parked trains.
Ennore Rocks
This out-of-a-movie spot, is just a 45 minute drive from the city. The pathway on the sea along the Ennore beach is filled with rocks on both the sides and is a breezy spot for your shoot. Reminding us of Pondicherry and even Marine Drive, the Ennore beach is even better during pleasant and light shower evenings (this is for an off-shoot day, of course). We would say, right before sunset is the best time to head here and get your shots clicked.
Green Meadows Resort
This ECR resort filled with traditional cottages and lush greenery, is the spot for an out and out pre-wedding shoot. Get both your cliche and candid shots photographed against their artistic villas. You could also consider their boutique halls for your wedding!
Price: You can pre-book your shoot at INR 5,000 plus tax
Mahabalipuram
Our favourite getaway from the city is full of chill spots to capture memories of a lifetime. For chic and uber cool shots by the bay, head to the beach next to the Santana restaurant. This beach has rocks by the waters, colourful boats, local fishing nets and the beautiful Shore Temple to fill the frame.
Another favourite spot for shoots at Mahabs, is definitely the Shore Temple. With a minimal entry free, get some awesome shots at this classic monument by the sea.
ECR Beaches
Everyone loves some sun and sand for their shoots. And Chennai's East Coast Road has the prettiest and cleaner beaches for couples hunting for sun-kissed spots. Two of the most recommended locations are the VGP & Juhu Beach. Flaunt your white gowns, suits and flowery dresses by clear waters and blue skies at these beaches. On the other side are also a row of trees and walls to get more memorable shots and amazing silhouette pictures.
Rina's Venue
Whether you want it for a shoot or for the entire wedding, Rina's Venue, a traditional Chettinad house located in the heart of the East Coast Road, is easily one of the prettiest locations in town. Located right behind the ISKCON Temple on Akkarai, ECR is definitely a lovely choice for a dreamy wedding. The 6,000 sq ft property can be rented out at INR 2,50,000 plus taxes for 24 hours and you could celebrate more than just one occasion at this vast courtyard.

Miththam
Feel like you are a part of jameen parambarai at Miththam, a 12,000 sq feet event space on ECR. Feel like you belong to a scene from Dum Dum Dum, with huge open spaces, antique furniture, and vintage vibes. Let's talk about the house - downstairs, there is a lawn, a large portico (seats 70 people) with an oonjal, antique Kerala-style door, and a courtyard (seats 200 people). Good enough for some memorable pitures, eh?

Ottiambakkam Quarry
Located about 29 kilometers away from Chennai, between Navalur and Semmencheri lies a secret quarry that's perfect for those pre-wedding couple shoots. At the Ottiambakkam Quarry you'll find cliffs as well as a little water body in the valley too. You can choose to have pictures on a cliff as well in the valley next to the blue waters of the water body. The area is not very well known, so you can have a nice long photo-shoot without random people photo-bombing your special moments.
Chetpet Eco Park
This eco park bang in the middle of Chetpet is quite scenic during the golden photography hour in the evening. With the lake in the background you can also capture little ducks swimming or waddling around the perimeter too. The bamboo wooden fence that skirts the lake provides for a vintage backround and gives off total ooty vibes.
Broken Bridge
Located in our very own Besant Nagar, this track is another one of the scenic isolated spots that are perfect for uninterrupted photography. With the backwaters on both sides of the bridge and a lush green cover surrounding the area, this spot looks like a scene from somewhere in Europe. The best time to go here is in the evening during the sunset. The place is peaceful and calm and all you can hear is the soft rippling with water. It's the best place to capture candid moments because the setting is so relaxing the nervousness and consciousness of being in front of the lens will melt away.
Semmozhi Poonga
This nature park bang in the middle of the city is full of settings that are perfect to bring out the love. With green archways and tall 80-year-old trees, Semmozhi Poonga is the place to go if you like to keep it all natural. The picturesque winding stone pathway gives off a very fairytale vibe and the little pond at the middle of the park, has some cute wooden benches for those cozy, intimate pics.
Comments