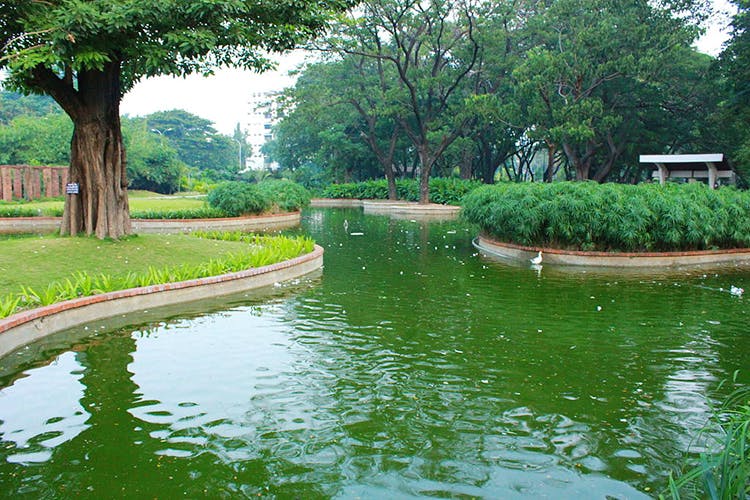 Kids' Day Out: Take A City-Break Stroll At These Public Parks For As Little As INR 20
Chennai is one of the greenest cities in the country, with the Corporation of Chennai taking special care to make sure that the trees and other flora are taken care of. And while the rains might stop you from going out regularly, there have been a few dry days here and there and it's the perfect time to visit some of our public parks and soak up all that nature has to offer. If you're looking for places to go, we've got a guide for you. Read on.
Guindy National Park
When it was first established, it was opened as a game reserve in a large plot of land that used to be a tropical forest. While the park is no longer as large as it used to be at one point, it is still quite a big space is a natural habitat for a wide variety of flora and fauna. It is protected and preserved by the government, which keeps it as one of the best public parks in the city.
Because of the rare vegetation type, there are some rare plants like wood-apple, tropical evergreen scrub and others that can't be found everywhere. But what really interests visitors are the wildlife – black bucks, spotted deer, jackals, snakes and over 100 species of birds can be found at the park. There's a Children's Park within the main park that has play areas catering to children of all ages.
Price: INR 5 (for children under 10) and INR 20 (for adults)
National Parks & Wildlife Sanctuaries
May Day Park
One of the smallest parks in the city, it was originally known as Napier Park (named after the Governor of Madras) when it was established in the 1860s. Burghall's Stables took up the entire area at the time and then in 1869, a portion of the land was converted into the park.
Another interesting fact about the park is that it used to house one of the first modern sewage pumping stations! The name change came much later, simply because Madras (as Chennai was known back then) was the first city in India to observe May Day and in 1990 a monument was erected to commemorate the name change to May Day Park. Currently maintained by Simpson & Co, the park is open to the public and they have facilities for cricket, football, volleyball, and even badminton.
Price: Free entry
Semmozhi Poonga
Set up in 2010, it was the first botanical garden established in Chennai. The name of the park means "classical language park" and it spreads out over eight hectares. It is one of the greenest parks in the city – considering how centrally it is located – and houses more than 500 species of plants and trees, most of which have been there since before the park was built.
The park is divided into eight smaller gardens, each with a theme of its own – there's a Butterfly Garden, Fern Garden, Water & Rock Garden, Golden Garden (showcasing flowers in different shades of gold) and more. There's also a pond where you can find ducks swimming around on a daily basis.
Price: INR 10 (for children) and INR 15 (for adults)
Nageswara Rao Park
Mylapore residents know the importance of this park simply because it is the local park, popular with those going for morning walks, but what the park is also well known for are the musical gatherings that happen every year – it is a popular spot for kutcheri performances in December. There's even a play area for children, keeping them off the walking track around the park as well as a badminton court set to the side.
Price: Free entry
Secretariat Park
One of the newest urban parks in the city, this park was built across the road from the Secretariat (where it gets its name from) and was opened in 2009. In the center of the park, there's a fountain and pedestrian walkways stretching around the entire park.
There is also a 'tree court' with benches spread out for visitors to sit and enjoy nature at its best. A sunken court area is a great space for children, away from the roads and even a granite plaza that is often used for yoga. And the park is well connected with ramps, allowing even those in wheelchairs to use the park. There's also a toilet block, with a facility for slum dwellers of the Annai Sathya Nagar area.
Price: Entry free
Comments