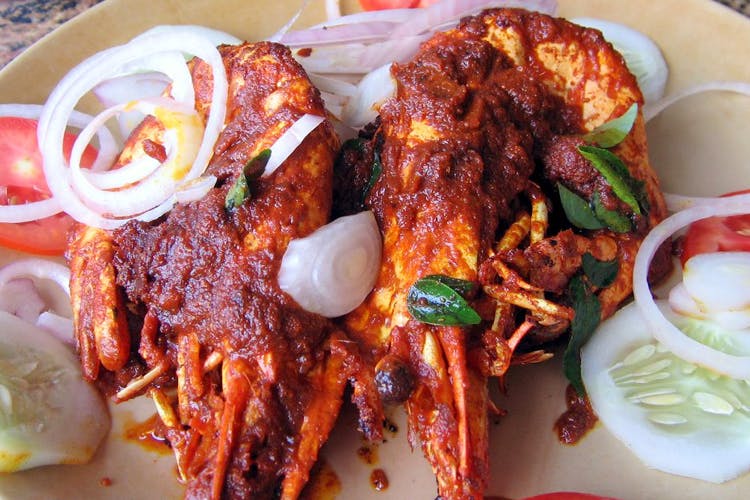 Something Fishy? Nah, Just Saltiness Cooked To Perfection At The Best Seafood Restaurants In Chennai
Blessed with fresh catches of the sea, cafes by the beachside and innumerable techniques of cooking, you can binge of some scrumptious seafood here in Chennai. Here's a list of the best seafood places in Chennai where the flavours of the sea blossom triple-fold.
The Marina
The name says it all! The Marina in Nungambakkam serves the fresh catch of the day. Along with the bright glass windows overlooking greenery and comfortable seating, there is a live counter where you can choose your seafood and have it prepared your way. They have a separate Chinese seafood menu as well as an Indian menu to choose from. You must try their creamy lobster while you are there!
Thoondil - The Family Restaurant
What better place than ECR to search for seafood? Thoondil in Akkarai boasts of some serene, outdoor seating arrangement. The straw hut canopies and wooden seating livens the place up as you take in the sea breeze. Fishes, prawns, lobsters, crabs or squid, the choice of sea life is endless to see and eat. They have a menu with special Chettinad, South Indian, tandoor and Chinese preparation. Satiate your love for biryani with their special fish and prawn biryani! Click here to check out the top garden restaurants in the city.
Coastal Aroma
Our love for OMR food streets just keeps increasing with their additions. Coastal Aroma in Thuraipakkam is not just decorated to make you feel like you're a part of the sea but makes sure you feel it with the dishes they provide. Our favourite was their crispy yet melting crab lollipops! They have a lunch buffet starting at INR 399. They are also currently having a seafood feast till September 30 with 40 items on the menu, called "Kadal Virundhu" at a price of INR 399.
Sundari Akka Kadai
Located off the coast of Marina, Sundari Akka is as iconic as her meal preparations. No seating as such but just the sand and the sea waves; an open and free amphitheatre to take your seat! Serving up fish thalis and prawn masala, the kutti stall is always bustling but the taste makes it all the more worth the wait. Get a taste of authentic homemade meals from her.
Kuttanad Restaurant
A taste of Kerala in the middle of Adyar, head to Kuttanad if you want some homemade budget meals. From meals to fish fry, they have authentic coconut milk prepared prawns which will leave you licking your plantain leaf. With mild spices and just the right amount of coconut oil, this place is a delight. Karimeen Pollichathu and fish roast along with crab masala and prawn roast, they couldn't be paired up better with appam or parotta.
For the best Kerala restaurants, click here.
To know where to find Onam Sadhya, click here.
Teppan
Do you know the similarity between the Japanese and us? We love our fishies. Teppan in Alwarpet celebrates the love for fish, more importantly, sushi. Oh no, we aren't kidding. Their menu is all about sushi, maki, nigiri and sashimi. All you can eat fish, prawns, squid, eels and even octopus. Try your regulars or experiment - either way sushi will be swimming its way into your heart. They have a few main courses and rice options as well! To know more about the best Japanese restaurants in Chennai, click here.
Moonrakers
Shack vibes and seafood, Mahabs is calling you out and Moonrakers is your first-holiday eating spot to go to. Serving up some South Indian, North Indian, Chinese and Italian delights, it is as good as seafood can get. A mug of cold beer and a seafood platter while staring out to the open sea from a thatched shack, life couldn't feel better. Do give a munch to their battered calamari! To know more about cafes in Mahabalipuram, click here.
Nair's Mess
Legendary is the word when we are describing Nair's Mess which has been around since 1961 serving authentic Kerala food on a budget. Banana leaf meals are its speciality and you will be getting heaps of scooped rice poured onto your plate every time you are close to being done. Vanjaram fry is the hit but if you aren't a fish person, then they have prawn masala to go with your starch as well. To know more about the best messes in Chennai, click here.
Have we missed out on anything? Mention them in the comments below.
Comments