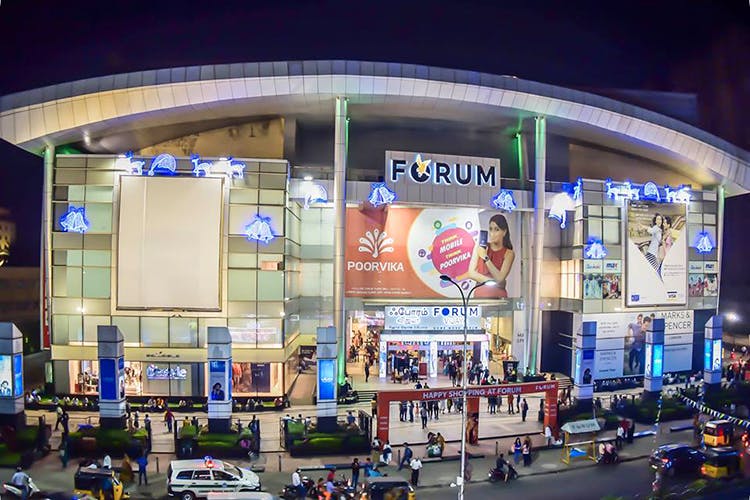 15 Best Malls In Chennai You Need To Check Out Right Away
Whether it's movie night with bae or a shopping spree with the girls, we do love our time at the mall. And Chennai is peppered with shopping complexes that cater to our every need! From gaming cafes to cinema theatres and luxury brands, take your pick, peeps. Here's our list of some of the most popular malls in town.
Express Avenue
Well, obviously, no Chennai mall list would be complete without this one. A mall we've been to a gazillion times, EA as it is fondly called has everything under one roof. While we spend most of our time at H&M, Global Desi, MAC, and F21, check out other brands like Sephora for cosmetics, Charles & Keith for bags and shoes, Max for affordable tees and shorts and Westside for cool, casual kurtas. Oh, and did you know that The Hindu has recently opened its own lounge on the second floor? You can even catch a movie at Escape (one of the best movie complexes in the city) and pamper yourself with a massage from Oryza, right next door.
Want to know how we shopped here under a budget? Check out the full story here.
Phoenix Marketcity
Definitely another favourite, you're going to want to fill your shopping bags here, people! Because Phoenix has a few extra stores that we can't find at EA. There's Zara for chic dresses and trendy blouses for women and Chumbak for your dose of quirky décor and accessories. Hungry from all that shopping? Tuck into fiery peri peri chicken from Nando's. And that's not all, they host special performances and have even got comedian Vir Das to tickle your funny bone on Sunday, January 14! And cinema lovers, you can also catch a movie at Luxe Cinemas right here.
Bergamo - Luxury Mall
Named after an Italian city, this mall is full of Europe feels. One of the less-known malls, Bergamo is spread across 40,000 sq ft and includes luxe brands such as Lladro and Harman Kardon. Shop everything from footwear to bags on pretty much any day, as this mall doesn't get crowded like others. There are restaurants here too, including a charming little Starbucks to get your coffee high on while shopping.

Forum Vijaya Mall
If you're familiar with The Forum in Bangalore, you'll love The Forum Vijaya Mall in Vadapalani. Brought to Chennai by the same company (Prestige Group), find everything from a hypermarket for groceries to Toni & Guy if you're looking for a funky new hair makeover. Grab some Italian grub at The Pasta Bar Veneto, get your cosmetics from Health & Glow and festive wear from Soch. There's also a small tattoo booth if you're looking to get inked and the food court has Burger King, Tibbs Frankie, and Kobe Sizzlers to name a few. They also have Fun City for games and a Scary House that really needs no explanation. And if you need to relax after entering that house of horror, drop by O2 spa for a massage.
Ampa Skywalk
This mall in Poonamalee High Road really does have it all. From PVR cinemas to even a hotel, stop by if you want to shop and more. M&S for lingerie, smart formal wear and amazing perfumes, Naidu Hall for affordable garments, and bath and beauty products from The Body Shop – shop till you drop! Oh wait, there's more. They recently hosted a pet adoption camp, a few concerts and comedy gigs and you can soon look forward to a couple of competitions and show off your talent – there's singing, dancing, carroms, and even a picture treasure hunt coming up! The mall is always buzzing with activity so, keep a track to know what's up.
Spencer Plaza
Can't have a list without one of Chennai's oldest malls now, can we? We remember when back in the day we used to get lost in each phase of the mall, it was so big and confusing! We loved the place for buying cool silver jewellery and browsing through books at the old Landmark. Sure, Spencer Plaza is a bit run down and isn't as bustling as it used to be but we did find some cool stuff at some of the shops here – jewellery, leather goods, cameras and more. For more details, you can check out our recommendation here.
Chennai Citi Centre
Another oldie but goodie, this mall used to be a hot favourite especially because of its proximity to Marina beach. Now, not as lustrous as it used to be, you can still drop by to do some shopping at Giordano and Lifestyle, munch on KFC burgers, slurp on fresh juices at Fruit Punch or pick up a sub from the food court or catch a movie at INOX (although the menu at the food counter here is strictly vegetarian).
Spectrum Mall
If you stay in Perambur, check out this mall that has SPI cinemas (the peeps behind Sathyam and Escape) on board, so catch a movie at S2 Perambur. Looking for something else to do? They have a scary house on the fourth floor and if you love to dance, check out the popular John Britto's Dance Company on the second floor — try your hand (and feet) at their jazz and hip-hop classes. For shopping, you can pick our affordable clothes and groceries at the Big Bazaar here and wellness products from the Health & Glow.
Ispahani Center
Located on Nungambakkam High Road, here's where you come to for more than just shopping. Drop by the quirky desi Dhaba Estd 1986 Delhi. For a fun ambiance (they even have a truck on the third floor!) and delicious mocktails like Shikanji, Rangeela, Kaala Khatta, and Aam Panna. There's also India's biggest gaming café Arknemesis Gaming for cosplay events, high tech gaming, and even snacks. Oh, and if you want a makeover, drop by Bounce Salon. We'd say skip shopping at this mall (there's nothing much to boast of) and drop by these places instead.
VR Mall
The most happening mall in Chennai, VR Mall has everything you need all under one roof. Shop the most luxurious and newest brands in the city and let loose in the food court where you can chow down on the best food. Shop from brands like Innisfree, Aldo, and Baggit here.
Alsa Mall
Alsa Mall is every hardcore shopper's first destination. Filled with stores which sell everything from clothing and jewellery to shoes and cosmetics, Alsa Mall is the place to be if you're looking to fill up your shopping bags but not spend too much money. Head to Alsa Mall and with a bit of haggling, we bet you will get the best deals!
Chandra Metro Mall
Chandra isn't much on the shopping radar, as it has a limited number of stores, but it is worth visiting for its huge Dmart store. Also, Chandra Mall is the perfect place to get your game on as it has a bunch of gaming zones, as well as kids, play zone. Play the coolest PlayStation games at budget prices here.
Grand Square
To have a good time shopping and eating, head to Grand Square mall in Velachery. One of the lesser-known malls of Chennai, Grand Square has apparel brands such as Shoppers Stop, Woodland, Nike, and Levis as well as food places. Additionally, they've got a good gaming area with snooker, bowling, Virtual Reality games, and PlayStation!
The Marina Mall
OMR folks were overjoyed to get The Marina Mall in their locality last year. This mixed-use lifestyle mall is spread across 1.5 million sq ft on the IT corridor of OMR and has leading brands like Lifestyle, Spar Hypermarket, Pantaloons, Reliance Trends, Max Fashions, and Home Centre. They've got Inox too, so grab a popcorn bucket and settle in!
Comments