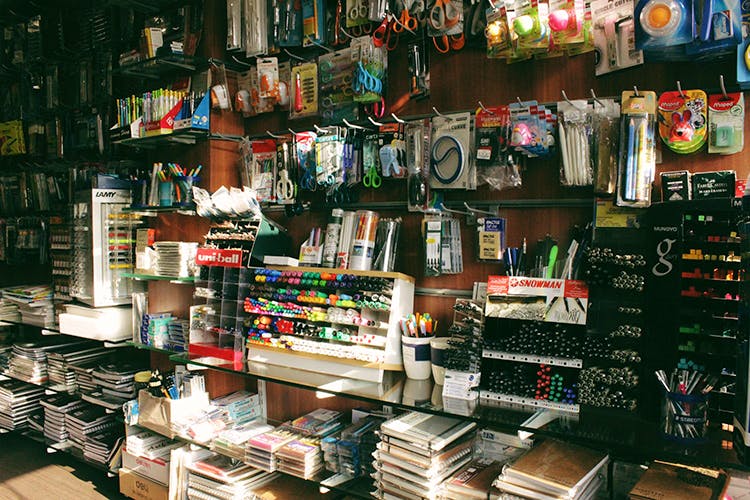 Washi Tapes, Folders & Shredders, Feed Your Obsession With The Best Stationery Shops In Chennai
Stationery shopping is a ritual for most of us. Each area in the city has its own stationery store that we religiously frequent and love. Right from colourful post-its and washi tapes cheque pouches and shredders, here are the best stationery shops in Chennai.
Madras Art Store
Aka MAS is an offshoot of its parent stationer, Hindustan Trading Company. This beginner-friendly art storehouses art supplies like brushes, canvases, art books, etc, as well as a range of stationary equipment and, is one of the best stationery shops in Chennai. Expect to spend at least INR 100 for a nice pen here. Apart from that, they've got the usual array of notebooks, pencils, clips, erasers, and other knick-knacks.
Hindustan Trading Company
Aka HTC, the parent company of MAS, is the crème de la crème of art and stationery supply stores in the city. They cater to artists and designers and that is reflected by the range of products they have for them. Great if you're an artist or designer in the market for supplies, but for us common folk, their stationery section is all we're interested in. From battery operated erasers and sharpeners to Faber Castell rulers and pencils, if you've got an itch for stationery, HTC will cater to you.
Starbox
This Chennai-based store is one of the main players in the art supply and stationery market. With three branches across the city in Kilpauk, Anna Nagar and Mambalam, Starbox offers crafting essentials (knitting and stitching equipment, jewellery beads, clay, etc), art supplies (easels, brushes, paints, canvases) and stationary equipment. The stationery section offers the usual pens, pencils, notebooks, erasers and other writing supplies, desk accessories like clips and folders, and there's also a section for architecture and engineering students that houses geometrical supplies and precise measuring equipment.
Starmark
Starmark, a popular bookstore from Kolkata, while known for its books, also does stationery. The range available isn't as close to what you can get at the previous three places but is still respectable. You've got colourful post-it notes, to the classic Parker pens, to cute notebooks and vibrant crayons. The reason we included Starmark is that its the most accessible. Located in both Phoenix and Express Avenue Mall, you're really not far away from a quick stationery indulgence when you visit either of those malls for a movie, or for some shopping.
Makoba
Makoba is one of those elitist stores in the list. To say that they sell stationery is a bit of a misnomer as their focus is predominantly on high-end pens. Their glass covered showroom houses an arsenal of pens that start at Mont Blanc and Sheaffer and go up to Bentley and Ferrari (yes pens, not cars!). The reason why we included Makoba on to this list is because it's a great place to pick up nice gifts now that we're not starving students. A quality Mont Blanc or Sheaffer would make for a nice birthday present to that one friend who you have absolutely no idea what to get. Speaking of gifting they've got a nice range of men's belts and wallets (leather too!) as well as watches.
Bunder Street
Bunder Street in Parry's Corner is the exact antithesis of Makoba. Quantity over quality is the mantra at this wholesale stationery market. Bunder Street is not one store but a tiny street filled with stationery stores that sells writing instruments, paper supplies, and desk accessories. You can find pens as low as INR 2 and INR 4 and in various colours! The same goes for notebooks and pencils. All of which can be bought in wholesale quantities. Looking to stock your office or class? Then this is the place you need to go to.
Words And Worths
This 18-year-old bookshop in Besant Nagar has an impressive stationery section which houses art supplies, writing instruments, desk accessories, and paper supplies. Starting from Camlin oil pastels to Staedtler pencils and Parker pens, they have stationery items on all ends of the spectrum, all the way down to the simple Natraj pencil. For more on Words and Worths and their other services, check out our feature on them here.
Office 1 Stationery
From pens, pencils, and paints to notebooks, diaries, and folders, shop the best of office stationery at Office 1 Stationery. They have diaries with quirky prints of animals, flora, footprints, and cupcakes. Basic stationery items like staplers, paper shredders, and paper pins are also available in plenty!
Anandha Stationery Stores
Anandha Stationery Stores in Adyar is the place to go if you're looking for cutesy items like message bottles and knick-knacks. Acrylic, watercolour and oil paints, neon pens, craft paper, sketch pens, sparklers, art books, they've got 'em all. Shop stamps, stickers, washi tapes, and ribbons here.
Akash Stationers
For off-beat stationery, hit up Akash Stationers in Kilpauk. They've got expanding cheque files, folders and files, notebook pouches, file organisers, multi-purpose pencil boxes, and pouches and small storage boxes starting INR 100. Their diary collection is super cool!
The Doodle Society
This Instagram store is on the list of best stationery stores in Chennai. The Doodle Society is the best place for handmade notebooks and jotters. These customised diaries are adorable and the travel-themed notebook called 'Explore' has doodles of all-things-related to travel - a plane, the Hollywood sign, the Leaning Tower of Pisa, tiny backpacks, and the skyscrapers of New York.
Prasad Stationery
Run by an elderly couple, Prasad Stationery in Kilpauk is for the budget stationery hoarders. Shop greeting cards, teddy bears, post-its, paints, notebooks, and a huge bunch of pens at this store. The prices start at INR 20 and this is a great place for quick stationery shopping.
Premier Stationers
Right out of the 90s, Premier Stationers is filled with all-things-glitter. The razzmatazz of the store is in their products, which ranges from glitter pens, satin ribbons, covering sheets, paint boxes, and personalised diaries. Their merch starts from INR 50 and it's got great customer service.
Comments