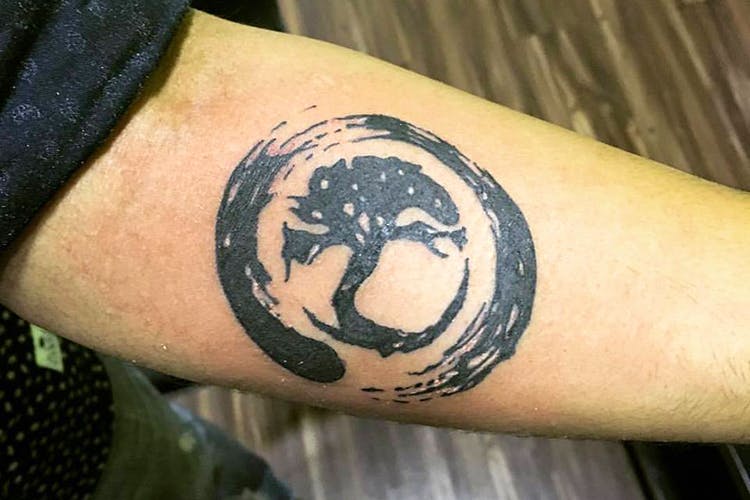 Abstract Designs Or Profound Script? Get Inked At These Tattoo Parlours In The City
If you're looking to get your first tattoo (or your tenth!), then we've got a list of places for you to visit right now. And more than that, some of them also train aspiring tattoo artists, so if you're interested sign up right away! All these tattoo studios require you to make an appointment before you show up, so call them and get all the information you want before you get there for your tattoo!
Inkpulse Tattoos & Body Piercing
First started in Coimbatore and then opened in Chennai, Inkpulse has made quite a name for themselves as a reputable tattoo studio in the city. They have three artists working round the clock, catering to customers with varied tattoo requests. Inkpulse also offers body piercing and they have an apprentice program for those who wish to learn tattooing – the course runs for three weeks and costs a total of INR 75,000 for the professional course.
Price: INR 2,000 onwards for tattoos and INR 500 onwards for piercing
Talisman Tattoos
As Chennai's first professional tattoo studio, Talisman has a long list of clients and a history of delivering the best kind of art you'll ever see. Amar, the man behind Talisman, provides the best tattoos as well as an artist training program that runs for three weeks and costs INR 75,000 after which you can join the ranks of the best tattoo artists in the city.
Price: INR 1,500 onwards (black tattoos) and INR 2,500 onwards (coloured tattoos)
Yantra Tattoos
Started by Sekar in 2011 after he quit his job, Yantra truly lives by their motto of 'art is not a thing; it is a way'. After training, he then opened his own place, allowing customers to choose from a long list of designs he's already worked on as well as bringing your ideas to the table. Hygiene is his most important thing and he sticks to it with every piece of art he inks. He provides permanent tattooing, body piercing and also a supply of tattoo equipment that can be bought and used in studios around the city.
Price: INR 1,500 onwards
Geo Tattoos
George, the owner of Geo Tattoos, has been working as a tattoo artist since 2002 which already comforts you in knowing that not only will you be getting good quality work, you'll also be in the most hygienic situation to get your tattoo. And whatever style of tattoo you're looking to get, they're up for the challenge. You're also guaranteed after care help, with guidance on how to take care of your tattoo when you go home.
Price: INR 2,000 onwards (black tattoos) and INR 3,000 onwards (coloured tattoos)
Irezumi Tatttoo Studio
Another one of Chennai's oldest studios (and one of the most popular), Irezumi has made quite the name for itself since opening in 2006. Started by Naveen, Irezumi provides a clean studio and they have two other artists on hand to help out with the work as well. If their testimonials are anything to go by, then choosing Irezumi would be the right thing for you if you're getting your first ever tattoo done.
Price: INR 2,000 onwards
BlackMagic Body Art Studio
With two studios in Tamil Nadu, this tattoo studio specializes in black ink tattoos. But don't be put out by that, because they also do coloured tattoos as well as cosmetic tattoos and cover-ups. But if you're looking for the perfect black (or shades of black tattoo), then this might just be the place for you.
Price: INR 1,000 for first square inch and every additional portion is INR 500 (for black tattoos) and INR 1,500 for first square inch and every additional portion is INR 600 (for coloured tattoos).
Comments