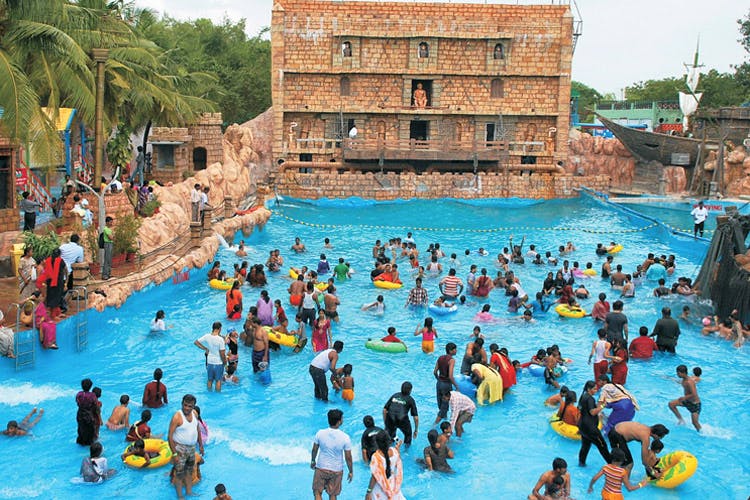 Cable Car Rides, Snow & House Of Horrors: Check Out The Best Theme Parks In Chennai For Entertainment 101
Missing all those fun rides and water sports from your childhood? Head to the best theme parks around Chennai to treat the child within you! From roller coasters to snow worlds, these amusement parks seem to have it all! Get your squad together and head to check them out this weekend to bring back all the childhood memories!
VGP Universal Kingdom
Apparently, this is India's first amusement park and has been around since 1975. The VGP Universal Kingdom has been creating buzz around the city after introducing one of the biggest snow parks. Just a short ride on the scenic ECR, it truly is a one-stop destination for fun at just about INR 600 for adults. Rides range from jumping frogs, the Ferris wheel, wave swinger, dashing cars, roller coaster, water sports and over 40 more. There are plenty of restaurants too! There are several other attractions like the 3D Art Museum, underwater tunnel, a vintage camera museum, a horror house, a 'paneer' fort, a petting zoo, live shows, and a private beach.
Kishkinta
Kishkinta, located near Vandalur was named after an enchanted realm of the Ramayana. Spread over 120 acres, this amusement park is truly magical. This park offers plenty of wave pools, roller coasters, jolly rides, and water sports. It also has several parks and five massive artificial lakes for a nice picnic with your squad. Apart from the rides, it also has live shows like the magic show, the musical fountain, and the water ski show. Adults can get an entry at just INR 690.
MGM Dizzee World
Again another entertainment marvel theme park on ECR, MGM is an all-in-one. Tailor-made for families, this park has plenty of water rides and Dizzee rides like roller coasters, the Caribbean swing, a massive Ferris wheel and much more. It even brought the famous Jurong Bird park show of Singapore to India for the first time in 1999 and introduced hot air balloon rides in Chennai for the first time in 1998. You can buy an adult package at about INR 700 which gives you access to all the rides and water park.
Queensland
Although Queensland is quite far from the city, it is worth the ride. This is exactly the place you want to be in for an activity-packed day with your squad. Spread over an area of 70 acres, this park has lush greenery and great picnic spots. It also has over 50 rides with two roller coasters and plenty of water rides and swimming pools. There is also a cable car ride at this amusement park, which is one of a kind in Chennai. The entry ticket for an adult will just cost you INR 550.
Monkey Monk
Another thrill spot along ECR, Monkey Monk takes you on an experience of adventure. From crazy ropes and obstacle-filled adventure games like bungee jumping and zip-lining to camping facilities and even a butterfly park, there's plenty to explore. With the adult ticket priced up to INR 700, you can try your hand at Commando Net or Burma Bridge. If you are not much of an adventure seeker, then you can climb up till their viewpoint! They have leisure sports like cricket and football too.
Wild Tribe Ranch
Have your adrenaline pumping with all the thrilling games at Wild Tribe Ranch in Nemmeli. They have over 17 adventure activities to choose from. You could go for stimulated surfing, go-karting, paintball, Bull's eye target range and so many different obstacle courses. They have got two eateries, while one is vegetarian, the other takes lunch orders before 11 am and dinner orders by 6:30 pm. You can go for their open access pass at INR 490 for 5 activities or INR 1790 for 17 activities.
Adventure Zone
Providing the best of team building activities, Adventure Zone is just half an hour away from Chennai. You could get your hands on parasailing, zip-lining, rappeling and so much more. You and your squad could even avail a camping night out. You could lay back to chill in their 2400 acres of swimming pool as well! There is no entry fee, but you pay according to what you avail.
I-Play
Tucked inside Phoenix Mall in Velachery is Iplay which a family entertainment zone. Curated through high-end technology, you can enjoy thrilling rides or snowflakes falling while not having to get far from the city. They have snow play section, holographic theatre and even XD cinemas. The entry fee can go up to INR 950.
Comments