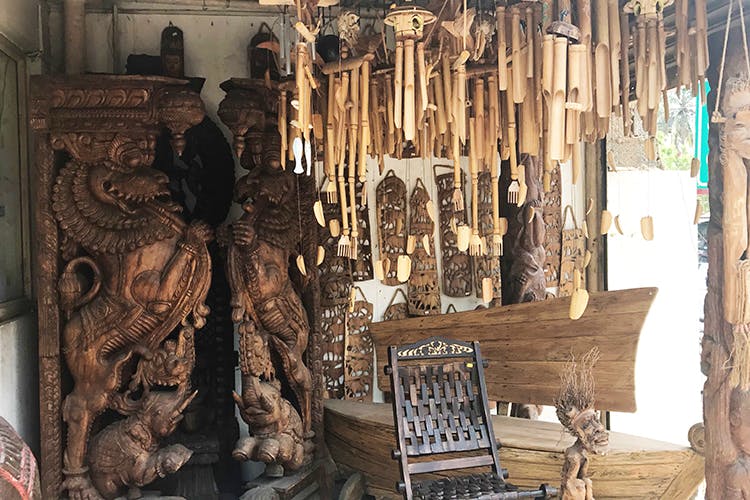 10 Things We Love About ECR
From adventure sports and turtle walks on the beach to romantic dates and food marathons, the East Coast Road is bustling with things to do. Here's what we recommend, the next time you're heading that side of town.
Date Nights
The ECR has more than just one perfect spot for candlelight dinners and fancy meals. Bella Ciao and Kipling Cafe are hands down our favourite picks for both romantic meals and delicious food. If you're looking for some authentic Italian cuisine, a cheese and wine kind of night if you will, then Thiruvanmiyur's Bella Ciao is the place to be. And the ambiance is lovely too!
Kipling Cafe, on the other hand, is the restaurant to visit for magical cabana-style dinners amidst lush greenery while sipping on yummy cocktails. Read more about them here.
Adventure Sports At WTR
Head here with your squad to this place a little down the East Coast Road, beyond MGM and indulge in gazillion adventure sports. They have Trampoline Jumps, Paint Ball, Jallikattu, Bungee Soccer, and even Zip lining, giving us enough adrenaline rush for the day.
And that's not it! They also have pools to beat the summer heat, Bungee Ejection, Monkey Walks and even breezy Catamaran rides. Read more here.
Go-Karting at ECR Speedway
A little after the check post, ECR speedway is one of the best go-karting tracks in Chennai. The tracks here go up to 630 meters, enough to fuel your racing thrills. They also have separate karts for adults and kids with varied ranges. Starting at INR 400 for around five minutes! To know more about go-karting arenas in Chennai, click here.
Activity Zone & Movies At Mayajaal
For bowling alleys, arcade games, 5D experiences and even haunted houses, Mayajaal has got you covered. The place, known to be a multiplex, has more than just cinema screens. Did you know Mayajaal's bowling alleys are one of the oldest ones in the city? Starting at INR 500, they have something fun for all age groups.
Street Food At OMR Food Street
The new hub for all foodies, the OMR food street on ECR has everything! Munch on rolls from Tibb's Frankies, mouth-watering waffles from Brownie Heaven and authentic sweets and delicacies from Ajanabi, this complex bustling with restaurants and stalls is budget friendly and perfect for food marathons. Cure your cravings for as low as INR 60.
Brekkie, Coffee & Seafood Scenes
ECR also has numerous pit stops for yummy breakfasts. For South Indian ghee idlies and dosas, you could always head to Vasanta Bhavan. Lydie's near Muttukadu is a scenic spot to be at and you get Continental and South Indian cuisine here. We recommend coming here for breakfast or early dinners. For more brekkie options on ECR, go here.
Another highly recommended spot along the ECR would be East Coast at Madras Square. We hear that the quaint restaurant has a bar too now, adding to the rustic charm of the place. It's perfect for coffee dates, and dinners (now with drinks!).
Also, food marathons on the ECR are never complete without digging into some seafood by the coast. Head to Palavakkam beach for tasty prawn and fish fry at Prawn Akka Kadai.
Home Shopping At Nurseries & Decor Stores
There are quite a few pottery and other artefacts shops on the East Coast Road. D'Hut in Kottivakkam is the best example of decor paradise, with dream catchers, Buddha statues and African masks – the interiors corner is full of quirky and aesthetics. There are also several street side shops on this stretch, full of local artefacts.
Located on the right and left hand side, until Prarthana Drive-In Theatre, these small little shops have an exciting collection of mud pots, clay decor pieces, pretty bells and rare artefacts to fill up your house. Best part? Most of these places let you bargain and you can take home some beautiful flower bowls, lamps etc for as less as 100 bucks.
Now, if you're looking for plants and succulents, 13 Degree North and Karuna Nursery are two popular nurseries on ECR. You can read more about them here.
Surfing & More At Surf Turf
Surf and Turf, is the best place to get your dose of Vitamin Sea! The villa offers surfing classes, has a breezy restaurant and even cute rooms and suites to crash at. With B&B starting at INR 2,500 on weekdays, Surf & Turf is a home away from home for most Chennaities. Read more here.
Something For Animal Lovers
With the famous Neelankarai turtle walks, you not only get to connect with nature but can also get a chance to be a part of the group working to protect Olive Ridley turtles for years now. The Students Sea Turtle Conservation Network organises late night turtle walks between January to April every year and it's truly a delight to be a part of this process. You can collect turtle eggs, help relocate them to a safe place and also watch as the baby turtles are set free into the ocean. And the best part? It's free.
Another place to visit if you're an animal love is the Madras Crocodile Bank. This centre for herpetology on ECR lets kids be zookeepers for a day, offers night safaris and you can even volunteer to help out here or adopt a herp too! They even organise snake walks with the Irula Tribe.
Alcohol By The Beach At KoKoMmo Tiki Bar
Describing itself as a tiki bar, KoKoMmo is the city's watering hole that at the InterContinental Chennai Mahabalipuram resort on ECR. The bar cum shack is right on the beach, so rest assured you'll be sipping Mai Tais with your toes tucked into the sand. Open every day from 5pm to 11.30pm, KoKoMmo is the beach bar we've all been waiting for.
Read more here.
Did we miss something? Let us know in the comments!
Comments