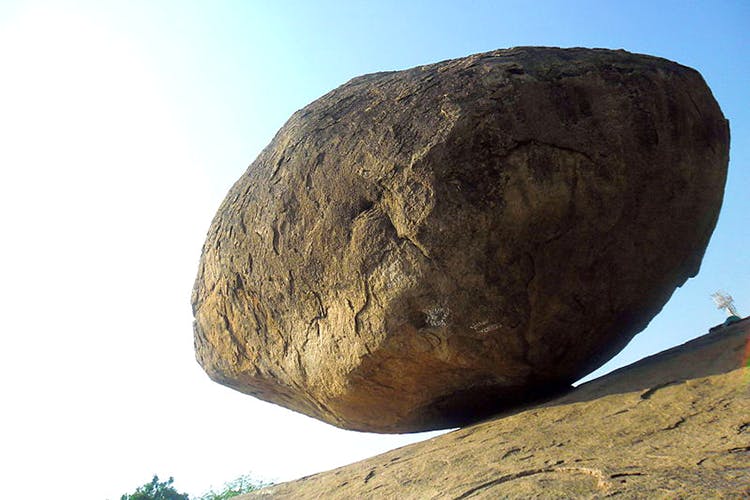 We Found 5 Top Things To Do In Muttukadu That Isn't Just Boating
Want a quick weekend getaway that's close enough to Chennai but far from the bustling city traffic? Pack your bags, you're going to Muttukadu! Located between Chennai and Pondicherry, Muttukadu is a one hour drive south from the city. The scenic greenery and view of the ocean around Muttukadu is perfect to take a break and chill.
Picnic By Krishna's Butterball
A massive rock balanced at a 450-degree angle on a hillside by the beach, this spot is great for a private family picnic. We like this spot because, the view around is great, and you can watch the sunset and snuggle under the blankets to gaze at the stars.

Camping
Set up a camp by the ocean or the greenery to see the sunrise early in the morning. Most campsites are uphill and a perfect place for bird watching. If it gets too hot in the afternoon, take a dip in the lake or the backwaters by the ocean. Camping trips are organised by Tent n Trek, an adventure sports organisation.
Tiger Cave
Located near Salurankuppam village, this cave holds historic carvings and artistic secrets. Go back in time and discover the beautiful carved structures and ancient architecture at this rock-cut temple.

Paddle Surfing In The Backwaters
The backwaters of Muttukadu are away from the crows of beaches and oceans in the city. Try stand up paddling, kayaking or rafting in these backwaters that are isolated from the rest of the town. As the water isn't very deep, you could try windsurfing and water skiing too. Local trekking clubs or surfing schools like Bay of Life rent paddle boats and other gear.

Oh, but if you're still keen on just boating, check out our story here.

Trekking
Filled with greenery and nature, Muttukadu is home to huge, tall, mountain-like structures buried behind the busy roads. Put on your shoes and go out for an early morning trek. You can book your trek with Chennai Trekking Club.


Comments