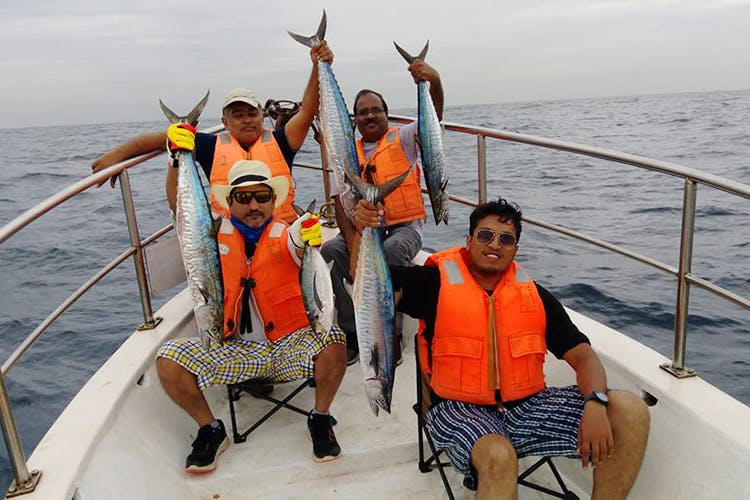 Go Deep Sea Fishing At A Shipwreck Right Here In Chennai, Courtesy This Sports Fishing Company
Shortcut
If you think the activity of fishing is plain old boring, then this Chennai-based sport fishing company is about to change your view forever. Blue Waters organises deep sea sport fishing adventures all along the Chennai coastline.
What Makes It Awesome
Blue Waters, a sports fishing company in Chennai, is helping us enjoy deep sea sport fishing adventures right here in Chennai. They have customised speedboats that are equipped to handle this kind of experience and they want you to join them. Blue Waters also apparently has a team of qualified fishing experts including Prithviraj Manivelu (their Director of Expeditions) who has mapped out all the available gamefish spots along the coast. And now with their two speedboats – Sea Rocket and Sea Hawk – Blue Waters is inviting guests on board for something completely unique to do in the city.
Deep sea sports fishing takes place in the deeper parts of the sea where the fishing is done either for sport or for food. There are tons of competitions around the world for deep sea fishing, but what Blue Waters does is a recreational activity that can be enjoyed by just about everyone.
Operating from the Royal Madras Yacht Club located in Chennai Port, these fishing expeditions take you out into the sea and parts you've never been before. Including the rare opportunity to do some fishing at a shipwreck (from 1982!) close to the harbor. The team will help you find the most popular and sought-after game fish like the Barracuda, Giant Travelly, King Mackerel, Barramundi and more. They'll teach you angling, and give you a chance to take a picture with your catch before you toss them back into the water.
As always, when going out into the deep sea, safety is a priority. There will be life jackets provided to every member who comes on board, along with a support vessel close by for rescue operations. It's important to listen to instructions carefully and do what you're told so that you have the best and the safest experience. And the expeditions are not only for adults, but even kids can also join in on the fun.
For the month of November, you can sign up every day for a Deep Sea Sport Fishing experience. There are different packages, depending on how long you want to stay out at sea and fish. The 8 hour package (for 4 people) is priced at INR 40,000, the 6 hour package (for 4 people) is priced at INR 32,000, the 4 hour package (for 4 people) is priced at INR 22,000, the 2 hour package (for 4 people) is priced at INR 12,000 and the 1 hour package (for 4 people) is priced at INR 7,000.
Every day, they have five batches going out so you have many options to choose from. The timings are 6am (3 batches), 8am (2 batches), 10am (2 batches), 2pm (1 batch) and 4pm (2 batches).
Comments