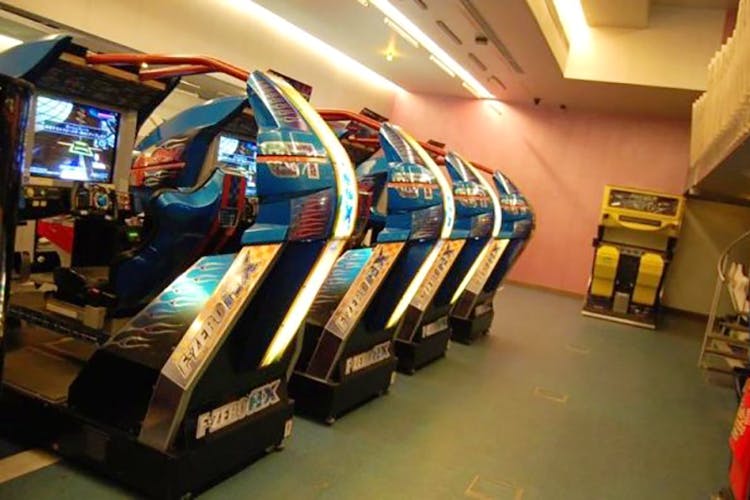 Level Up: Head To This Gaming Cafe Inside Sathyam Cinemas & Compete With Your Squad
Shortcut
Find yourself bored and with some time to kill? Head to Blur at Sathyam Cinemas for some non-stop gaming action.
What Makes It Awesome
Started solely as a standalone gaming café, Blur has expanded to become so much more, in short, it offers an experience. The gaming area is split into different sections and each section has its own pricing. The 6th floor houses the Xbox One and Playstation 4 consoles, the prices for which are pretty attractive if you're in the mood for a gaming marathon. Price for one hour is INR 100, they also have packages above that offer discounts for longer sessions; five hours for INR 300 and even a 20 hour package for INR 2,000 (that's INR 40 per hour), perfect if you're looking to sit and play a game like Assassin's Creed from start to finish.
The 5th floor has a large spacious room for the Wii and Xbox Kinect that operates at a flat rate for INR 150 per hour (pricing wise they don't offer longer packages for this area because let's be honest, anything more than half an hour of Wii Tennis is just exhausting).
The 4th floor houses the PC gaming area and is impressive, to say the least. Their computers are decked out with powerful tech and come with their own accessories; you can easily expect their systems to run any game on max settings. Prices for the PC area INR 70 per hour with an optional five-hour package at INR 200. As for the games on offer, they're fairly up to date, with new releases like Fifa 18 taking little under a week to hit their shelves.
What if gaming's not for you? They've got their own bowling alley on the 5th floor for you to play at (INR 210 for 20 balls). Definitely worth a try if you're with friends. Lastly, the Blur Café (also on the 5th floor) serves your staple Pizzas, Pastas, Milkshakes and Desserts along with an Indian and Chinese section.
So don't forget to check out Blur the next time you're at Sathyam.