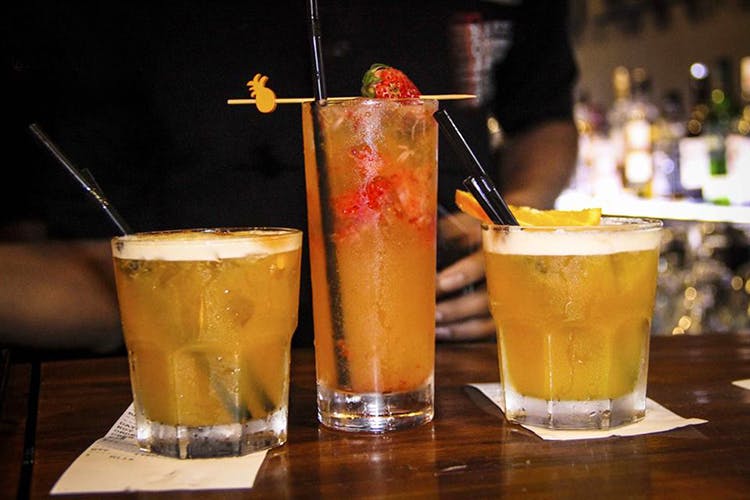 Drinks By The Beach? Head To Chennai's Popular Beach Bar In Bessy For Good Vibes
Shortcut
If you're looking to chill, head over to BOATS (Based On A True Story) which is a popular beach bar that looks over Bessy.
What Makes It Awesome
The ambience at Boats is definitely well thought out. They have a wall full of novels with a comic octopus painted across them, glass boxes filled with paper boats, pebbles and seashells, other walls with funky graffiti, washroom cubicles full of good old Archies Comics and the smoking area even has a large glass window that overlooks the beach! We think it's the perfect bay-side eatery that comes equipped with a bar.
The seating was a let down though, with too many small tables that can accommodate just two people and two huge tables that can accommodate more than six. They have only two sofa arrangements that can accommodate a group of four or five people which generally keeps people waiting especially if you're here during the weekend. The menu is quite diverse with Chinese, North Indian, Asian and continental to choose from. We tried the Chicken Nachos served with a salsa dip and mayo (nothing extraordinary). Their Bacon Wrapped Sausages was a winner and was served with chipotle mayo but beware, they come with toothpicks poked on them that are almost impossible to spot. The crispy calamari claimed true to its name and came with mayo and fries. So crunchy. So yum.
Some other starters that you could try are the Bon Chon Chicken which is a Korean preparation served with a lime and chilly dip, Vietnamese Rolls that's a veggie delight made of rice paper rolls stuffed with shoots, sprouts and veggies of course. Coming to the main course, we tried the Nasi Goreng which was pretty authentic and the quantity was fair. Don't miss out on their Big Guys Burger which is a massive creation stuffed with cheese, coleslaw, fried eggs, beef, bacon and a lot more! They also have pastas, steaks, and Asian rice and noodles to choose from.
Comments