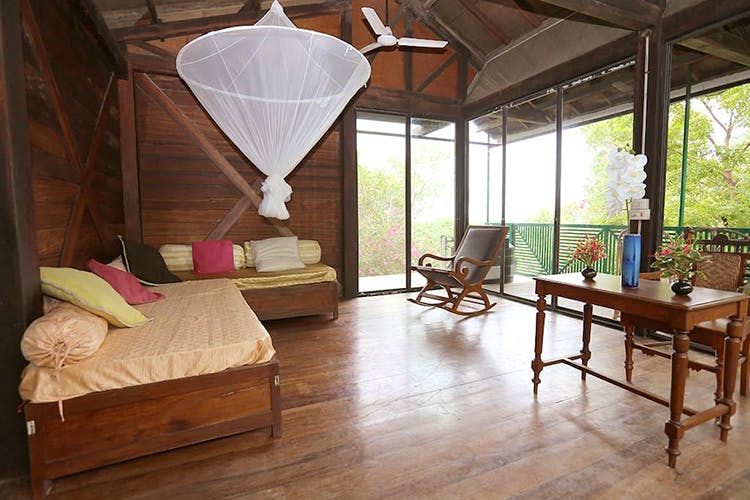 3 Budget, Beach-View, Air-Conditioned Airbnbs In Pondy For The Summer
Have you been to these three budget beach view Airbnbs in Pondicherry? They're everything you could want on your weekend getaway. Note, all three properties have air conditioning, as we felt it basic courtesy given the heat wave we're experiencing. We know it's hot, but if beach is bae, you can still enjoy the view, no?
Casa Lakshmi
Wake up to the sound of the waves and the view of the beach through the French windows of your two-storey Airbnb. The house is bang on Serenity Beach and is entirely private and yours to own for just INR 3,400 per night for two people.
The house has a kitchenette, dining area, and a bathroom with hot water on the ground floor and a massive bedroom on the first floor with a thick double bed, a cute sofa and a work table with a tiny sit out for a balcony. Outside there's a cosy hammock under a Frangipani tree where you can sit and enjoy the breeze in the evening and the view.
The living spaces are colourful and inviting. Amenities wise there are Wi-Fi and air conditioning, but that's about it, which is fine because we think it's a great place to for a romantic weekend and no point spending that in front of the idiot box.
If that's not enough there's Serenity Beach itself to enjoy, which unlike the Pondy beach in town, is actually sandy and not full of rocks!
Casa Arma
Another Serenity Beach property, Casa Arma is a little larger than the previous property and is great for small groups. The owner is very hands-off and save for the household help that cleans every two days you're pretty much left to your own devices. Having said that, we like that the owner is hands-on about maintenance, and proper upkeep of the property is ensured for every tenant, so no leaky faucets or faulty light fixtures.
The house has two bedrooms, two bathrooms, a living room, a kitchen and a large terrace with a hammock under some shade. The property opens out on to the beach and being a little away from Pondy means that it's fairly quiet and empty. Décor wise, it's very similar to Casa Lakshmi, with a large part of the construction being predominantly white with bright colours interspersed throughout the house.
The property is a great place to just chill and hang back and at just INR 1,000 per night per person, it's a steal!
Chalet By The Beach
This wooden chalet is pretty much a tree house! On Tanto's Far Beach, it is a little more remote than the previous two and is closer to Auroville than it is to Pondy. The two-storey wooden construction is larger than the previous two entries and is surprisingly cheaper. So much so that we thought it was too good to be true, but turns out it's not.
The ground floor has an air-conditioned bedroom with a kitchenette, dining area, and a bathroom, whereas the floor above has an amazing open-air living room that doubles up as the second bedroom. Even though it's big enough to house four, we think its best suited to couples as sleeping in the second non air-conditioned bedroom above is going to be impossible given the heat. It is however super breezy in the evenings and the first-floor living area is a great place to chill with a beer in hand and good company.
Spartan would be the word to describe the décor and amenities, but honestly, we couldn't care less, as it's cool enough being a tree house. At just INR 2,500 per night, it's a great choice for anyone looking for something special on a budget.
(All prices are at the time of publishing and they are subject to change, so please double check with the Airbnb owners.)
Comments