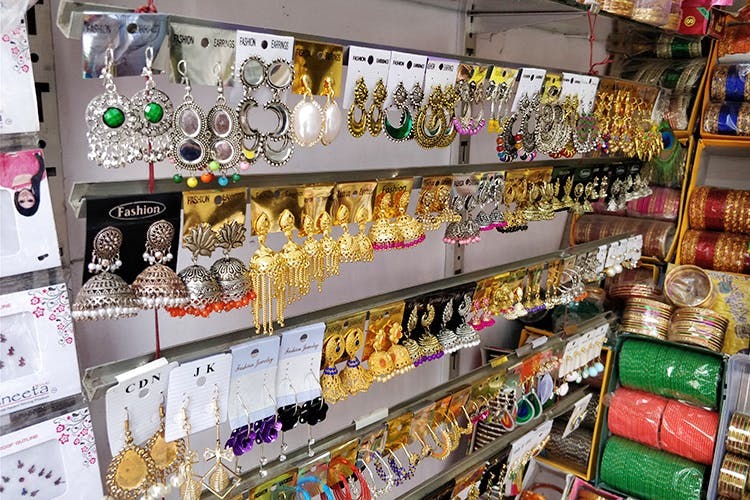 Buy Jhumkas Starting INR 20 At These Street Shops In Mylapore
They say give a girl the perfect pair of earrings and she will conquer the world with class. We found these stores lined up at North Mada Street, Mylapore which have some of the latest fads in earrings and jhumkas starting INR 20. If you're a good haggler, you can get these cute delights for even less! All these stores are located at one stretch starting opposite Sukra Jewellery until Lakshmi Vilas Bank.

Baba Seemati
This store is opposite Sukra Jewellery and they have jhumkas of all sizes starting INR 20. These cute silver Om jhumkas were our favourite!
Price: about INR 30
Royal Fancy
Love intricate and long jhumkas? Check out this store where they have earrings in a wide range of colours starting at INR 30. This shade of azure caught our eye.
Price: about INR 80
Bismi Fancy
The earrings at this store have a very South-Indian touch to them. Most of their jhumkas are traditional and come either in gold or silver coating. This pair of gold coat jhumkas totally clicked with us!
Price: about INR 50
Sri Kabali Karpagambal Store
This store has some fresh designs that can be paired along with almost anything. They have earrings made of beads, feathers, shells, and more with prices starting at INR 30. These pretty pink jhumkas are our pick!
Price: about INR 40
Taj Fancy
If you're the kind that likes small danglers, then this store is for you. They have earrings of small sizes of a wide colour spectrum. These simple yet elegant multi-coloured options can go with almost anything. Make for perfect beach boho style, don't they?
Price: about INR 40
Comments