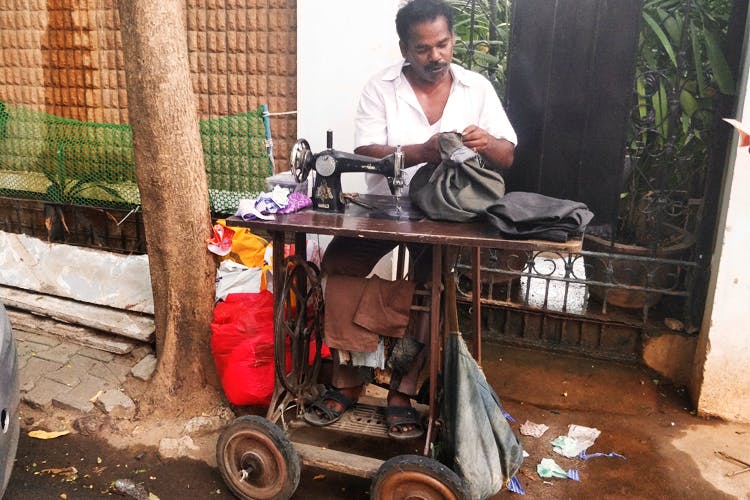 These Superstar Tailors Will Alter Your Clothes In Under 10 Minutes For INR 20!
Shortcut
These tailor thatas in Abhiramapuram will alter your trousers and shirts in less than 10 minutes! They don't have fancy stores and you can't find them on Google Maps, but they get the job done and charge affordable prices.
What Makes It Awesome
Have a dress that doesn't fit perfectly? Need it fixed urgently? Go to Abhiramapuram! These road-side tailors are hidden away, but you'll spot them with their stitching machines just inside Visweswarapuram lane.
Sitting outside an apartment, under the shade of a tree, Selvam alters shirts, pants, dresses, and does minor stitching work starting from INR 40. He's super popular in the street, his name written on the wall right next to his spot where he's been stitching for 10 years! If you've got a skirt that's torn or a top that's missing buttons, Selvam's your man. Nothing is impossible for him, not even bringing a size 45 shirt to 38. We tested his speed and gave his trousers to alter, and boom, in 7 minutes, we had it ready to wear! If you can't find him, call him on 9626183464.
Or, go to R Chandrasekar, who is on the other end of Visweswarapuram. This clothes magician has been working with his equipment since 1973. He can alter a pair of shorts for INR 20 within 5 minutes! Got some cloth lying around from the last Kalyanam you went to? Don't throw it away, this tailor will whip up a sexy blouse for you! You'll only be spending INR 120 and will be a follower of sustainable fashion! His working hours are 7 am to 6 pm and you can reach him at 8754519646.
What Could Be Better
The tailors themselves are amazing, but they can be hard to find. So make sure to call them first if you're in a hurry.