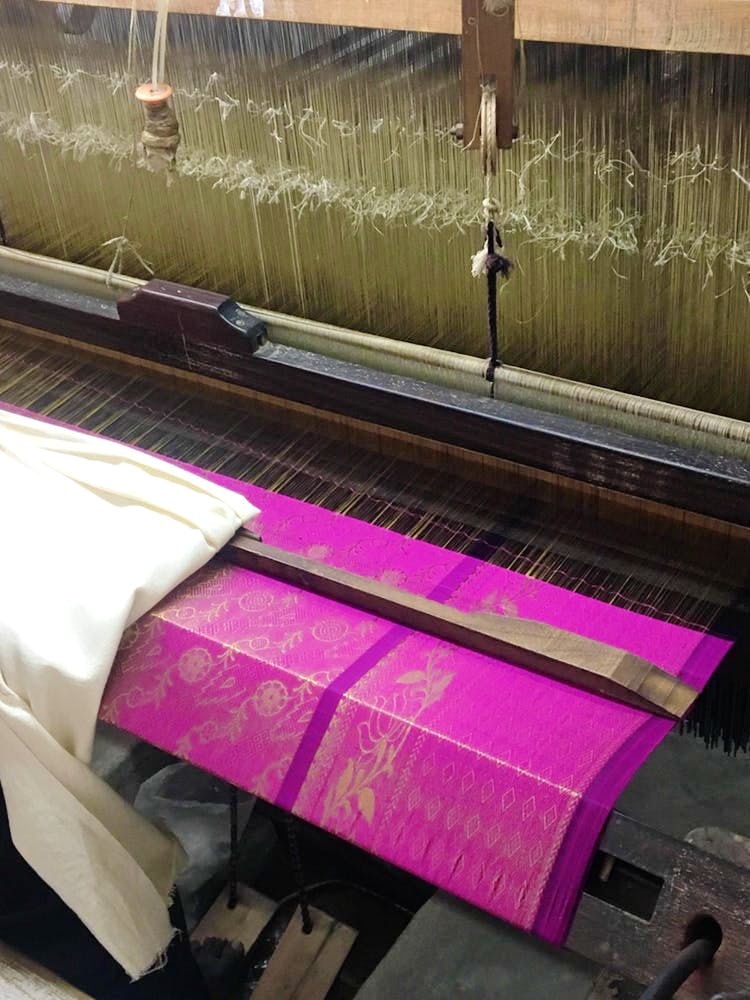 Buy Pure Kanjeevarams From These Legendary Stores In Kanchipuram
Shortcut
The legendary town of Kancheepuram in Tamil Nadu is known for its historic temples, and the rich silk saris called 'Kanjeevarams'. Traditionally, the handlooms here were known to weave many a silk and gold thread (zari) saris, unique in design and quality. These saris were more like investments since the value grew as the gold prices rose. Though the rising prices of gold have made the real 'zari' saris unaffordable for most, you may now get silver or CZ zari saris at more reasonable rates here.
The small town is mushrooming with shops all over, and it's very difficult to zone in on just a few shops without any recommendations. But these two shops are a must-visit.
A.S. Babu Sah
This shop is decades old and the real deal when it comes to Kanjeevaram saris. With over three floors of saris including silk and cotton, they keep a wide variety of collections. The quality is trustworthy, and the rates are fixed. The range for silk starts at INR 3,000 and may run into lakhs for a single sari.
It's better to have a budget in mind and convey the same to the salesperson as soon as you enter the store. They don't allow photography, but you can do WhatsApp video call to get selection help from family or friends. The INR 20,000+ range of silks here is perhaps the best selection of designs and colours you may find anywhere else in Kancheepuram.
Pro-Tip: Don't get confused by other fake stores with similar sounding surnames.
Prakash Silks & Sarees
This store, similar to Babu Sah, is spread on various levels. The ground floor, however, is only for saris that are priced at INR 10,000 and above. For the lower budget, you shall be whisked off to the second or third floor. The prices start at INR 2,800 for original silk saris. They have a huge collection of cotton and cotton silk saris too.
Shopping for saris here requires patience and a lot of time in hand. It's an experience buying a sari from stores like this as you get to choose from hundreds of designs under one roof.
Pro-Tip
The designs in both stores are different, so don't think you've seen it all after visiting one store. Do make a trip to this majestic town and add a few pieces of rich Kanjeevarams to your wardrobe.

Comments