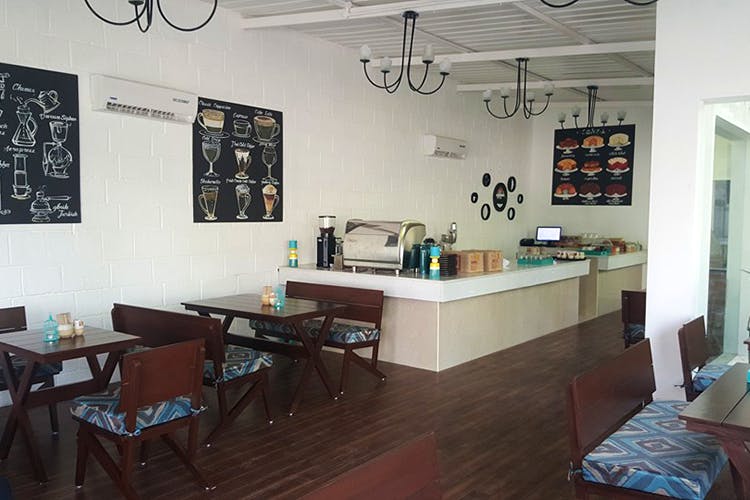 Need Your Coffee & WiFi Together? These Seven Cafes In The City Will Take Care Of That
We feel blessed to have so many unique cafes in Chennai that try to find their own niche in fascinating ways. Having said that most of them have WiFi, so to work out of, we've picked our top seven favourite cafes (that have free WiFi), that we've worked out of.
Ciclo Café - Kotturpuram
Everyone's favourite cycled theme café is a great café to work out of. The soft couches and the thickly cushioned chairs are perfect for sitting back and getting some work done. The food and drinks are good too, but of all their preparations we recommend the South Indian Filter Coffee for when you feel like taking a break.
For more on themed eateries like Ciclo Café, click here.
Lloyds Tea House – Gopalapuram
This cute café has been for a number of years now and is still the place to go to if you're a tea fan. There's plenty of seating in the form of wooden chairs and couches, the former has enough cushioning to make it feel comfortable to sit at for long hours. Their pastries were our favourite pick on the menu as they're made fresh every day and come in a bunch of varieties. We especially loved the Lemon Pound Cake, given that it's an English themed café.
The Brew Room - Mylapore
What Lloyds Tea House is to tea, The Brew Room is to coffee. Their popular menu features a range of coffees (and other café eats) with our favourite being their hazelnut flavoured cappuccino. Their space in Savera is spacious and comfortable; the high ceilings and ample distance between tables will ensure that you won't feel cramped after having sat there for a few hours. If the weather's pleasant, we highly recommend sitting outside in their beautifully done up garden.
For more about The Brew Room click here.
Writer's Café – Gopalapuram
The Writer's Café is the only entry on this list that is a bookstore in addition to being a great café. The store houses a popular selection of fiction and non-fiction titles across varied genres. There's also stationery available, which is great for when you're working and realized you left your pen at home. The café menu is what makes this café our top choice on this list, because of how moderately priced and amazing their food is. A nice big bowl of chicken Caesar salad is just INR 110 and their chicken pasta starts at INR 150. Perfect for when you want to work outside and not break the bank.
For more on the Writer's Café click here.
Backyard - Adyar
Nicknamed the anti-café, Backyard is one of the most popular workspaces for the office-less in the city. Their unique model lets you pay for their services like coffee and WiFi for the time you use it. Six hours costs INR 350 and for that time you get you unlimited internet access and unlimited coffee and tea, along with any place you choose to sit at in their space. Which is the highlight of what they offer, as there's plenty of cozy nooks, bean bags, and soft-boards to make use. It's also worth noting that there are a wide range of plays, performances, gigs, and events happening at their space through the year, so if you're interested in trying something new, look around!
For more on the Backyard café, click here.
Starbucks
With five separate locations across the city, the biggest cafe name in the world is a great place to work thanks to their free WiFi and attractive spaces. Plus, you know you can work out of Starbucks for as long as you want without anyone shooing you away. The internet speed can be a bit tricky here because so many startup folks + work from home types use Starbucks, but that is a chance you will have to take. Order their Grande versions of coffee to last you for a couple of hours, and if you feel hungry try their sandwiches and tea cakes (you can pick two flavours).
Ashvita
Ashvita is actually two cafes, with the RA Puram branch being called Ashvita Bistro and the Besant Nagar one named Ashvita Nirvana. Both cafes are great places to work out of, thanks to their free WiFi and comfortable seating. They have outdoor and indoor seating options, with plenty of plants around. They serve everything from pasta to coffee, and we'd like you to note that the Besant Nagar branch has a complete vegetarian menu. For a quick pick me up, we'd recommend a nice tall glass of lemon iced tea. The zing will have you sitting up straight instantly.
Comments