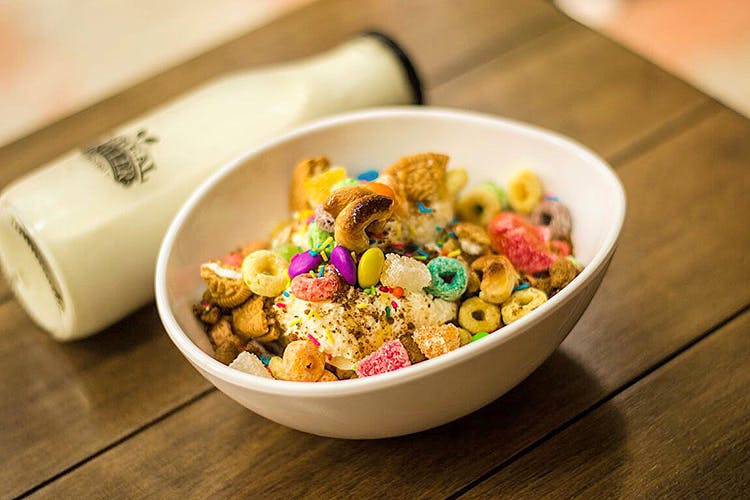 This Cereal-Based Cafe Will Invoke More Than Just Nostalgia! Check It Out!
Shortcut
Been to Cereal Killer Bistro in Anna Nagar yet? It's got a whole range of cereal concoctions to choose from and it's affordable too!
What Makes It Awesome
Guys, there's a killer in town. Fret not! We're talking about a bistro in Anna Nagar. Cereal Killer Bistro, in fact (we're loving the punning here). The peeps behind CKB were inspired by London's Cereal Killer Café and NYC's Kelloggs to bring a similar kind of café to namma Chennai. The place looks absolutely adorable, with a lot of planters outside and as you enter it's got checkered floor tiles and brown tables and chairs around. There's also a shelf full of colourful cereal cartons and a counter over which you can gawk at the many kinds of toppings available.
While they have regular food like salads and sandwiches, we're obviously more keen on trying Cereal Killer Bistro's cereal bowls. There's The Joker Needs His Jellies: plain cornflakes with vanilla swirls, Oreo, mixed fruit jellies and vanilla milk and Dementor's Antidote: Chocos, Snickers, Oreo topped with choco strawberry and chocolate milk. And these bowls cost between INR 140 and INR 180.
Try their Premium bowls if you want to take it up a notch. Slurp on the colourful Angel's Loops with Fruit Loops, Honey Loops, fruit flavoured chocolate, coffee cookies and a bottle of strawberry milk. There's also Lannister's Street with Apple Cinnamon Cheerios, Snickers, marshmallows topped with caramel syrup and pista, with a bottle of almond milk. Who knew there was so much you could do with cereal?
If you don't want to cheat on your diet, try healthy options with drinks like Beet The Fat with beetroot, ginger, carrot and lemon. Cereal Killer Bistro also has a not-so-healthy range of milkshakes like Choco Pie Shake (with Choco Pie, ice-cream and almond flakes). There really is something for everyone here. We can't wait to stuff our face with the variety of cereal bowls on offer.
Comments