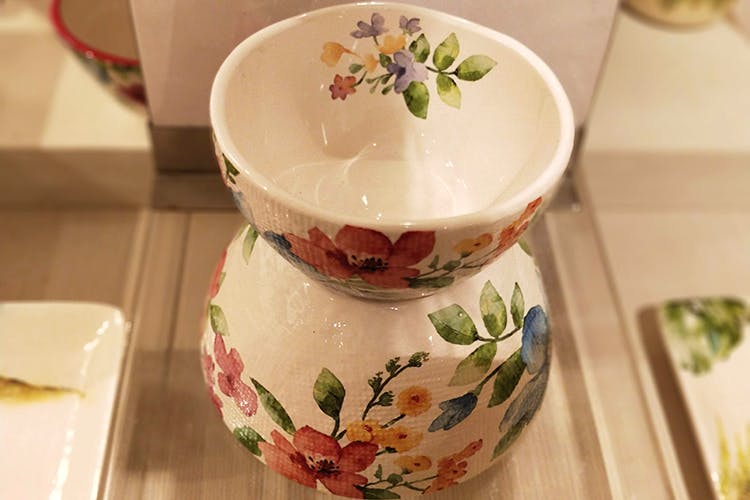 8 Charming Cutlery Options That You Must Have In Your Home
So, we went to Home Centre to check out gifting options under a budget and we were floored by some of the cutlery. Show off this cutesy cutlery the next time you host a fancy dinner at home!

Indie Plate
No better way to say 'glam' than this plate with beautiful and intricate Indian art like pattachitra and gond. With red, orange, and yellow indie patterns running all over, this plate is screaming fabulous!
Price: INR 499
Floral Cereal Bowl
This white cereal bowl with hibiscus and tulips patterns is so pretty, you may not feel like using it. The lovely colours and texture of this bowl will truly brighten up your mornings. They come as a set of two.
Price: INR 399
Tiger Coasters
These square, six-inch coasters with the sketch of a tiger will add some drama to your dining table. But if you're someone who is not a fan of too much bling, you will love these coasters. And the best part is that they also double up as a plate.
Price: INR 299
Budget Coffee Mugs
We're in love with these coffee mugs. They are not just easy on your pocket, but they are simple and can hold a good quantity of your coffee (or some glug-glug, catch our drift?). They come in yellow, green, black, and blue.
Price: INR 49

Icecream Container
This pretty-in-pink, old-school ice cream container can hold up to 500 grams of ice-cream and looks like its lifted right from a 70s American commercial. You can get this container in blue and purple colours.
Price: INR 399
Flamingo Plate
With its pink, blue, green, and yellow colours, this flamingo painting and the perfect brush strokes are lit. The uneven strokes and vibrant colours make this worthy of being a collectible.
Price: INR 499

Mini Tea Strainer
This stainless steel tea infuser is as small as a button and can almost fit into your pocket! The top half is silicone, so cleaning this is going to be easy-peasy. This also doubles up as a keychain.
Price: INR 249
Pizza Plate
This 'happiness is' pizza plate is perfect for little kids and comes with fun illustrations that can teach children about sharing. Some fun quotes we saw include 'Happiness is tea and cake and gossip' and 'Happiness is a slice of fresh pizza'. You can get a set of two or four.
Price: INR 399 onwards