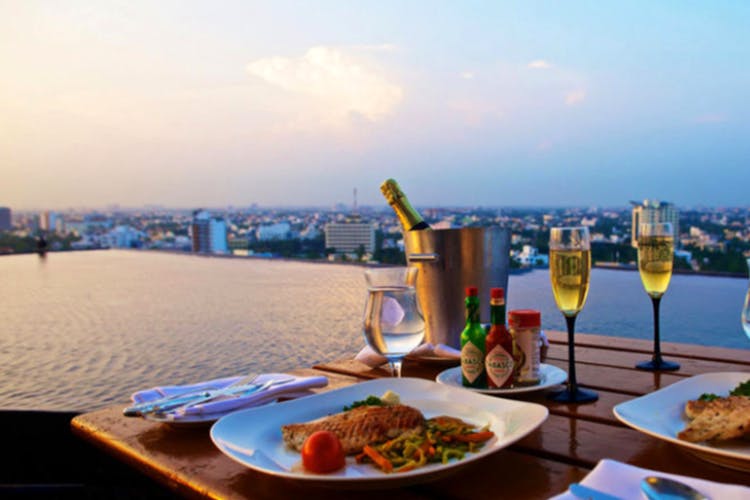 Chennai Is Amazing For Alfresco Dining, Don't Believe Us? Take A Look At These Places
Chennai isn't known for its outdoor dining experiences, courtesy our perennially warm weather. Though for some parts of the year, the mornings and evenings become pleasant and lovely to spend outside, like now for example. So head to these outdoor restaurants in Chennai to make the most of this good weather.
Wild Garden Café - Amethyst
Started in the year 2000, Amethyst was one of the first cafes to popularise outdoor seating in Chennai's dining scene. The café's highlight is their outdoor seating in their garden and on their spacious chequered verandah, with its lush trees and potted plants that break up the monotony of tables and chairs. Their garden is full of cozy nooks and corners to sit at, and the plants act as natural sound barriers so you can have your own little tête-à-tête without bothering anyone next to you. For more on the awesome Wild Garden Café, check out our feature here.
Café De Paris
Made to resemble a Parisian Café, Café de Paris is one of the few cafés in the city known for its outdoor dining. There are covered booths and individual tables in their outdoor area, surrounded by potted plants and hanging vines that will make for an enjoyable hang out on pleasant evenings. If the weather's acting up, consider moving inside to their one of a kind, greenhouse type glass house. Though don't worry, unlike a greenhouse they've got ACs to keep you cool. The glass panels almost make it seem like you're sitting outside as they're all around you, there's even a stage for artists and musicians to perform. Perfect for those rainy days when you're craving hot cocoa. For more on Café De Paris and the food they offer, check out our feature on them here.
Azzuri Bay
This Adyar-based restaurant is our favourite of the three rooftop dining experiences on this list, thanks to the fact that it is situated on the banks of the Adyar River and offers a view of the neighbouring estuary as it joins the sea. The stunning view is accompanied by a pleasant sea breeze in the evening. Candle lit tables and quiet corners have made this restaurant a go-to spot for couples for years now. The only bummer about dining here is that they don't serve alcohol, because a glass of wine would have been the perfect addition to a date with bae.
Kipling Cafe
This ECR Café will remind you of Amethyst, thanks to its sprawling garden, alfresco seating and cobbled footpaths. The main difference is that they serve alcohol here (though it is quite expensive, around INR 200 for a pint of domestic beer). Their seating options are catered to various group sizes, just the two of you? They've got tables just for couples, are you a gang of four? They've got booths made of stone pillars and thatched huts, more than four? They've got conference hall type tables too!
Cooling is taken care of by their range of fans for each table so rest assured boozy evenings will always be a comfortable affair at Kipling Café.
D Cafe
This independent house turned café has one of the best alfresco dining experiences in Chennai and is located in the heart of T Nagar. Looking at the photos one would be misled into thinking this café is anywhere but in the center of Chennai, thanks to the amount of greenery it has. Lush is the word best used to describe the setting, as ferns and palms fold over the many booths it has. The green from the garden is complemented with the luxurious beige/brown décor. The bricked walls, wooden tables, and cane furniture really go well with the natural theme the café has. There's even a tiny wooden walkway that goes over a stream!
The Crown – Residency Towers
The highest rooftop restaurant on our list offers a full 360-degree view of the city. Situated in T-Nagar, The Crown was one of the first restaurants of its kind in Chennai to offer such a view. It even has an infinity pool to surround the restaurant, so from some angles, it almost looks like it is one with the sea. (No swimming allowed though). Décor wise it is pretty scant, with the main draw being the view of the city from that height. Though don't let the lack of décor fool you into thinking this place isn't upscale. The wooden flooring, massive chandeliers, large curtains do little to belie the class that this place has. It is after all one of the oldest fine dining restaurants in the city.
Moonrakers
This last entry isn't exactly in Chennai. Moonrakers is this marquee restaurant in Mahabalipuram that does mind-blowing seafood and is situated just 100m from the beach! Now the drive to Mahabs will take you around 30-40 mins, but we argue that you're better off spending that time driving down the scenic ECR than in a traffic jam on Mount Road. Known for its affordably priced food and drink, this seafood restaurant has outdoor seating with a year-round sea breeze to keep you cool. There is very little in the way of décor as there are just tables and chairs available. But that won't matter one bit as you're enjoying the breeze, sipping on a cold beer waiting for your lip-smacking fried fish.
Didn't include your favourite al fresco restaurant? Tell us in Comments.
Comments