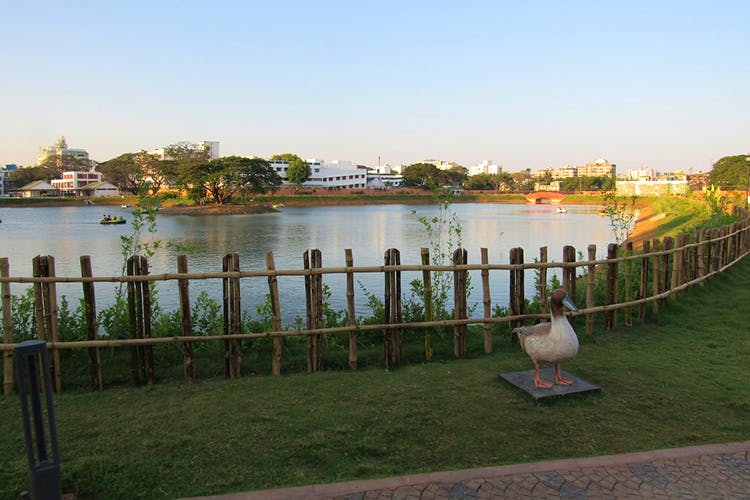 Long Walks, Boating & Fishing: Check Out What This Eco Park In Chetpet Has To Offer
Shortcut
Complete greenery, a duck pond and a walking path is what the Chetpet Eco Park boasts of and if you've never stopped by, now is as good a time as any.
What Makes It Awesome
Did you know that the lake within Chetpet Eco Park is the only lake that still exists within the city limits? That alone makes it an interesting spot to stop by. Add to that the fact that it's perfect for fishing and it's a park for everyone in the city. It was only in 2013 that the area surrounding the lake turned into the Eco Park when late Chief Minister J Jayalalithaa made the announcement to add a walking path, facilities for boating, angling, and even water sports.
But the one thing that most people don't know about the Chetpet Lake is that it is the first water body to use over 50,000 litres of recycled sewage water. While the water levels are dropping quite regularly, it is still something that the Fisheries Development Corporation put into place, allowing people to fish and boat in the lake. The lake also uses rainwater from the storm drains and the park has its own sewage treatment plant within the premises. Pretty cool, right?

Chetpet Eco Park also has a food plaza called the Eco Park Food Zone that has been built above the two-wheeler parking. From nasi lemak to kathi rolls, you can get everything here. There's also a children's play area. But what we love the most about this space is the serene escape it presents from the hectic city life.
Pro-Tip
Mostly used in the early mornings by walkers, the park is also open through the day for anybody else who is interested in using the facilities. Interested visitors can go on a 30-minute boat ride around the lake, and there's also the option to fish. Of course, if visitors wish to take the fish they catch home with them, there is an extra cost.
Comments