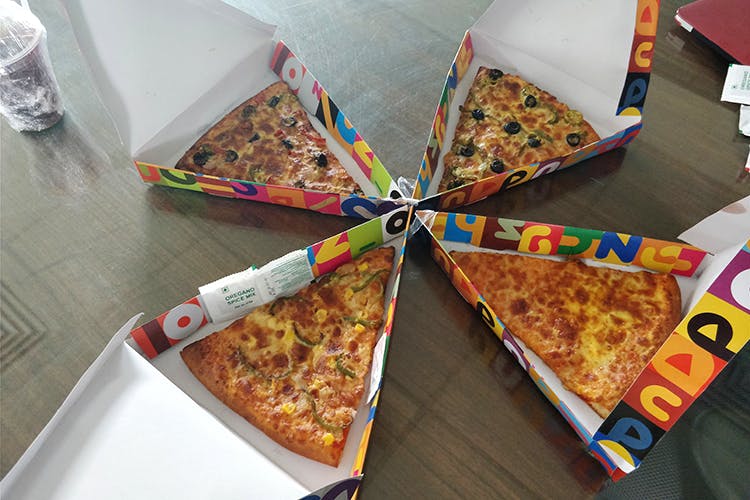 Have You Been To This Pizza Place That Sells Pizza By The Slice?
Shortcut
Chicago Pizza at Gopalapuram is here to satisfy our pizza cravings right from single slices to huge pizzas, sides, and pasta.

What Makes It Awesome
Ever craved pizza but felt you weren't hungry enough to finish it? Enter Chicago Pizza! They sell single slices (from an 18" pie) of pizza starting INR 110, just so we can stuff ourselves with our fave flavours! You've got great options too; everything from Simply Cheese (who doesn't love some good ol' Margherita?) to Non-Veg Overloaded (BBQ, Tikka, Chicken Ham, Smoke Chicken, Meatballs, Onions).
We loved the Veggie Blast and Italian Classic, cheesy corn, and jalapeños that tasted absolutely delish! You can flush your pizza down with an Indian Spice soda zingy mocktail combining jaljeera, soda, and fresh lime! Oh, and we weren't too stuffed too, because we had been munching on single slices!
In the mood for pasta? Try their Veg Chicago Special Pasta, or the Pepperoni Pasta. Also, they've got some yummy garlic bread, freshly baked and crunchy with just the right amount of butter and parsley!
What Could Be Better
The pasta was oily, but hey, it's all about the pizzas at this place!
Pro-Tip
This is mostly a takeaway place (their single slice is also only for dine-in and takeaway), so there's not a lot of space to dine.

Ask Aasha a question