Beautiful & Historical Churches In Chennai & Why You Must Visit Them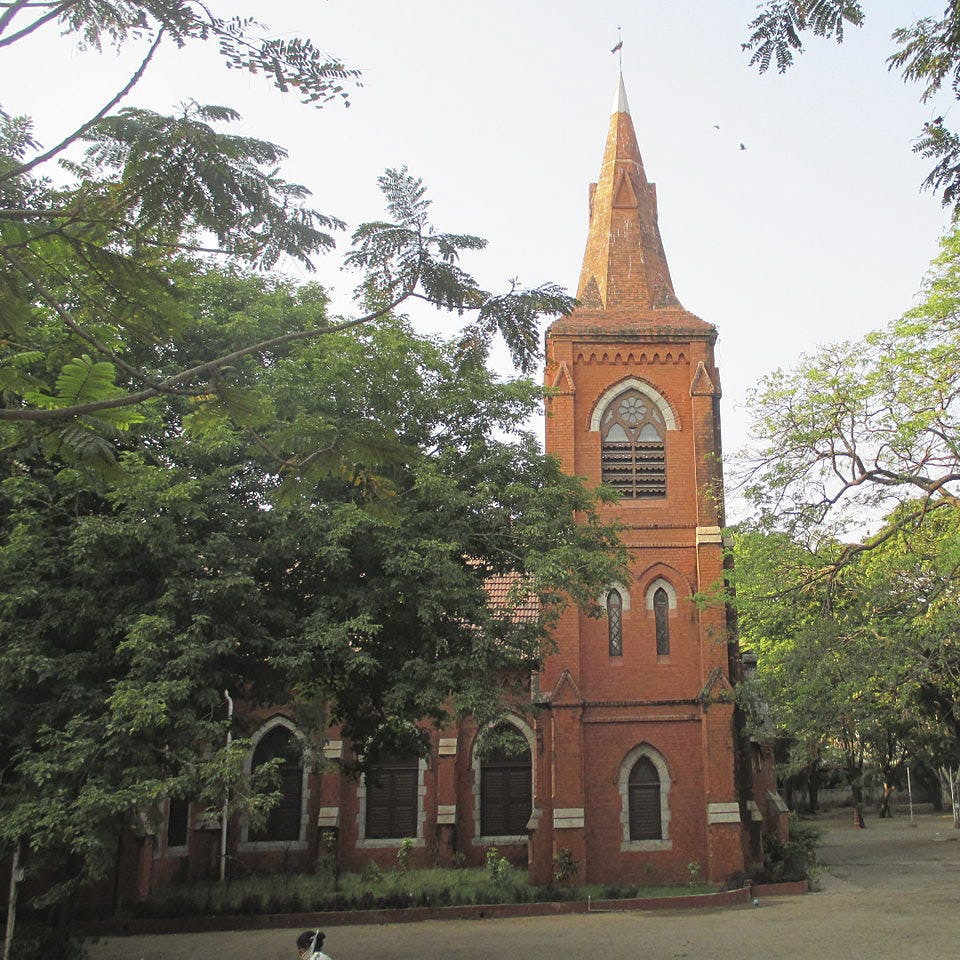 Experience Gothic architecture and history at its best, as you walk through these beautiful churches in Chennai.
St. Thomas Cathedral Basilica, Santhome
For someone who loves visiting churches, every drive to the Chennai Railway Station has got us stealing a glance of this beautiful church, right in the heart of Santhome. One of Chennai's most famous pilgrimage spots, the Santhome church was built above the tomb of Saint Thomas, way back in the 16th century by the Portugese. Many of Chennai's heritage walks include a stroll around this world famous church, which is full of old world charm and comprises the best of Neo-Gothic architecture. We visited during an early morning walk to Marina Beach and we think the shrine is a blissful place for Sunday masses or just appreciate the glorious architecture.
St. George's Cathedral
Located right next to the US Consulate near the Gemini bridge, St.George's Cathedral is historical and tucked away in a quiet spot in the city.  We spent an hour sitting at the wooden benches, reminiscing carols during Christmas, and soon set out for a stroll around their huge backyard right next to the cemetery (we spotted many parrots here!). Although built in 1815 and earlier known as the 'Church Of England', the Cathedral was inaugurated in 1947, marking India's independence.
St. Andrew's Church (The Kirk), Egmore
St. Andrews is a must-visit during Christmas for carols. The Kirk originally built for Scottish soldiers, apart from being a very spiritual place to worship, is also a structure known for its grandeur. The Palladian stylecChurch is know its soulful pipe organ. Don't miss out on this architectural wonder while you're in the thriving Egmore area.
Armenian Church, Parry's
Amidst Chennai's many  places of worship, the Armenian Church was a real find. A 1712 structure which was redone in 1772, Chennai's Armenian Church is one of the oldest in the Indian subcontinent itself and has a part of history buried in there. It is situated on the way to the CSI St Mary's Church and emits a rustic charm right from it's worn-down exteriors. Though located on one this most bustling streets of George Town, enter the Armenian Church and it is a different world inside. Right next to the church, you'll find graves of around 300 Armenians and this heritage site has plenty of stories restored on its walls.
Make sure you visit before 2:30 PM on any given day.
St Thomas Mount, Guindy
This hillock shrine, is an annual pilgrimage for most Chennaities. A 160 step journey leads to the summit of the mount. The 17th century structure is dedicated to Mother Mary. Located really close to the Chennai Airport, regular visitors of the church say it's not only their holy place but also a favourite spot to catch  a panoramic view of the city, along with beautiful sunrise and sunsets. Read more here.
Luz Chruch
Built in 1516, Luz Church is the oldest European monument in the city. This 500 year-old hidden gem is located at Mylapore, right behind St Isabelle's Hospital. Our Lady of Light Shrine preserves ancient Gothic architecture in its petite structure and the paintings are as old as the shrine.
St Mary's Church
Located at Fort St George, this is one of the oldest and a historic church in the city. It is the oldest Anglican churches and one of the oldest British buildings in India. It was referred to as the Westminster Abby of the East and the alter piece is said to the original painting of Raffaello Sanzio Da Urbino's last supper, which was taken by the British troops took from Pondichery in 1761! You'll simply fall into rich history as you enter St Mary's.
Christ The King Church
One of the iconic landmarks of Chennai, the church at Loyola College, Nungambakkam is close to 100 years old. The steeple stands at 157 feet and is simply unmissable from the local neighborhoods. Don't miss going to this church during Christmas as the college choir and decorations are a must see.
St Mary's Co Cathedral
This historic shrine at Armenian Street in Parrys was once the seat of Roman Catholic Archdioceses Of Madras and Mylapore, which at present is shifted to St Thomas Basilica (San Thome Church). Hence the name Co Cathedral was given to this church. Built in 1658, this cathedral hosts a large number of pilgrims from across the country. Believed to be one of the powerful religious places in the country by the locals, this shrine is a must visit place in Chennai.
Wesley Church
It can't get more gothic than the Wesley Church at Egmore. Built in 1903, with an open-brick structure, Victorian-styled wooden windows and pagoda roof, this shrine will surely give you the chills. Be sure to attend a service at this church to hear one of the oldest operating pipe organs in the country!