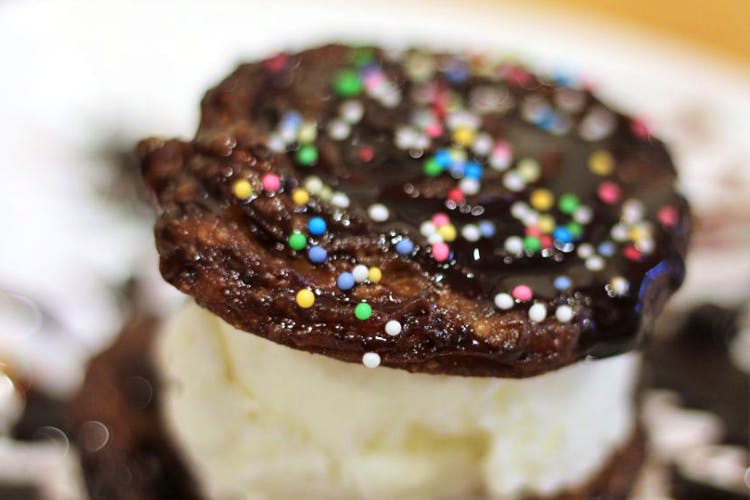 OMG! You Can Now Get A Churro Ice Cream Sandwich At This OMR Food Street Eatery
Shortcut
If there is one thing you  should do this weekend, it'd be to drive down to OMR Food Street and try the Churro Ice Cream Sandwich at What The Fork.
What Makes It Awesome
It might seem like quite the drive for those not living near OMR, but trust us when we say that a visit to What The Fork will be totally worth it. The American-style restaurant is tucked away at OMR Food Street (the second one) and they serve a lot of great food including soups, delicious appetisers and even hot dogs (try the New York Style Hot Dog complete with relish and mustard for INR 95). They also have a kid-friendly section which has fun and easy dishes like Peanut Butter & Jelly Sandwich (INR 75), Cheesy Garlic Potatoes (INR 90) and of course Classic French Fries (INR 75).
But what you really need to try is their dessert menu – and it is definitely worth the drive – because they have the usuals like a scoop of Vanilla Ice Cream and a delicious Banana Split, but they also have Pancakes which you can get with Chocolate, Vanilla or Maple Syrup. However, the dish that really caught our eyes was the Churro Ice Cream Sandwich.
As you would imagine, it's like a regular ice cream sandwich, but instead of biscuits sandwiching the ice cream, it's two churros! They make the churros right there in the kitchen before they serve it to you, so it's still nice and warm and the ice cream melts to the right amount before you dig into it. The combination of warm strips of fried dough dusted with sugar against cold ice cream won us over. Warning: it's a messy experience so have tons of napkins and hand sanitizer handy because you're gonna need it. Let us know if you loved it just as much as we did!
Comments